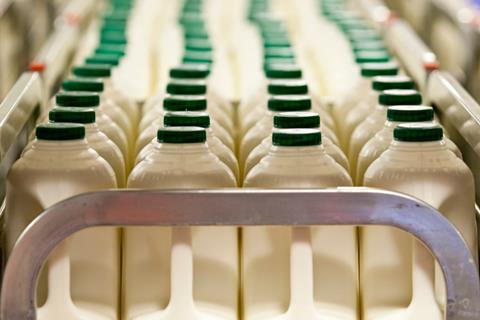 An activist group behind so-called 'milk pour' protests in supermarkets across the country has said they choose to target posh grocers so as not to further impact those "most likely" to be struggling with the cost of living crisis.
The animal rights campaign group, Animal Rebellion, targeted a series of upscale retail branches – including Waitrose Oxford Street and Belgravia, Fortnum & Mason in Piccadilly and Whole Foods Market in Piccadilly – to stage a number of nationwide protests last week that ended up going viral on social media.
The dairy industry is incredibly environmentally destructive.
🔥The world's top 5 meat and dairy corporations are now responsible for more GHG emissions than Exxon, Shell or BP.
We NEED a #PlantBasedFuture now. And we must take action until @10DowningStreet listens. pic.twitter.com/fzUyyzy1qD

— Animal Rebellion (@RebelsAnimal) October 15, 2022
A spokesperson for Animal Rebellion said the group tries to organise action at posher retail stores as the customer demographic is less likely to be feeling the pinch from the current economic crisis.
"We choose, where possible, to do actions at upmarket supermarkets and department stores in order to reduce the disruption to those already most likely to be struggling with issues such as the cost of living crisis," they said.
The protests saw young climate activists pour bottles of fresh milk on the shop floor while pointing out the environmental effects of the dairy industry.
One video shows Waitrose staff attempting to minimise the disruption caused by the protesters while customers navigating the milk aisle appeared confused.
‼️WHY DID ANIMAL REBELLION POUR MILK? ‼️

We are facing a climate and ecological crisis and we know the solution: a #PlantBasedFuture.

Read more below ⬇️ pic.twitter.com/Bn2V1y8cZt

— Animal Rebellion (@RebelsAnimal) October 17, 2022
Multiple other videos and pictures showed the activists pouring several bottles of milk in a total of eight stores nationwide, while calling for government support in helping farmers transition to a plant-based food system that causes less environmental damage.
Reports claim the milk spills in the Selfridges and Fortnum & Mason stores in London resulted in two individuals being arrested and charged with causing £100,000 of damage.
Milk pours have happened in 8 locations across the UK today!

Do you want to support Animal Rebellion's Demands for a #PlantBasedFuture?

Sign up to take action in Spring 2023:https://t.co/trdIZhE7yH#PlantBasedFuture #AnimalRebellion #MilkPour pic.twitter.com/rTPXuLYmzU

— Animal Rebellion (@RebelsAnimal) October 15, 2022
While Waitrose would not reveal how much the incident caused in damages across the three targeted stores, it defended its environmental credentials following the protests.
"We're proud of our industry-leading animal welfare standards, and grateful for our Partners who responded quickly and professionally," one Waitrose spokeswoman said.