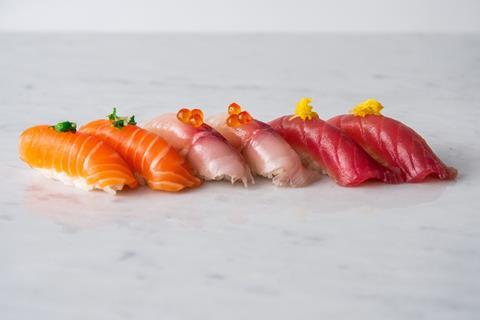 Planet Organic has launched a new sushi bar using only sustainably sourced fish and organic ingredients.

The concession, which has been installed at its Tottenham Court Road, London flagship store, was created in partnership with restaurant Maido Sushi. It stocks lines such as nigiri, handrolls and chirashi, and customers can choose from made-to-order dishes made by Maido Sushi staff in front of them, or freshly made food-to-go options.

Fish used is either organically farmed or from Marine Stewardship Council-certified fisheries, and items are free from preservatives and artificial additives. The health food retailer also said it had taken particular care to ensure that all tuna had been caught using short fishing lines to protect dolphins. The vegetables, rice and condiments used, including soy sauce, will also be organic.

Planet Organic said it had worked in "close collaboration" with Maido Sushi to create the range, which uses plastic-free, sustainable and compostable packaging.
"We fell in love with Maido's sushi over two years ago and immediately wanted to find a way to work together on an in-store sushi counter. The challenge was doing this while staying true to Planet Organic's ethos and customers, said Planet Organic food service director Caroline Ottoy. "We will be the only fully organic and sustainable sushi concept in the UK and we believe that our customers want to be able to purchase fresh and premium made to order sushi hand-crafted in store, but with the confidence that it is sustainable and organic and a product that they can therefore trust."