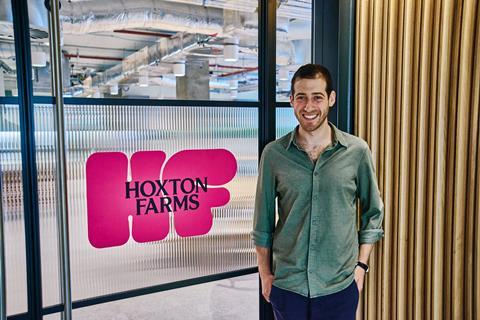 A cultivated animal fat facility has launched in London by startup Hoxton Farms, aiming to supply the plant-based sector with "this one really key ingredient it is missing".
Back fat cells taken from a single pig – now "running around happily in a field", said company co-founder Ed Steele – are being cultivated and will eventually produce around 10 tonnes of fat a year at the facility.
The 14,000 sq ft site, on Old Street in Hoxton, features cell culture laboratories and a food development kitchen. A workshop at the site will manufacture bespoke bioreactors, designed to optimise fat cell growth with much lower capital costs than industry-standard bioreactors.
Steele said he had spoken to "probably more than 100 plant-based meat companies" and most were "desperate for alternatives to the current oils they use".
"They know they're struggling right now because their products just aren't good enough. Replacements like canola oil or coconut oil or palm used to try to replicate animal fat – you just can't do it," he said. "It doesn't have the right flavour and the right performance. What you need is real animal fat."
It is expected the fat as an ingredient to manufacturers will be available first in Asian markets and the US, where the process for regulators to clear novel foods for sale is faster than in the UK. Hoxton Farms said it was "on track" for its product to reach cost-parity with plant oils at commercial scale.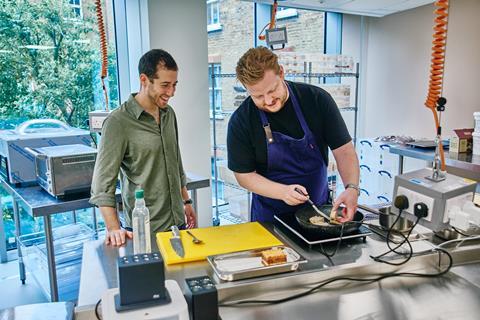 In the future, fats from different parts of the pig as well as different breeds and different species will be cultivated, Steele said.
The facility launch follows a £20m Series A funding round in October 2022, led by Collaborative Fund and Fine Structure Ventures, with further investment from Systemiq Capital, AgFunder, MCJ Collective, and previous investors Founders Fund, Backed VC, Presight Capital, CPT Capital and Sustainable Food Ventures.
Its unlikely location in central London was selected to "demonstrate that cultivated fat can be grown anywhere", and for its proximity to consumers, regulators and policymakers.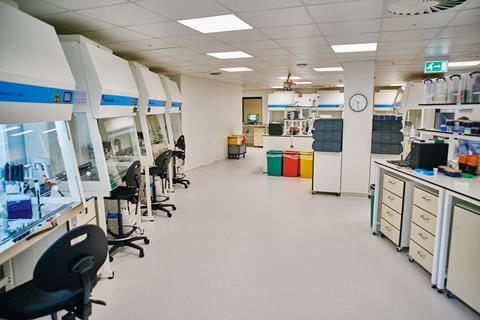 "By bringing cellular agriculture to the city on a wider scale, rather than a remote business park, we are in the best place possible to find the customers, partners, investors and talent we need, and to raise awareness of cultivated fat in a market that has shown it is ready for meat alternatives," Steele said.
The space provides opportunity, Steele added, to grow employee headcount from the current 40 – a team made up of 20 nationalities and 15 PhDs – to around 100.