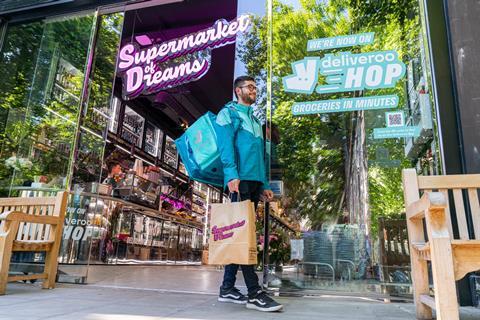 Deliveroo's quick commerce arm Deliveroo Hop has launched a rapid grocery-as-a-service model, with a partnership with upmarket grocery retailer Supermarket of Dreams.
Deliveroo will provide its "Hop operating expertise, inventory management and picking technology" to the retailer, with Supermarket of Dreams managing delivery operations with dedicated staff.
"The service will give Supermarket of Dreams real-time inventory accuracy, benefiting from Deliveroo's new daily forecasting capability and improving the customer experience by reducing order amendments or substitutions," Deliveroo said.
The partnership marks "a new innovation in the Deliveroo Hop model" the courier platform said. The company added that it was "set to launch this model of Hop with further partners in the UK and other markets in future".
Deliveroo's original Hop model involved groceries being delivered within "as little as 10 minutes" from delivery-only dark stores owned and managed by Deliveroo. Those sites have launched in London, Bristol and Cambridge, as well as Milan.
The latest model sees Deliveroo act as a technology and service provider to retailers.
"This new model will mean that even more grocers can offer a best-in-class, rapid delivery experience supported by Deliveroo's Hop technology and its network of tens of thousands of riders," Deliveroo said.
The as-a-service model is not new to rapid grocery. Rapid grocer Jiffy in January launched 'Jiffy Q-Commerce as a Service', enabling brands and retailers to offer sub-15 minute delivery of their products, via their own DTC site, but using Jiffy's ordering system and fulfilment network.
The first partner for the offering was BrewDog, which worked with Jiffy to launch an ultra-fast beer delivery service.
However, Jiffy struggled to make a success of it, in May ceasing all consumer-facing operations, to make a "major strategic pivot" to become a dedicated rapid delivery software company, offering retailers the technology only for rapid operations, with delivery via third party couriers.
"We've learned a lot about rapid grocery deliveries since the launch of Deliveroo Hop and can now make our quick commerce technology available to even more of our grocery partners, both large and small, to deliver even higher quality service to customers," said Stephen Goldstein, EVP global head of grocery and Deliveroo Hop.
The rapid service is now live at Supermarket of Dreams' Holland Park store in west London, an area already served by Deliveroo Hop dark stores.
Customers in the area can order from a range of hundreds of products, including fresh fish and meat, prepared daily by Notting Hill Fish & Meat Shop, restaurant meal kits from Tacos Padre, Ottolenghi pastries, Willy's Pies and Cacklebean Eggs, as well as a selection of household essentials, from 10am-10pm each day. Delivery is 99p with a minimum order of £15. For orders of more than £30 the delivery fee is waived.
"We are extremely excited to be partnering with Deliveroo to give customers access to restaurant-quality produce from the comfort of their homes," said Chris D'Sylva, founder of Supermarket of Dreams and Notting Hill Fish & Meat Shop.
"Our goal with Supermarket of Dreams has always been to curate a range of the best that London has to offer, and now with Deliveroo's technology, processes, and rider network we can bring that offering to customers across west London within minutes," he added.