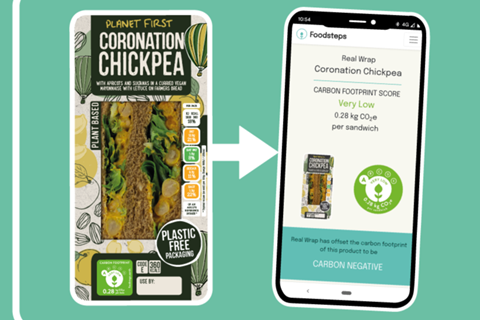 Foodsteps – a startup that allows brands to calculate and label the environmental footprint of products from farm to fork – has raised $4.1m in seed funding.
The platform – which holds a database of more than 3,000 ingredients, containing impact information on an each one's carbon footprint, as well as pollution, water use, and land use impacts – has more than doubled its client base in 2022 to date "as pressure on industry grows" to be more sustainable.
Foodsteps founder Anya Doherty – who developed a platform following research at Cambridge University – said the funding boost would help the company attract new talent, as it sought to double the size of its team over the next 12 months.
Roles being sought are chiefly data and software engineers.
"Foodsteps has been helping dozens of the UK's most ambitious food companies to reduce their environmental footprint through our farm to fork data platform and labels," Doherty said.
"However, we need to do so much more. This funding will help us bring in the brightest minds in data and technology to accelerate our work. We're also looking for food businesses and partners that are hungry to accelerate change and reduce their environmental impacts," she added.
The company currently works with several restaurants chains including Pizza Express, Wagamama, Ask Italian and Coco di Mama, as well as food delivery services Allplants and Mindful Chef.
To use the platform, companies upload products and recipes. Foodsteps then assesses their lifecycle emissions, and provides advice on how to improve sustainability. Foodsteps was one of the first to provide traffic-light labels on a product's footprint, including carbon and environmental impacts, such as pollution and land use.
Brands can display Foodsteps' traffic light rating from A-E (A meaning low environmental impact, E meaning high) on menus and labels, along with a QR code consumers can scan to learn about a product's sustainability.
The company recently hired Andrew Stephen, former CEO of the Sustainable Restaurant Association and board member of The Zero Carbon Forum, as its chief impact officer. It also appointed Liz Macfie from Century Tech as its head of data.
Over the next year, Foodsteps will focus on improving its database, including integrating more environmental impacts such as farm-level biodiversity and water use, it said. The company said it also hoped to target "the largest food businesses, increasing its list of high street names, and grow existing partnerships with WWF and Wrap to ensure the largest emitters in the sector can decarbonise at speed".
The investment round was led by Octopus Ventures, with contributions from Metaplanet, Ascension, and the Conduit EIS Impact Fund.
"It is an immensely difficult challenge for businesses to understand in detail the impact of their food supply chains from farm to fork," said Lucy Clarke, investor at Octopus Ventures, "but Foodsteps can make this possible in days and they've not only made the process possible, they've made it scalable, meaning businesses can take data-driven steps towards reducing emissions and meeting net zero goals before it's too late."