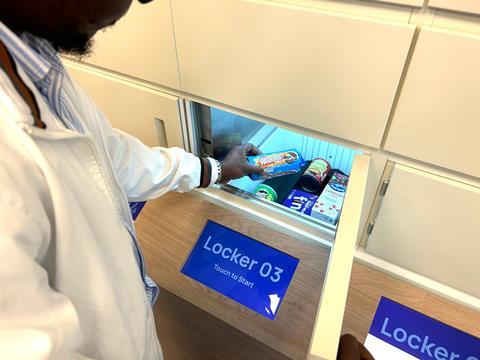 A fully automated click & collect convenience store is being trialled in a Manchester apartment block.
The In:Five store, on the ground floor of The Filaments in Salford, features a bank of locker doors from which customers collect their groceries ordered on an app minutes before. Behind the bank of lockers, robotic arms pick items from shelves and place them in totes. The store can stock around 1,500 SKUs covering ambient, chilled and fresh produce.
It is understood to be the first store of its kind in the world.
The store has been launched by Shoalter Automation, a business owned by HKTV, which operates 'the Amazon of Hong Kong' and the city's largest e-commerce site, HKTVmall.
"If Apple did a grocery store, it would probably look like this," Ricky Wong, group CEO of In:Five and group CEO of HKTV Group, told The Grocer.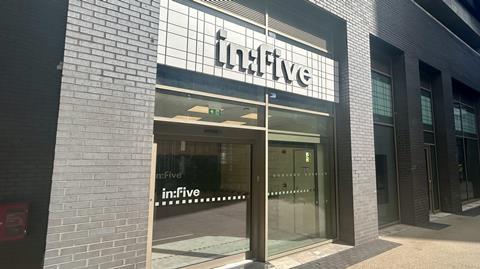 "We're very proud to be opening the UK's first completely automated store here in Manchester, as it's such a vibrant, thriving city with plenty of young professionals and on-the-go consumers who will benefit from the click & collect service," he added.
The store is replenished from the consumer-facing side of the wall, where totes of product are loaded into lockers and decanted by the robot onto the shelves behind.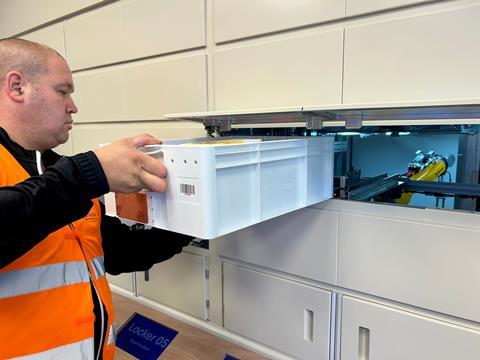 The company plans to open a second store in the first quarter of next year, offering an increased selection of SKUs. The ability for customers to schedule collection times for later in the day is launching soon.
The ambition is for further Manchester stores to launch by the end of 2024, before extending to other cities. The target for new locations is modern apartment blocks, to save residents a trip out of the building to convenience stores.
In:Five is currently onboarding residents of The Filaments and neighbouring complexes to become testers of the store, with a 50% discount introductory offer. A full launch is scheduled for October.
At present the store offers a range of around 300 SKUs, ramping up to 1,500 by November.
Autonomous click & collect stores are a new format in grocery, and have been likened to a 'giant vending machine'. In 2021, Carrefour partnered with Delipop to launch a click & collect store in Paris, where customers can pick up their supermarket orders from lockers. Unlike the new In:Five store, a robot behind the scenes picked totes of complete orders, rather than individual items.
Manchester was chosen as the location for the first store due to the availability of engineering talent and CEO Wong's personal fondness for the city.
"Our team is locally Manchester-based, made up of local engineers and marketers," Wong said. "We feel lucky to have the nimbleness and autonomy of a UK tech startup that's stacked with local talent, coupled with the support, wisdom and resources of Hong Kong's biggest e-commerce platform and largest online shopping mall."