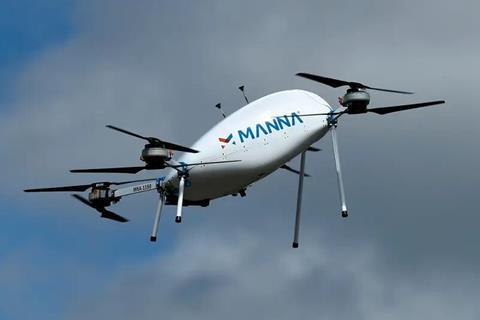 Tesco is to start trialling drones for deliveries from October, with technology that can deliver orders in as little as three minutes.
The supermarket has joined forces with Irish company Manna, which has previously worked in conjunction with delivery giant Just Eat in trials to deliver food to university students.
Tesco CEO Dave Lewis said Manna already had a licence that would allow it to begin delivering the equivalent of small basket shops to homes in the trial area.
Manna, which is based in Moneygall, near Limerick, boasts a fleet of drones that can travel at an altitude of 80 metres and a speed of more than 50mph. As well as its deal with Just Eat, it had been delivering medicines during the coronavirus lockdown.
Tesco's move into the area sparks the possibility of drone wars between the company and rivals like Amazon and Walmart, which have both been developing drone delivery technology in the US. Tesco said it belived the small basket market could grow to £10bn a year in the near future.
Lewis announced the trial as part of a raft of innovation projects set up by Tesco under a new innovation department known as Tesco Red Door, which will see the supermarket giant look to partner with technology companies on ideas for food and drink development, customer data and logistics for new forms of delivery.
Meanwhile Tesco has opened the first of a planned network of 25 urban fulfilment centres in stores, in West Bromwich, which had been delayed by the pandemic.
The idea of UFCs using excess space in Tesco stores, rather than much bigger standalone DCs, had been envisaged as a way to almost double its online sales – but since then online sales have soared at Tesco, with a nearly 50% rise on previous quarters, as customers turn to online delivery because of Covid.
Tesco plans to open three of the new UFCs before the end of the year.
In a web presentation today, Lewis admitted Tesco had been "too slow" to adopt new technology in the past but could offer tech companies a business to work with "like nothing else".
"A strong pipeline of innovation is essential in ensuring we can anticipate and respond to our customers' needs, and we believe there is an opportunity now to welcome even more innovation into our business, and to do it faster," he said.
"Our new Group Innovation team will help us to access the most exciting innovators from across the globe. In turn, we can offer those partners a unique opportunity to build and develop their ideas rapidly and at scale, using the benefits of our experience and access to market."