Electronic shelf labels arrived in the UK 30 years ago, and haven't made much dent in the market since. But that might be about to change
It's been 30 years since electronic shelf labels (ESLs) made their debut in grocery. In that time, they haven't exactly made a splash. For most retailers, the return on the considerable investment involved hasn't stacked up, meaning the technology is still a rare sight.
But that looks set to change. And fast. The likes of Asda and Southern Co-op are now trialling the technology – and it's rumoured that more of the big four are soon to get on board.
That's down to a growing awareness of what ESLs can do beyond simply replacing their paper equivalents. A slew of trials is seeing them used to increase online order picking speed, aid new and seasonal store workers and boost engagement with customers.
"The challenge you always have when a technology has been around for 30 years is people who looked at it 15 years ago thinking they still know what it's like," says Duncan Potter, chief marketing officer of leading ESL provider Pricer. "But they don't.
"These are not your grandparents' ESLs. In the last few years they've gone through a massive revolution," he adds.
So is there really a coming reappraisal of ESLs? How are the early adopters using them? And what are the fresh business cases for the technology that make it suited to the new normal?
Until now, supermarkets have only been dabbling in the technology – and many have ditched it after trials. Safeway announced it was rolling out ESLs across its estate following a trial in two stores in 2002, but the rollout never happened.
In 2017, both Morrisons and Waitrose experimented with video shelf labels but went no further. Following an abortive trial of ESLs in 2013, Tesco tried again in 2017, but the supermarket said there was "nothing new to say" about the technology.
Attitudes are now changing. "Retailers do see a continuing upward trend in the cost of labour and are looking at operational efficiencies in the store," explains Sean Taylor, head of retail solutions at ESL provider Panasonic Europe.
"An easy win is to automate laborious tasks such as manual paper price changes, saving a significant number of staff hours and associated costs," he says.
"All of the information is updated centrally and the text on the label switches within around 30 seconds," Sands says. "This of course also cuts down the length of time it takes colleagues to update prices, meaning they can focus on serving our customers."
It's a similar story at Scotland's biggest independent co-operative Scotmid, which has been trialling ESLs since August. Before, changing prices was a labour-intensive process.
"We would send new promotional price changes on promotional labels to stores," explains Scotmid programme manager for innovation and change Allan Robertson. "Stores would also print a number of price changes on to paper labels. They would then all have to be separated and put into bundles for colleagues to go round and change all the pricing." That's before staff had to adjust all the point of sale materials.
The tech, which has dramatically cut down that workload, will be in 40 of its stores by the end of this year. "We will continue that rollout across the estate," says Robertson. "We're putting an electronic label in front of every product.
"Everything is now done centrally," he explains. "Once [the ESLs] are installed, there's actually very little for the store team to do. To link a product to a label, you use an app on the handheld device, scan the product, then you scan a barcode on the bottom of the label. That process assigns that product to that label. Any price changing that happens in the future with that product will automatically change."
"All of the prices are changed automatically during the night, so the store team walk in the next day and the prices and promotional messages have changed. One of our store managers said it's like a magic wand has been cast across their store."
At Southern Co-op, where ESLs have been rolled out across 12 stores, they are used in the same way. "The existing manual process is very labour-intensive as it involves changing over the paper labels regularly with any price changes or special offers," says Mark Barnett, retail transformation project lead.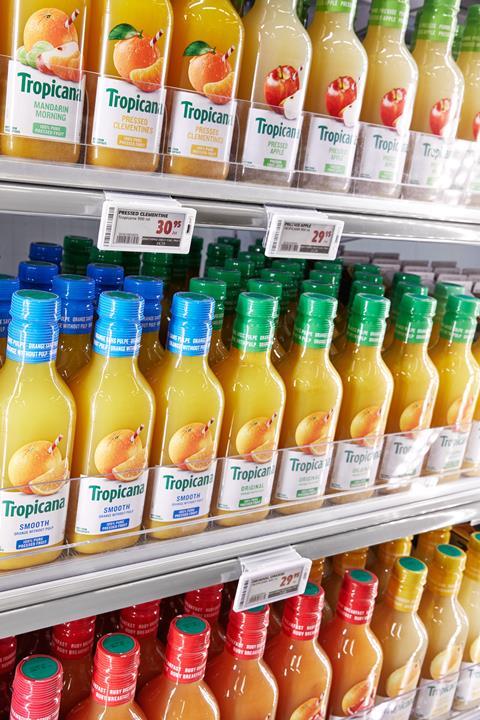 Pricing and promotion changes are made centrally. "Once ESLs are installed there is very little for the store to do with them," Barnett adds. "It is ultimately about simplifying our store operation."
While this use case alone has seen widespread adoption – particularly in France and Scandinavia – for most UK retailers it hasn't been enough to justify a rollout of the tech. That's partly because retail labour costs have historically been more affordable here. France also has fines for retailers whose label prices don't match those at the till, strengthening their use case.
But it's also about mindset. While early adopter countries are thinking more widely about how ESLs can help their operations, the UK is "firmly stuck in thinking the only thing it replaces is the paper label" says Potter, which means "the business case doesn't work".
ESL providers admit this is partly down to them – and say they must do a better job at selling the potential of the technology. "We have just not been very good at saying this is not just a bit of plastic with a price on it. There are so many more benefits," Potter explains.
Many of the possibilities enabled by the latest generation of ESLs stem from a simple design change: the addition of a tiny LED. "At first we weren't quite sure what we were going to use it for," Potter says. "Then we realised we could use it for almost anything."
Carrefour, for example, is working with Pricer to roll out a Pick To Light system, which allows store workers to pick and pack online orders far quicker than before, guided by the lights. The supermarket will roll out the tech to 500 stores before the end of 2022, it says.
"It's allowed our teams to save time and improve efficiency. It's also benefited seasonal workers, who aren't familiar with the store layout or product range, by allowing them to identify the right product for picking quickly and easily," says Nadia Bucaille, director of Carrefour Ouistreham and Cabourg, the first stores to use the feature.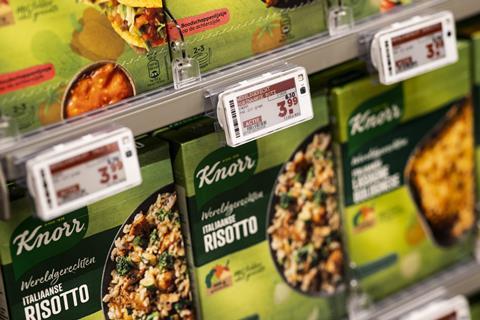 Asda too is beginning to explore the potential of ESLs "to help colleagues locate items when picking home shopping orders" says Sands. Scotmid's Robertson considers this feature "really exciting".
"It's going to be a game-changer for picking," Robertson says. "That's going to improve productivity on picking massively, which hopefully means the shopping will be dispatched quicker too."
As well as the operational benefits, ESLs can improve the store experience for shoppers. Quite simply they look nicer, says Scotmid's Robertson.
"In the testing environment they looked great, but once we put them across our stores, with hundreds of these labels going in, we just thought wow – these look really great," he says.
The labels are also clearer and easier to read. "We didn't just copy our paper design into an electronic shelf label, we have improved the way they look," adds Robertson. "Before, a lot of the data and information that was on our paper labels was actually for the store team, not the customer. With electronic, we can move all that information onto a separate page."
How Carrefour is using ESLs to aid online picking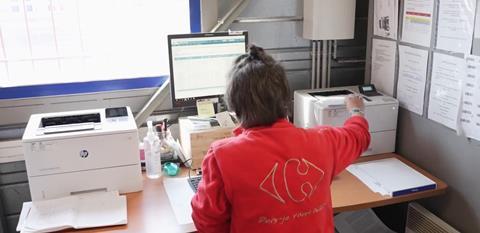 1. Products in an online customer's order are arranged in the order of a route around the store and printed off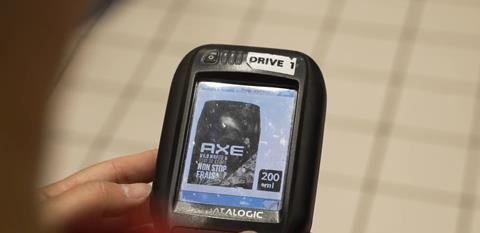 2. A barcode on the printout is scanned by the shopworker using a device, which displays an image of the product to pick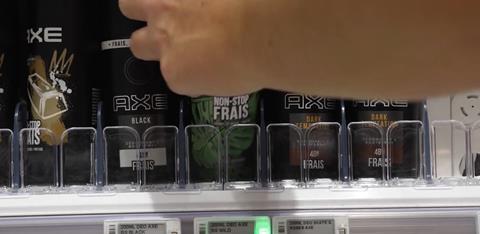 3. The scanning sends a signal to the electronic shelf label, prompting it to flash a green light so it can be easily found by the picker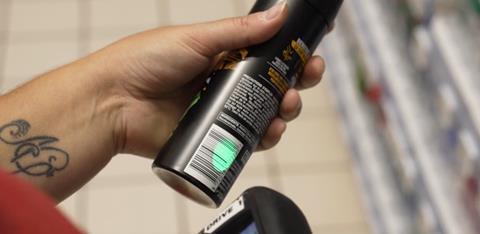 4. The product is scanned with the device and added to the customer's order basket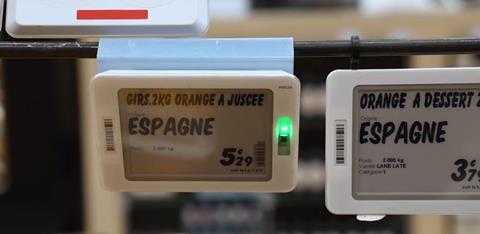 5. The next product on the printout is scanned, and its label lights up. In smaller stores, scanning a product prompts the next label to light up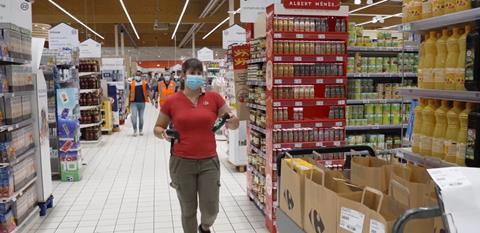 6. The method means each pick takes less time, and seasonal staff can quickly find items without any knowledge of where they are in a store
The labels can provide more information for customers, too. Asda is beginning to "incorporate QR codes as a way for customers to easily look up nutritional information" says Sands.
At Scotmid, its ESLs feature Near Field Communication (NFC) technology, which allows information to be shared with enabled smartphones nearby. It is now exploring how shoppers can tap a label and view nutritional or allergen information on screen.
"The existing manual process is very labour-intensive. Once ESLs are installed there is very little for the store to do with them"
Another potential use case is dynamic pricing. Products going out of date could be discounted across the store estate in an instant, or prices raised when there's sudden unexpected demand.
So far, retailers have been cautious about dynamic pricing, and Asda has confirmed it is not part of its ESL strategy. But the ability to price items reactively could present a future opportunity for some.
Return on investment
Altogether, the possibilities are multitude. And with "more use cases, the ROI gets shorter and shorter" says Potter. If simply replacing paper labels, the ROI is between four and six years. But if used to their full potential, investment can be returned in as little as nine months, the company says.
Panasonic's Taylor makes the same point. "With technology cost reductions and the increase in labour costs, the ROI on ESLs has become more attractive," he says.
However, the initial capital expenditure remains significant, he admits. "The cost of ESLs have reduced over the past few years, although capex investment has held retailers back."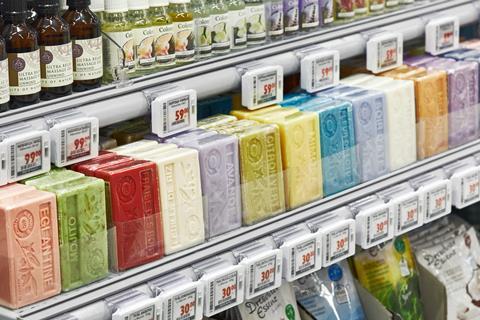 Pricer's ESLs start at around £4 per device, rising to as high as £60 for larger displays. As Southern Co-op's Barnett puts it: "If we were to roll out this product to all of our stores, it would be one of the largest investments in retail technology we have made." Scotmid similarly says "this will be one of the biggest, if not the biggest, investments" it has made in tech.
Still, despite the upfront costs, it seems the industry is keen to give ESLs another shot. That's including the big four. While Asda is making headway, industry sources say both Tesco and Morrisons have requested proposals for large-scale ESL products.
"Over the next few months some of the tier two grocers are going to start adopting this type of technology," Potter claims. "Quite frankly if people want to be revisiting this and looking at it they need to start now – it's a lengthy process, and a really serious capital investment.
Talking to those who have already rolled out ESLs, it seems the investment can pay off in more than one way.
"I've heard lots of positive terms from stores," says Robertson. "I think my favourite expression so far is 'game changer'."