Before its makeover as an 'ultra' convenience store last week, the Tesco Metro in Hammersmith was "harrowing" according to Kantar Retail analyst Bryan Roberts – thanks to its enormous, snaking queues, the overriding fear for many customers was that they might never get out.
Yet now its clean and airy aisles, with a slimmed down but highly targeted – and high availability – food-to-go offer, features swanky salad and hot food bars, and banks of queue-busting contactless checkouts.
It is the latest in a range of new store concepts unveiled by Tesco in the capital in recent months, from "super-upmarket" c-stores serving the financiers of Canary Wharf to ethnic minority families targeted in over 200 other stores, across various formats, since it launched its flagship model in the Upton Park Metro refresh almost a year ago.
So could the London model provide new boss Dave Lewis with the inspiration he will need when he joins from Unilever next month to breathe life into Tesco?
Double time
The Hammersmith Metro's ranging is testimony to the dual role it plays for its catchment area, says Roberts. "Until 5pm, it's a food-to-go store. After 5pm, it's a grocery store. The food-to-go, produce and bakery departments take pride of place at the front of the store.
The London look
Brent Cross superstore: offers Tesco's biggest range of kosher food
Canary Wharf Metro: Tesco's biggest seller of Champagne with "huge" sports and nutrition sales
Ealing Broadway: Tesco launches first Polish deli counter at c-store
Upton Park Metro: refreshed a year ago to cater for 95% ethnic population with massive world foods focus
Hammersmith Metro: Tesco's first "ultra convenience" store
"It serves an extremely diverse range of shoppers in terms of affluence levels. This diversity is also acknowledged by the inclusion of a nifty little world foods section, which houses a decent selection of Asian and Polish lines."
"All in all, a familiar story: another superb piece of work by the London team," adds Roberts, with queues "all but eradicated".
Yet Roberts is left with "the nagging sensation that Tesco really should be implementing this programme (design, range, layout, service) across the UK.
"The flip side of stores like Hammersmith is that so much of Tesco's estate elsewhere is bland and standardised," says Shore Capital analyst Clive Black. "One problem Tesco faces is that the diversification we've seen in stores like Upton Park, while undoubtedly receiving a warm reaction from customers, also implies major costs. Tailored store concepts are good, so long as they are manageable and can be done within confined parameters, otherwise it poses problems for a national model."
Tesco's store revamp programme has struggled to shine as much outside the capital partly due to its need to strike a chord with such a broad range of customers. "One of the great things about Tesco's success in the 1990s was that it managed to bring universal appeal," says Black. "Some of the things they have tried to do are just too cool for many. You could say it's not the ethnic minorities they have struggled to cater for but the ethnic majority."
Two and a half years into its £1bn Building a Better Tesco programme, the spluttering performance of the refresh programme undoubtedly helped hasten the exit of Philip Clarke, as it failed to provide a sufficient uplift to overall sales, but with Tesco insisting it is on track to refresh 100 Extras, 50 superstores, 40 Metros and 450 Express stores in this financial year alone, Lewis will not want for advice on alternative store solutions.
New format model
Bruno Monteyne, analyst at Bernstein Research, is urging Lewis to split Tesco's estate into three separate propositions – a high-end 'Finest' store, a standard Tesco, and a discount chain to take on Aldi and Lidl.
"Splitting stores into different channels allows them to use different strategies with different customers," says Monteyne. "Rip out 20% of the range, have cheaper shelving and products in the more deprived areas, and give customers a better deal. In London, where people want someone behind the counter who knows the difference between a Parma ham and a Serrano ham, that requires more investment."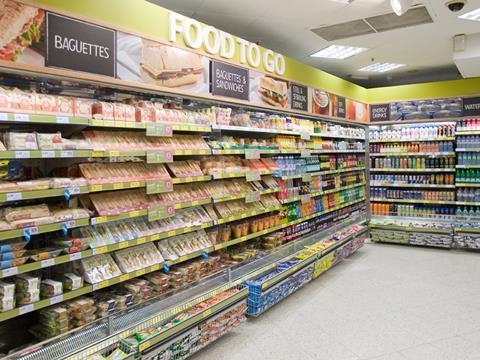 But Black believes Bernstein's solution is far too complex a message for Tesco to send to customers, who he claims are crying out for clarity from the struggling market leader. "What Tesco needs in its strategy is greater simplicity," he says. "At the moment you need an A-level in retail pricing just to understand its pricing strategy."
David Gray, an analyst at Planet Retail, claims Monteyne's idea also underestimates the complexity Tesco faces as it tries to win back shoppers. "Tesco already probably has about 40, 50 or 60 different types of store model and to say it could reduce them to three is over-simplistic," he says.
"In London, stores like Hammersmith are taking elements they have already tried, in stores like Tooley Street, and taking them to the next level, with even more food to go. But there is quite a cost to it and on a national level they don't have that much flexibility."
However, Andrew Yaxley, Tesco MD for London, has no doubt many of the models being trialled in London will roll out elsewhere. "We have customer missions ranging from 'neighbourhood' and 'on the move' shops to 'super ethnic' and 'super upmarket' and several variations in between," says Yaxley. "We are perfecting this model and trialling to learn what works well in different types of neighbourhoods and for different customers. We are then able see how these learnings apply to stores both in London and across the UK."
There will be much for Lewis to consider when he takes over Clarke's Cheshunt hot seat but it's safe to assume that a trip to London to see what is happening will be one of his first points of call.