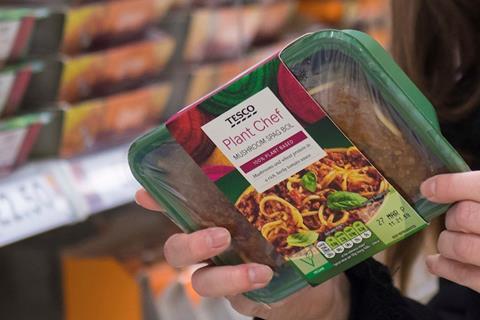 Tesco has committed to a 300% increase in sales of plant-based meat alternatives by 2025 as part of its ambitious plan to halve the environmental impact of the average UK shopping basket.
It said the pledge ensured it would be "the first UK retailer to set a sales target for plant-based meat alternatives".
The target will feed into the wider set of sustainability measures developed by Tesco with the WWF for the retailer's Sustainable Basket Metric – with the pair setting 2030 as a "potential ambition" to cut the climate impact of its food supply chain by half.
Launched last December, the metric tracks the impact of some of the most commonly consumed goods against key sustainability criteria such as climate change, deforestation and food and packaging waste.
Tesco plans to achieve its plant-based sales goal through increasing the availability of plant-based products in addition to improving their affordability and visibility, and by championing product innovation.
It said it would improve availability by introducing and growing the plant-based category across its stores, with new products across 20 different categories including ready meals, breaded meat alternatives, plant-based sausages, burgers, quiches, pies and party food.
And as part of its pledge to improve the visibility of the products it has committed to "providing a meat alternative where a meat version is featured, for example Richmond sausages and Richmond plant-based sausages to feature together".
In another industry first, Tesco has also committed to publishing the sales of plant-based proteins as a percentage of overall protein sales every year to track its progress. Citing its move to become the first UK retailer to publish its food waste data in 2013, Tesco said it hoped this new level of transparency on protein sales would "help encourage the rest of the food industry to make similar commitments".
Tesco said food production, specifically meat and dairy production, "has a significant impact on precious habitats like the Amazon and Cerrado regions of Brazil and is acknowledged as a major contributor to climate change".
"We know from our experience in tackling food waste that transparency and setting ambitious targets are the first steps towards becoming a more sustainable business," said outgoing Tesco CEO Dave Lewis.
"Our transparency on protein sales and our new sales target for meat alternatives gives us the platform to becoming more sustainable and will provide customers with even more choice," he added.
"We can't accomplish the transformational change needed for a truly sustainable food system on our own, so we're calling on the whole industry to play its role, starting with increased transparency on its sustainability impacts. We also call on the government to do more by helping to scale up innovations and create a level playing field to ensure companies drive sustainability in their supply chains."
Tesco's move was described as a "sector-leading step" by WWF CEO Tanya Steele.
"Food businesses cannot have a sustainable future without transparency. They need to know where they are starting from in order to know where they are going," she added.
"Our partnership with Tesco aims to halve the environmental footprint of the average shopping basket, but we need a sector-wide step-change in transparency and accountability to achieve the scale and pace of change that is so desperately needed. We ask all food businesses to join us on this journey."