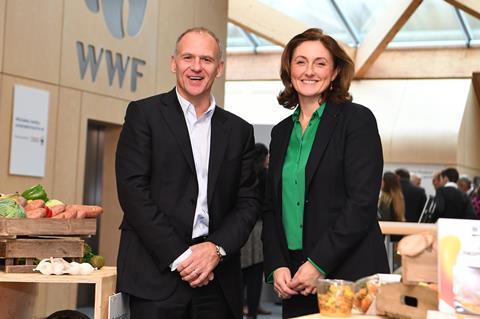 Tesco has unveiled plans for what it claims is the first measure of the environmental impact of consumers' shopping baskets.

Together with the WWF, it is launching a series of new metrics it says will track the impact of some of the most commonly consumed goods against key sustainability criteria. These include climate change, deforestation and food and packaging waste.

Tesco also urged retailers and suppliers to follow suit, saying it was time for the food industry to provide consumers and stakeholders with "consistent sustainability data to understand the true environmental impact of food".

The supermarket's Sustainable Basket Metric will initially involve 20 Tesco products, including the likes of bananas, potatoes and chicken.

Tesco plans to track the impact of each product using a weighted set of seven criteria. Climate change (25%) will be the biggest factor, followed by deforestation (20%), sustainable diets (15%), sustainable agriculture (12%), marine sustainability (10%), food waste (10%) and packaging waste (8%). Tesco said that while all seven criteria were "critical "to making the average UK shopping basket more sustainable, they had been weighted according to their impact on the environment.

The retailer will publish a first assessment against the metrics in early 2020, it said. It then plans to set a firm target for when its aim of halving the impact of the average UK shopping basket can be reached, with 2030 named as a potential ambition.
The formula used to assess progress in the various targets will use metrics such as the percentage of South American soy used from verified zero-deforestation areas, the proportion of farmers in its supply chain taking robust action to improve soil health, and the percentage of farmers producing fresh produce from regions with sustainable water management.

Tesco CEO Dave Lewis said the products included in the basket had been selected due to their popularity with customers and the different impacts each product had on the environment. The basket includes household staples such as bread, milk, meat, fish, and fruit & vegetables.

"At Tesco we want to provide customers with good quality, affordable food that is produced in a sustainable way," Lewis said.

"To help us achieve this we've partnered with WWF with the goal of halving the environmental impact of the average UK shopping basket.

"Throughout our partnership, we'll be carrying out industry-leading work to make food production more sustainable, including sourcing commodities like soy and palm oil from verified zero-deforestation areas, and improving soil health and water usage on farms in the UK. Working together we can help to ensure the natural environment is protected for future generations."

WWF UK CEO Tanya Steele added: "Food production is at the core of many of the environmental crises facing our planet - it's the leading cause of tropical deforestation and is responsible for 24% of the world's greenhouse gases.

"The launch of the Sustainable Basket Metric will enable Tesco to fully understand the end-to-end sustainability impact of some of the most popular foods, and we're proud to have worked with them to create it. We want other retailers to take a similar approach and come together to ensure a more sustainable approach to food production."