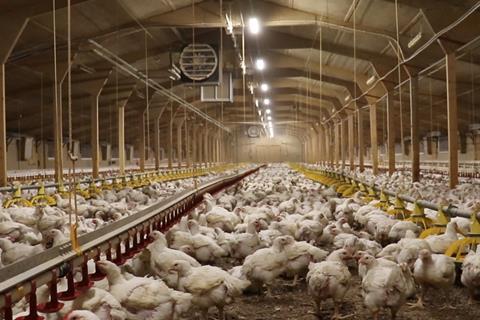 Tesco is to launch a line of "more affordable" ethically farmed chicken, following criticism of the "intensive" farming practices of its suppliers.
Rolling out "early next year", the supermarket said the new line would be an extension of its current range of higher-welfare chicken. It would meet the criteria laid out by the Better Chicken Commitment – a set of standards drawn up by a group animal welfare charities – it added.
Tesco – which is currently not a signatory of the BCC – along with other retailers came under fire from campaign group Open Cages last month over the rearing of so-called 'FrankenChickens' in their supply chains.
An open letter following up on the charity's investigation, signed by some 25 British animal welfare specialists, called on Tesco's CEO Dave Lewis to ditch "painful" intensive farming practices, including the use of fast-growing chicken breeds.
A Tesco spokesman this week stressed all its fresh chicken "meets or exceeds government-approved industry welfare standards, as well as Red Tractor", while its organic and Finest brands met the Better Chicken Commitment.
And while not responding specifically to the campaign, he added the retailer would now introduce higher-welfare criteria in its value tier. "We will be extending the range to a higher welfare, including more indoor chicken. It will meet all points of the commitment and our aim is to make it more affordable.
"Working with our farmers and suppliers, we are committed to continuously improving the quality of our range to stay in line with best practice and animal welfare expertise."
However, Tesco would not be drawn on any further details on topics such as packaging until closer to the launch date, the spokesman said.
The open letter, whose signatories included TV presenter Chris Packham and former government deputy chief veterinary officer Dr Alick Simmons, said, "Tesco is the market leader in the retail sector for intensively reared chicken. They are therefore ideally placed to lead this industry towards better welfare for broiler chickens.
"Although the current legal minimum standards for broiler chicken farming represent some improvements in the protection of welfare, they still do not achieve reasonable and practical standards of health and welfare for broiler chickens, in our opinion.
"By signing the Better Chicken Commitment, Tesco has the opportunity to improve the lives of many millions of chickens and convincingly demonstrate to the public its commitment to animal welfare and corporate responsibility."
The Better Chicken Commitment is a document that was drawn up in 2017 by 28 leading animal protection charities from across Europe.
It calls on signatories to improve the welfare standards of chickens in their supply chains, with criteria including the use of slower-growing breeds, lower stocking densities and specific environmental requirements.
So far, the only supermarkets to have signed up to it are Waitrose and M&S.
"Whilst it is encouraging that Tesco is looking to include a range of chicken to the BCC standard, we urge them to consider making a full commitment across all their chicken categories and work alongside industry towards meeting the 2026 deadline," said Dr Tracey Jones, director of food business at Compassion in World Farming.
"The aim of Better Chicken Commitment is to raise the baseline standard of all indoor reared chicken and this is what other BCC signatories, including Waitrose and M&S, are doing."