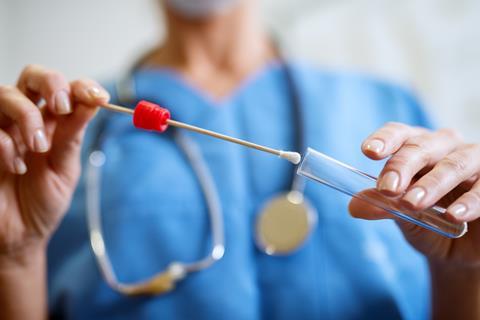 The retailer will start trialling the tests in one, unnamed, region of the UK this week

It comes as the government begins to roll out testing for thousands of the industry's key workers
Tesco is to offer coronavirus testing to its staff as a government plan to ramp up the service to thousands of the industry's key workers starts to roll out.

The UK's biggest retailer said it was trialling the tests in one, unnamed, region of the UK starting this week and stressed they would be "entirely voluntary".

Tesco said whilst the tests would be "only for critical workers currently experiencing symptoms, or for those with symptoms who are living with critical workers", it hoped to roll out the process more widely in the following weeks.

It said its initial testing drive would be for around 200 employees. Tesco said around 41,000 staff a day were currently off work, although this figure was steadily falling. It added that it had recruited an extra 50,000 staff in recent weeks.

The government this week said it was rolling out testing for "critical personnel in food and drink production" as part of a major expansion for the service among key workers.

Earlier this week, The Grocer revealed the government aims to be able to carry out 17,000 tests a day by the end of April, of which 12,000 a day will take place at up to 48 drive-through testing centres, in places such as university car parks. A further 5,000 daily tests are set to be carried out at home. These will be delivered and collected by Amazon with results provided within 48 hours. The Grocer understands a raft of food companies have already signed up for trials of this service.

The new antigen testing push is aimed at enabling workers to return to work should they test negative for the virus.

It comes as absenteeism rates have begun falling in the industry, with The Grocer revealing yesterday they were down to less than one in 10 for most suppliers, and food retailers reporting levels of 12%.