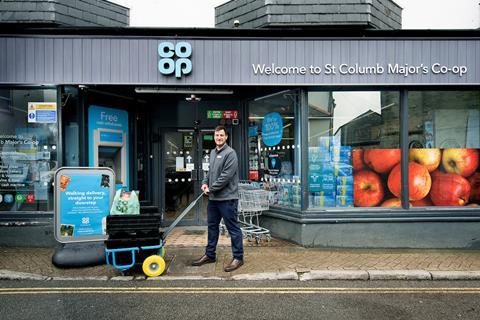 Co-op is to roll out 'walking deliveries' – which will see staff deliver online orders to customer homes on foot – to 200 stores this year.
Walking deliveries will be available to customers within a 15 minute amble of the stores, and follows a trial in Cornwall.
The roll-out is expected to include small towns and villages in "quick delivery deserts", which are "often considered 'off-line' by rapid home delivery providers who have a focus on dense urban hubs", the supermarket said.
Multiple orders made via Co-op's online store will be loaded onto an ergonomically designed trolley, and hauled by Co-op staff to customer doorsteps. Deliveries will be made on the same day as orders come in and typically in less than two hours.
The retailer said the service "has proved popular with colleagues and customers" adding that the move was the "next step" in its online growth.
Co-op revealed its goal is to grow its online business revenue by a further 50% to £300m by the end of this year, continuing 36 consecutive months of growth to date.
As part of that aim, it this week expanded its partnership with robot delivery firm Starship, to bring automated grocery deliveries to Cambourne in Cambridgeshire. The Cambourne trial will give 12,000 residents in 5,000 homes access to the autonomous delivery service, which is already available in Milton Keynes and Northampton.
Earlier this month the retailer began trialling an external window hatch service that allows shoppers to pick up their shopping without entering one of its stores in Brighton.
Co-op also claims to be the most widely available supermarket on the Deliveroo app with more than 1,000 stores on the platform, and since launching online operations in 2019 to have mounted the fastest roll-out of picking locations outside the USA.
"Co-op stores across the country are well placed to serve shoppers locally and a key part of our strategy is to develop our ecommerce offer, using the competitive advantage of our store footprint to provide fast home deliveries, click and collect and added services," said Chris Conway, Co-op's ecommerce director.
"We know that as a convenience retailer, the ability to pop into their local Co-op will always be important to customers, but we also know that they want flexible options online, and so we continue to work to meet customer needs, however, and wherever they choose to shop with us."
The most popular items ordered online from Co-op to date are milk, bananas, cucumber, burgers and bread. The average age of its online shopper is 36.