If the last few months have taught us anything, it's that Britain's views on Europe are decidedly mixed. But while the EU referendum has divided UK opinion, one thing we can still agree on is our love of the Continent's cheeses.

In fact, Continental category growth shows no sign of slowing as Brits begin to experiment with more unusual varieties, with value sales up 5.3% on volumes up 10.6% [Kantar 52 w/e 22 May 2016]. So what cheeses are driving growth? How are brands competing with own label? And as Brexit looms, will Britain's Continental love affair last?

Top Continental performers in growth terms this year include Gouda and Gruyère, but leading the pack is Manchego. After last year's stagnant performance of zero per cent growth, the cheese became this year's top-growing variety, with value and volume sales up 28.8% and 34.5% respectively.

"The market is now more aware of Manchego and they like to try something that's not cows milk," says Lindsey Butler of London-based Spanish food retailer and wholesaler Brindisa, who adds its Manchego value sales are up 14.5%, year on year, the largest growth of any of its cheeses.
"People like to try something that's not cows milk and they are more aware of Manchego"

- Lindsey Butler, Brindisa
Butler attributes Manchego's success at retail to its growing popularity in restaurants, as "more and more chefs like to use such a versatile cheese in their kitchen than they did before, at least here in London". At the other end of the spectrum sits Leerdammer, which has suffered a dramatic loss of 15.3% in value despite peers Jarlsberg (+1.7%) and Maasdam (+2.3%) performing well, and the cheese with holes market enjoying overall growth of 4.4%.
Sales of Bel's Leerdammer brand are also down this year, by 7% in value and 6% in volume. Chloé Féminier, head of insight and planning at Bel UK, says a change in promotional activity in line with retailer strategies has had a "short-term" impact on volumes. "The last six months have seen Leerdammer decrease its number of promotions and switch from 2-for-£3 to price cut mechanics."
She insists Leerdammer is "still a strong contender in the Continental cheese category", and says this is reflected by its 31% brand loyalty.

The brand's Sandwich Short of a Picnic ad returned to screens in July, and Féminier claims its newest NPD, Leerdammer Thins, has received "excellent consumer response" so far.

Norseland's Jarlsberg brand took the top spot as the fastest-growing brand in the cheese with holes sector, after a year of heavy marketing and NPD, which included a consumer-facing masterclass with Norwegian chef and author Signe Johansen. "2016 marks the 60th anniversary of Jarlsberg and we have developed a tailored activity," says Lisa Harrison, brand manager at Norseland. "Using this history and the Jarlsberg story can set us apart from own-label products and enables us to continue seeing growth."

The launch of Jarlsberg Light Slices with 50% less fat also attracted new buyers to the brand, she claims.
TAKE-HOME SALES CONTINENTAL CHEESE*
52 w/e 22 May 2016
Value
Volume
£(m)
y-o-y%
kg(m)
y-o-y%
Mozzarella
70.4
10.0%
12.5
15.3%
Parmesan
47.6
2.3%
2.9
11.3%
Brie
46.5
10.5%
6.5
11.7%
Edam
35.4
5.5%
5.8
9.3%
Feta
21.1
9.0%
3.2
24.1%
Camembert
19.4
-2.7%
3.0
1.3%
Gouda
17.6
7.6%
3.0
16.2%
Emmental
16.3
1.0%
2.4
5.8%
Leerdammer
14.6
-15.3%
1.6
-13.9%
Salad Cheese
12.5
-1.3%
2.5
0.7%
Mascarpone
9.5
-11.2%
1.7
-4.4%
Jarlsberg
7.3
1.7%
0.7
2.8%
Gruyere
6.6
12.5%
0.4
13.3%
Manchego
5.2
28.8%
0.4
34.5%
Ricotta
4.3
20.9%
1.0
22.7%
Maasdam
4.0
2.3%
0.7
7.8%
Total
463.7
5.3%
61.6
10.6%
*Excluding blue
Source: Kantar Worldpanel
Own label success
Overall, however, own label continues to outperform brands, with own-label value sales up 7.5% compared with branded value sales decline of 3.4%.

Supermarkets are developing their own-label ranges and growing their premium Continental offer, says Hamish Renton of consultants HRA, citing Tesco Finest Mozzarella Bocconcini and St Felicien, Morrisons Signature Parmiggiano Reggiano and French Comté, and the "more adventurous" Coeur du Berry at Waitrose.

Demand for premium cheese is being driven by foodservice, adds Mark Humphrey, sales director at Futura Foods. "People are eating out more and more and restaurants are using cheese as a point of difference to grab a slice of the market," he says. "We are sampling things like barrel aged feta and 36 month matured parmesan."

This is filtering down into retail, with the mults already looking at stocking more niche Italian cheeses, he says.

Burrata - a semi-soft cheese made from mozzarella and cream - is one such Italian cheese to hit shelves recently.

Supermarket NPD isn't limited to premium cheese, however. Retailers are also expanding their own-label ranges with new formats of halloumi as demand for the Cypriot cheese continues to soar, with dairies "struggling to keep up" with demand. "Our Yamas brand was the first halloumi burger slice on the market and it is now available as private label in most major supermarkets," says Humphrey.

There is, of course, still Brexit to consider. The UK's pending departure from the EU is likely to bring price increases, predicts Renton. "The greatest impact from Brexit we've seen so far has been on currency and this is likely to have an impact on Continental cheese trade. It will make imports more expensive and this is likely to result in higher prices."

Currency changes, combined with rising milk prices on the Continent, have already resulted in some "fairly steep price rises" for Continental cheeses, warns Humphrey.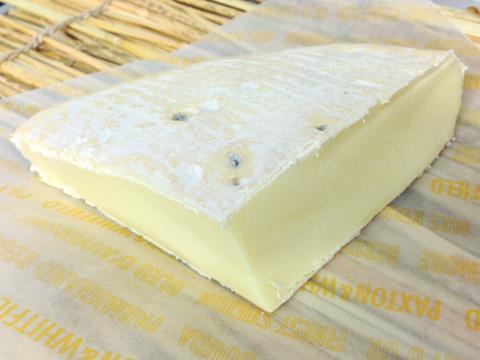 Retailers will be sheltered from immediate price hikes by supply contracts, but higher prices might eventually filter back to supermarket shelves, he admits. "If prices rise drastically we might see the market move away from the premium products, but I think standard cheeses like mozarella will maintain the rate of sale."

Rising prices for imports might even open up opportunities for British-made Continental-style cheeses, such as the Reblochon-inspired Rollright (pictured above), according to Ros Windsor, MD at London cheesemongers Paxton & Whitfield. "There is real consumer interest in good artisan cheeses, wherever they are from."

So while challenging times may be on the horizon, Continental cheese can be reassured it's heading towards 2017 with Britain's backing.