In the wake of the Müller-Wiseman and Arla-Milk Link deals, hunger for consolidation and to secure big milk fields is as strong as ever. Which are the most attractive targets? And why?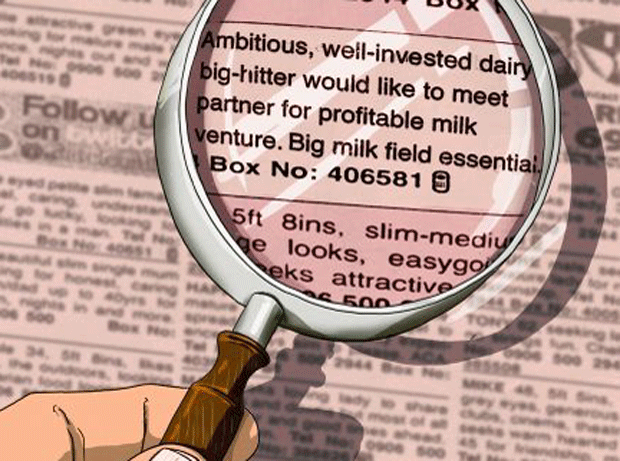 Twenty-twelve proved a big year for dairy M&A, with Müller swooping on Wiseman and Arla merging with Milk Link. And already, the industry is bracing itself for more.
Last year's deals created two new dairy giants that are forking out small fortunes on growth. Müller spent £280m buying Wiseman, an unknown amount of millions more on Minsterley, plus £17m on a new butter plant; while Arla has invested £200m in new processing at Aylesbury, Westbury and Lockerbie in the last three years alone. They are diversifying their businesses - such as Müller's move into butter and Arla's play for branded Cheddar via Anchor - and both are hungry for milk, each launching aggressive farmer recruitment drives.
Their ambitions for growth alone could prompt - directly or indirectly - further acquisitions and mergers among UK dairy suppliers. But many dairy companies - not just Müller and Arla - are aggressively looking to secure milk supplies at a time when UK milk production is falling. On top of that there's the end of quotas on the horizon in 2015, the need for scale to cope with volatile global prices, and the need for strategic deals by the likes of Dairy Crest to keep the City content, and by First Milk to deliver on member expectations.
"There are arguably more drivers for consolidation now than there were last year," says John Allen of Kite Consulting. "Big or small, there are plenty of options and partners for consolidation."
But what makes for a good M&A deal in this climate, and who might the obvious pairings be?
Objects of desire
Who are the top 10 UK businesses that should be on the radar of anyone with serious growth ambitions in the UK dairy industry?
1 Dairy Crest: Always "in play" because of its plc status. Has 1.5 billion litres of milk, attractive cheese, spreads and flavoured milk brands, but still needs to improve performance in its liquid business. Sales of £1.4bn, with 5,300 employees.
2 First Milk: Owned by 1,800 farmers with 1.45 billion litres of milk. Primarily a cheese maker and milk broker, with some added-value businesses and a joint venture on whey with Fonterra. Its milk volume is a major attraction, and the co-op is - like Dairy Crest - an obvious candidate for anyone wishing to make a "big play" in the UK.
3 Wyke Farms: Family-owned business employing 200 people and turning over about £60m. According to Kantar, it has the third-largest Cheddar brand by value in the UK. Located in an excellent milk field in the South West that would be attractive to many of the big processors.
4 Meadow Foods: Family business in Cheshire with a milk portfolio of about 680 million litres from 540 farmers, all of it in an attractive milk field. Currently investing £3m in a processing facility at Nene Valley. Sales of £340m.
5 Yeo Valley: Family-owned yoghurt, milk and ice cream business based in South West, with a strong organic brand plus own-label. Turns over about £230m.
6 Joseph Heler: Family-owned, well-invested speciality cheesemaker in a prime milk field in Cheshire. Best known for traditional cheese, especially territorials. State-of-the-art whey processing facility. £60m turnover with 140 staff.
7 Belton Cheese: Family business in Cheshire, making 7,000 tonnes of territorial cheeses for UK and for export to US, Canada, Russia, Japan and South Africa. Sales of £28m with 85 staff.
8 Grahams Dairies: "The other Scottish dairy". Well known for its milk and butter, but now expanding into branded cheese. Turnover of £57m and employs about 260 people.
9 Payne's Dairies: Yorkshire-based middle ground supplier with predominantly Northern and Midlands penetration. Attractive because of its milk supply and good milk fields, but middle-ground footprint might put some potential buyers off. £100m turnover with 240 staff.
10 Long Clawson: Small co-op and biggest maker of Stilton in the country. Also makes soft and blended cheeses. Could be attractive to another Stilton maker or to a hard cheesemaker looking to diversify its range and compete with Arla (the only UK cheese manufacturer able to offer the full range of products). £50m turnover and has 200 to 300 staff, which varies seasonally.
Synergies
Scale and profitability are the obvious factors, but with a notable absence of private equity in this field (at least to date), value is also a big consideration, says Clive Black, head of research at Shore Capital. "Profitable businesses can be very expensive to buy. Quite often, the best value businesses are those where profitability can be improved or where a failing business can be turned around, through either cost savings or better management."
But an acquisition with a strong strategic fit is also highly valued, whether because the businesses are complementary, or cost savings can materialise, or there are milk field synergies, says Black. "There needs to be a 1+1=3 outcome."
Although big deals dominated last year, a smart consolidation move doesn't have to be about big chasing big, adds Neil Kennedy, former boss of Milk Link and now chairman of Crediton Dairy. "However, the ones most likely to need to consolidate are those, like Milk Link was, that are too small to be big and too big to be small."
There are possible candidates for consolidation across the dairy industry, and they come in all sizes - from the biggest UK dairy company, Dairy Crest, to the biggest UK dairy co-operative, First Milk, and down to great-performing, varyingly-sized family businesses such as Wyke Farms, Alvis Brothers, Rodda's and Belton cheese or up-and-coming branded stars like yoghurt newcomer The Collective Dairy, which launched in the UK in 2011 and is run by former Gü directors Amelia Harvey and Mike Hodgson.
The key word here is 'possible': just because some of these companies - or those highlighted on our M&A list - could be attractive targets for consolidation doesn't mean they're in the market. Indeed, Dairy Crest CEO Mark Allen is absolutely insistent his company isn't up for sale.
Gossip
Not that this has stopped the gossip. Dairy Crest being taken over by Müller Wiseman or French giant Lactalis is a popular speculative scenario, with an Arla-Dairy Crest tie-up largely ruled out for competition reasons on the liquid milk and cheese fronts. That said, similar constraints might also apply on the liquid side to any Müller-Dairy Crest partnership.
First Milk's milk volume is undoubtedly a major asset, which could be attractive to one of the big guys; speculators don't rule out an Irish player making a move for The Co-op. But First Milk's management insists it wants to remain British and to go down the added-value route. A case in point was its acquisition, last year, of sports nutrition specialist CNP Professional, but it might not have the luxury of time to wait for further suitable small companies to come along. "Given the rate of change in the industry, First Milk may have to move quickly," says industry observer Ian Potter. "It might have to do the big deal."
What form such a deal might take remains to be seen - the co-op has a new chairman in the form of Sir Jim Paice, and new directors too, which could herald a new strategic direction. Like many companies, First Milk's sexiness would undoubtedly be bolstered if its pension deficit were reduced, but it says it doesn't see this as a major issue.
Of the smaller players, the two branded acquisition jewels in the crown are probably Yeo Valley and Wyke Farms. If either family ever decided to sell, potential buyers would have to form an orderly queue because both would be good fits with numerous companies. Müller is believed to be keen on adding a cheese business to its UK portfolio, and Wyke - with its fast-growing brand and complementary milk field - has to be up there as a top-notch acquisition target. Further cheese options for a company like Müller could include Belton and Joseph Heler - two good, well-respected businesses with those all-important complementary milk fields.
Game changer
On the liquid side, clearly Arla's new Aylesbury factory will change the landscape. "History shows that new, efficient capacity drives out the old or the small," says Allen at Kite Consulting. The sector is dominated by lots of medium-sized liquid processors - the likes of Medina, Freshways, Paynes, Cotteswold and Grahams - that could make for potential takeover targets for players looking to keep pace with Arla, but it remains to be seen if their core markets, particularly the cut-throat middle ground in big cities like London and Birmingham, will be attractive enough. Large processors have been doing their best to reduce their exposure to the middle ground in recent years, with Arla exiting the sector completely in 2006 and Dairy Crest selling off its depot-based milk delivery business in the north-west in July.
"The ones most likely to need to consolidate are those, like Milk Link was, that are too small to be big and too big to be small"
Neil Kennedy, Crediton Dairy
Of the medium-sized companies, Meadow Foods is particularly attractive. It has a big milk pool - 680 million litres a year - so if anyone acquired or merged with Meadow, all of their milk sourcing birthdays would come at once. But Meadow would come at a hefty price - it was rumoured a few years ago that opening bids for the business would be accepted at £20m, and it has a lot more milk and better assets now than it had then.
Away from the processors and brokers, there's a host of food businesses that would also make attractive partners, and these shouldn't be forgotten in the great dairy consolidation game. Irish companies in particular are clearly looking for more footholds in the UK. "There are around 7,000 food companies in the UK, with 100 accounting for 70% of food sales," says John Giles, a consultant at Promar. "Away from those top few, the industry is very fragmented and the sector is ripe for consolidation."
The question, though, is whether there is a will from the companies themselves. Aside from Dairy Crest, First Milk and Long Clawson, all the businesses in our top 10 list are family-owned, seemingly doing well and either aren't for sale full stop (or so they say), won't be for sale at a knockdown price, or will be the ones doing the acquiring or the merging, rather than being on the receiving end. Consolidation might be on the agenda, therefore, but there will be some hefty price tags attached, and the industry is unlikely to lose too many of its famous family names just yet.