When Action on Sugar kicked off its campaign at the start of the year, yoghurt was one of its headline-grabbing examples of hidden sugar in 'healthy' food. The press pounced on AoS findings such as that a single 150g serving of Yeo Valley 0% fat vanilla yoghurt contains five teaspoons of sugar – more than a bowl of Frosties, which contains four.
The campaign made front page news, but now that the dust has settled, have consumers started to shun sugary yoghurts and how is the industry responding?
Overall, the yoghurt market is struggling. Volume sales have fallen by 0.6% over the past year and value sales are up 1.8% largely as a result of high commodity cost inflation [Kantar 52 w/e 22 June 2014].
But it would be wrong to conclude that not much is going on. The headline figures hide big changes within the category.
The biggest success story is Greek/Greek-style, with sales up 22% year on year [Kantar]. After a frenzy of major new brand launches last year, such as Danone's Danio and Oykos brands and Yoplait's Liberté, this year the big players expanded their ranges with new flavours, formats and sub-brands. Recent examples include the Oykos Heavenly range, Danio's new mini-multipacks and Müllerlight Fruitopolis.
The newcomers are hopeful they can emulate the success of Greek-style in North America. "We are at a very early stage of Greek-style in the UK," says Richard Williams, marketing director for Yoplait UK and Ireland. "It only accounts for 3% of the overall category – whereas it is 25% of the category in Canada and almost half in the US."
Greek growth
Michael Inpong, marketing and R&D director at Müller, says 8.7 million UK households that buy yoghurt have yet to try Greek-style, suggesting huge potential for future growth.
"Because of the immense potential still in Greek Style, innovation is crucial in capturing the interest and excitement of consumers," he adds, pointing to the recent launches of Fruitopolis and Bliss Corner, both backed by heavy-duty advertising campaigns.
Greek/Greek-style products appeal to shoppers looking for an indulgent thick texture, without a high fat content. The straining process also produces yoghurts that are naturally higher in protein and lower in sugar, making them well positioned for success in the current anti-sugar climate.
Natural advantage
Total head of marketing Alison White believes health is one of the reasons why Greek is doing so well. "The Greek/Greek-style and natural sector is still showing strong growth ahead of the category. This is probably because it is very much seen as a healthier alternative to some of the more calorific alternatives such as sugar-loaded regular yoghurt," she says.
Now that media has turned its attention to sugar, some brand owners believe consumers may seek out low-sugar options in the same way they have already embraced lower-fat yoghurts. "Just from listening to conversations on social media, we can see that people are certainly now more conscious of sugar in their food, and rightly so," says White. "The more media attention that the debate receives, the more customers will seek out lower-sugar yoghurt options."
The Collective Dairy agrees it's time for yoghurt suppliers to take action. It is currently working on a sugar reduction plan across its range, which will reduce sugar content by 15%. The first recipe change is due at the end of 2014.
"We see sugar reduction as a major priority," says Fiona Cramp, head of NPD. "Previously consumers' eyes zoomed to calories on the back of pack and now the norm is to count the number of grams of sugar in a product."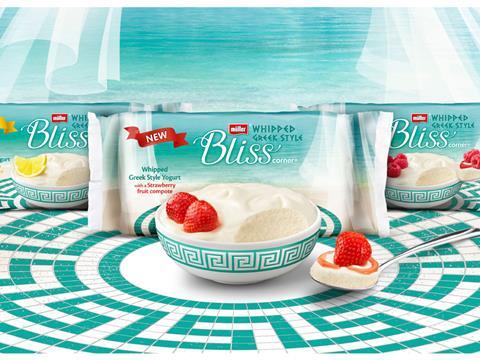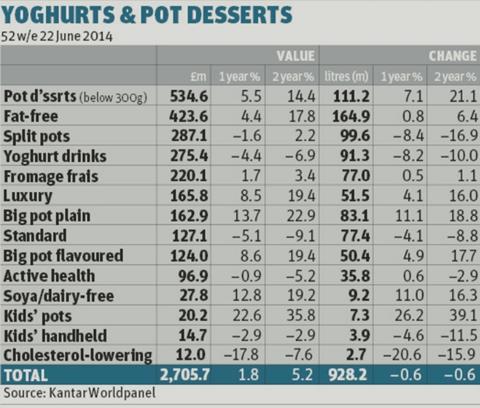 One of the challenges for the industry is that much of the sugar content of yoghurts is naturally occurring in milk or in the fruit that is added. Even The Collective's natural unsweetened yoghurt has about 8% sugar just from the milk's lactose. "Consumers need more education on the difference between refined sugars, which are added, and the sugars that occur naturally within other ingredients," says Cramp.
Consumer education
It's a point echoed by Clare Cheney, the outgoing director general of the PTF. "The total sugar content which you see on the nutritional panel is made up of natural milk sugar (lactose), natural fruit sugar where fruit is added, and any sugar which may be added for taste," she says.
"Only a small part of national sugar intake comes from yoghurt consumption and when yoghurt is considered as a part of a healthy diet, it should be noted that it provides a variety of essential nutrients including protein, calcium, minerals and vitamins – especially B vitamins."
Indeed, despite the sugar furore, most brands appear confident they can avoid a sugar-related backlash. Williams says the media attention on sugar is something Yoplait is "highly watchful of" but it hasn't seen major changes in consumer behaviour this year.
And Müller points out its products are clearly labelled so shoppers are able to make informed choices. "We offer consumers a range of products, from healthier fat free, lower-calorie options to thick and creamy, indulgent desserts," says a spokeswoman. "All of the ingredients and nutrition information, including the sugar content, are displayed on pack so consumers can make the best choice for them."
The luxury trend
While striving to make its products as healthy as possible, brand owners have to be mindful that taste is the main driver of consumption.
Indeed, one of the strongest growing subcategories within yoghurt is luxury – with sales up 8.5% year on year [Kantar]. There are a growing number of brands that blur the boundaries between yoghurts and desserts – such as Danone's new Oykos Heavenly range, in salted caramel and apple & cinnamon flavours.
"The luxury segment is growing well ahead of chilled yoghurts and desserts," says Danone head of category development Gregory Pitts. "Desserts are a fantastic way for yoghurts to capitalise on this growth, and that's why we chose to expand our Oykos range with a new Heavenly range of flavours earlier this year."
Yoghurt makers face two seemingly opposing trends. On the one hand, consumers want tasty and indulgent yoghurts; and on the other they want healthy products, with clean and natural ingredients.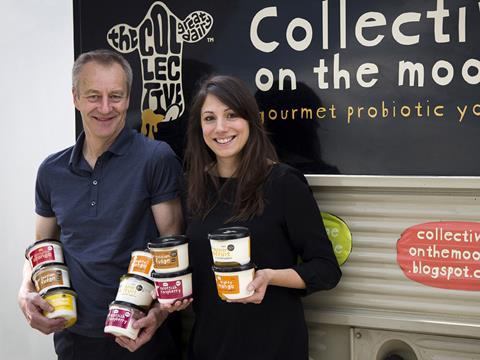 Yoghurts for kids must be tasty, healthy and natural
Health is an important consideration in the yoghurt category, especially for kids' yoghurts. In an effort to win over increasingly health-conscious parents, the industry has already made considerable progress cutting back on sugar and using fewer additives.
But it is not enough just to focus on what yoghurts don't contain. Brands increasingly look to communicate their positive nutritional benefits.
As part of its £5m annual marketing spend, Yoplait's Petits Filous focuses on the importance of vitamin D and calcium for healthy bones.
The growing importance of health in the sector is also demonstrated by Danone's decision to launch Actimel for Kids this summer. Danone says kids already made up 50% of Actimel's consumption in families so it made sense to launch a specialist range.
At the same time as appealing to parents, brands have to be wary of pester power.
To make products appealing to children, it is important not to be too worthy. "Products have to be fun for kids. The cool factor is important. We have to constantly think what we can do in the way of innovation, promotion and gifts to drive pester power," says Richard Williams, marketing director for Yoplait UK and Ireland.
The Collective has just launched kids' yoghurts called Suckies containing just fruit and yoghurt – no refined sugar – and packaged in a pouch format for convenience.
The company's head of NPD, Fiona Cramp, says it is a challenge to come up with recipes that are healthy but tasty. Those that succeed will have struck the right balance. "The brands that can make kids products really tasty and appealing to children while ticking the natural and healthy boxes are going to be the winners in the future."
That is why the industry is so upbeat about Greek/ Greek-style. "It satisfies the key consumer trends – naturalness, simplicity, health and indulgence," says Williams.
High Court case
However, Williams believes it is harder to market Greek-style yoghurts in the UK than in the US because of the High Court's ruling in the Fage vs Chobani legal case in March last year, which confirmed that only yoghurt made in Greece can be called Greek.
Everyone else has to use the term Greek-style, and that encompasses yoghurts that use texture aids to deliver thickness and those that are strained – which naturally thickens the yoghurt and produces product that is also naturally higher in protein and lower in sugar. "The challenge is that strained yoghurt doesn't sound that appealing – we have a lot of work to do to educate consumers," says Williams.
With overall yoghurt volumes in decline, the industry will need to make sure it maintains momentum in growing sub-sectors like luxury and Greek/ Greek-style, and dodge any potential public health backlash over sugar.
Not everyone is convinced at this stage that reducing sugar content will be necessary, but one thing is certain: everyone will be watching very closely the consumer reaction to the sugar reduction plan at the likes of The Collective.