Whether it's a new vegan startup or a dairy giant branching out for the first time, brands have ridden the ever-growing wave of plant-based dairy with plenty of innovation in the past year. Here's our pick of the bunch
Dug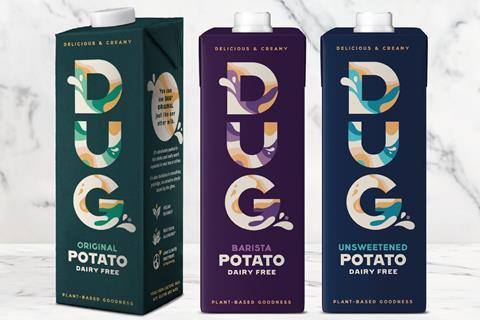 Forget soya and almonds. The next source of dairy-free 'milk' is the potato, claims Dug, maker of "the world's only potato-based dairy alternative". The humble spud is "a perfect base for a dairy alternative, thanks to its properties: neutral tasting, highly nutritious, and super-sustainable" the brand says. "It's naturally free from common allergens, which form the basis of current market-leading dairy alternatives." Plus, potatoes use less land than oats and less water than almonds, adds Dug – which made its grocery debut in June with three drinks.
Nooj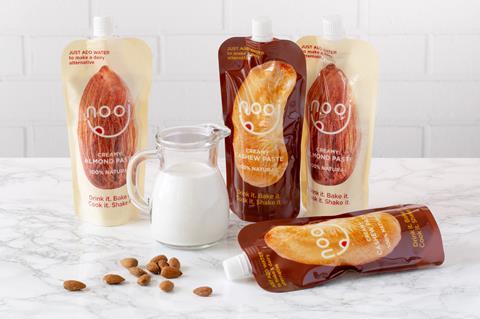 Nooj is the UK's first-to-market nut milk concentrate brand, it claims, aiming to take on "all those pale, washed-out plant milks made with only the lightest trace of nuts". Set to launch into Sainsbury's in the autumn with two SKUs, Nooj comes in concentrate form. Consumers are required to dilute it themselves. It's made using the whole nut, which "isn't so aggressively heat pasteurised, which can severely suppress a traditional plant milk's taste cues and nutritional gravitas" says Nooj founder Caroline Barton.
Wunda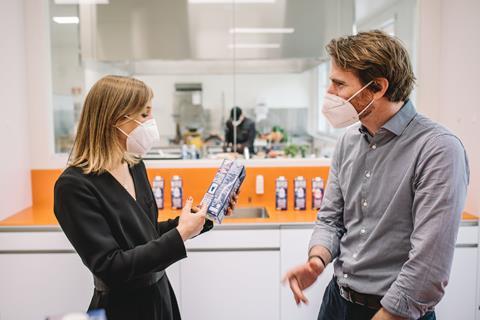 Nestlé's Wunda aims to solve the problem of needing "two or three plant-based options for different uses". Made from yellow peas, Wunda is good for all milk uses, says the supplier, with a nutritional value comparable to rival plant-based beverages. Launched in May, Wunda is available in France, the Netherlands and Portugal, with a rollout to other European markets planned. "In Europe, at least four in 10 shoppers are already choosing some dairy alternatives," says Nestlé head of dairy Europe & MENA Cédric Boehm.
Biotiful Oat Kefir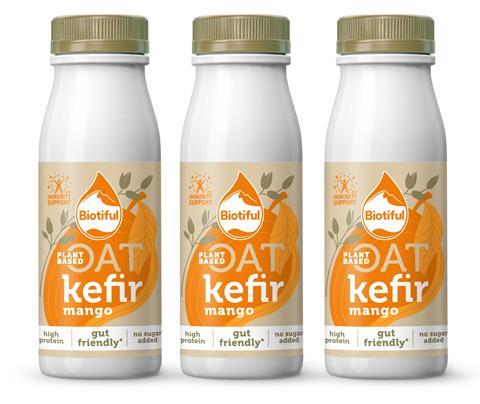 Fast-growing kefir brand Biotiful Dairy claims it is "pioneering a completely new category" with the launch of its plant-based Oat Kefir drink. It's made using an "ancient fermentation process and billions of vegan cultures". The result "offers all the key health benefits of traditional kefir, just without the dairy" says Biotiful founder Natasha Bowes. Set to make its debut in September in Original, Mango and Strawberry, Oat Kefir is also gluten-free, made in the UK and contains no added sugar or artificial ingredients. It comes in a 250ml bottle.
Happi Oat Drink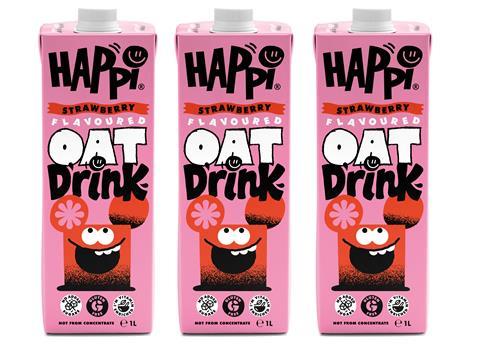 Having started out making free-from chocolate, Happi Free From expanded in August with Oat Drink. Chocolate and Strawberry both lack gluten, dairy, nuts and soya – and the latter variant is the first fruit-flavoured oat drink to hit the market, claims the brand. Available from Holland & Barrett, Oat Drink is made from gluten-free oats milled and processed in the UK. "There's still a huge gap in the market for high-quality, flavoured oat drinks, and ours is here to fill it," says Happi founder Gavin Cox.
The Collective Plant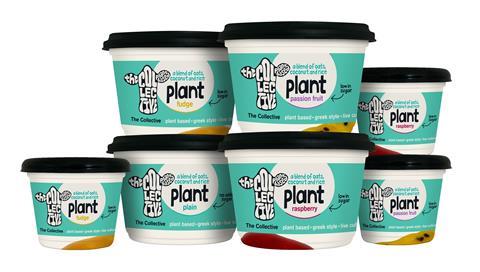 Yoghurt brand The Collective marked Veganuary 2021 with its first foray into plant-based, Collective Plant. Made from a blend of oats, coconut and rice, the "thick and creamy" Greek-style yoghurt alternatives are available across the mults in natural, raspberry, passion fruit and fudge flavours and two pot sizes - 400g and 135g.
Arla Jörd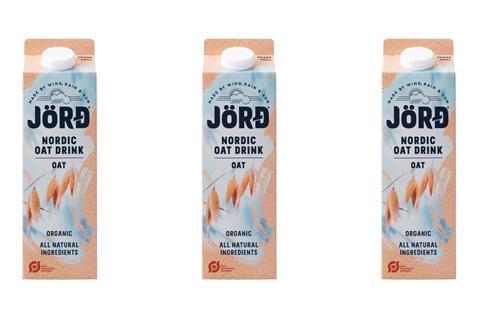 Dairy giant Arla was inspired by Nordic mythology when it launched its first dairy-free brand last year. Named Jörd, after the goddess of earth and mother of Thor, the range of oat drinks hit Sainsbury's shelves in September 2020. Available in standard Oat, Oat & Barley and Oat & Hemp variants, the organic drinks are made from all-natural ingredients, including a base of water, oats, rapeseed oil and salt.
Petits Filous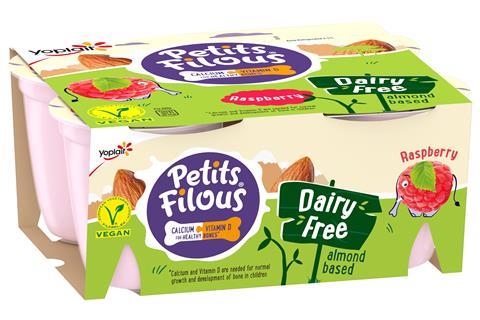 In reaction to "an increase in families seeking dairy-free alternatives", Yoplait launched its first plant-based product in July. The vegan Petits Filous yoghurt alternatives, which are almond-based with a raspberry flavouring, have listings in Tesco, Morrisons and Sainsbury's. According to the brand, the product is "packed with calcium and vitamin D and offers the same great taste you would expect from Petits Filous".
This article is part of The Dairymen – our annual guide to the dairy industry that's packed with insight and analysis on all the latest trends. To read the full report, subscribe here.