Dairy has seen a revolution in recent years. Plant-based alternatives have stormed the market and gone mainstream. So what does it mean for dairy?
A revolution is taking place in dairy. Plant-based dairy alternatives have stormed the mainstream, and now they're recruiting suppliers of traditional milk, cheese and butter to the vegan cause.
And no wonder. The dairy alternative milk market alone is booming, accounting for 15% of the total European milk market, according to The Vegan Society. It's predicted to grow at a CAGR of 13.8% between 2020 and 2025, when it will be worth $705.3m (£511.1m).
Meanwhile, RBC Capital Markets expects plant-based spreads to grow this year by 3% – despite already high penetration – reaching 40% of all butter and spread occasions. And plant-based 'cheese', which has made minimal impact so far, "enjoys the largest potential" of dairy alternative sectors, the investment bank adds.
So, how are dairy suppliers capitalising? And can they compete with pure-play plant-based businesses?
Recent years have seen several moves by established dairy businesses into milk alternatives. For some, acquisition has been the answer.
Take Danone, which acquired Alpro for more than €11bn (£.9.4bn) in 2016. The French dairy giant continues to buy into the space, acquiring US vegan brand Follow Your Heart in February 2021.
"We remain committed to expanding our footprint in dairy alternatives to meet the changing demands of our customers"
Saputo Dairy UK is also in an acquisitive mood. This summer, it snapped up Scottish vegan 'cheese' producer Bute Island Foods. "Our commitment remains to expand our footprint in the dairy alternatives space to meet the changing demands of our customers," Saputo CEO Lino Saputo said at the time.
Instead of pursuing M&A, other dairy players have chosen to create dairy-free lines in-house. Arla, for instance, in March 2020 launched plant-based brand Jörð with three oat drinks.
Late last year, a vegan version of Nestlé's classic Carnation milk brand hit supermarket shelves, made from a blend of oat and rice flour. This May, the supplier announced the arrival on the Continent of pea-based milk replacement Wunda. It arrived in the UK the following month.
Smaller dairy brands are developing plant-based lines too. The Collective launched a dairy-free yoghurt, Plant, early last year, using a blend of oats and coconut.
And kefir brand Biotiful Dairy will in September launch what it claims is the world's first plant-based oat kefir drink. Faced with an entirely new manufacturing process, Biotiful is relying on a plant-based specialist contract manufacturer. "We've been lucky," says founder Natasha Bowes. "They've made it possible to achieve the right taste and texture and health benefits."
Without the specialist manufacturer "our journey would have been much longer", she adds, and partnering allows Biotiful to "focus on what really matters" like marketing and retailer relationships.
For The Collective "finding a suitable contract manufacturer was difficult and took 18 months" it says, given it needed to have the "capability to make the plant-based milks and pack yoghurt, in a facility completely segregated from dairy". With its partner, The Collective has co-invested £4m in a purpose-built, segregated facility in Chester to realise the new range.
Cost concerns: barriers to plant-based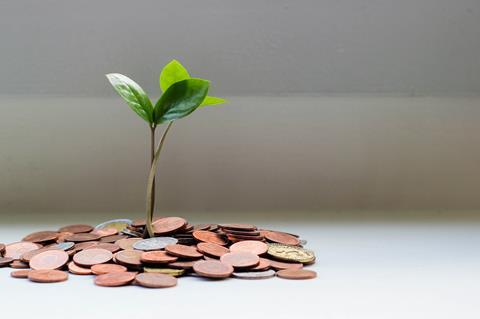 One advantage of companies with dairy at their core against the pureplay non-dairy brands is the depth of their ranges.
It's not all fair weather ahead for plant-based alternatives, in spite of their meteoric rise.
According to Mintel, "cost concerns do exist", with half of UK adults agreeing high prices make buying plant-based milk unappealing.
"Worsening financial wellbeing and more cautious spending habits arising from the economic disruption brought about by the pandemic will make the free-from market's poor associations with good value for money an even greater barrier," says Mintel food & drink associate director Emma Clifford.
"This is likely to see 'lifestyle' users in particular reduce their spending or drop out of the category altogether.
"This points to an urgent need for brands and retailers to try to overturn these perceptions to keep their place on consumers' shopping lists," she adds.
As Emilie Grundy, marketing controller for butters, spreads & plant-based at Saputo Dairy UK, says: "For manufacturers operating within dairy-free, there is a need to face into pressure on input costs while at the same time continuing to deliver good value for money for consumers."
With the pandemic tightening the purse strings for many households, "value for money will likely have a heightened focus, notably in staple commodity categories that form part of the weekly grocery shop".
There's also the tricky matter of taste. Results are mixed on this front.
Close to three-quarters (72%) of dairy-free milk buyers in a Mintel survey said cows milk tastes better than plant-based milks. A survey by Harris Interactive of plant-based milk buyers for The Grocer found a near 50/50 split on their preferred taste.
"To win shoppers over, dairy alternative products have to meet consumers' expectations on taste and product quality – areas where dairy alternatives have not always measured up," says Grundy.
This creates clear opportunities, particularly in categories such as cheese. "Dairy-free alternatives to cheese products in particular have long had a reputation of being inferior to their dairy counterparts," explains Grundy.
"We see tremendous opportunity for growth by changing consumer perceptions of how great a dairy-free alternative to cheese can be."
Force for good
But "just launching a plant-based range alone isn't enough" says The Collective innovation brand manager Ciaran Adam. Not only must dairy-free taste good, it must be a "force for good". It's why the brand's plant-based range's tubs are made from 100% recycled plastic, and the lineup will be carbon neutral by September 2021. "As a dairy company, we recognise our carbon emissions have an impact on the environment, so we're taking responsibility," Adam adds.
In their mission to be more planet-positive, plant-based presents a major opportunity for dairy companies. While plant-based isn't perfectly planet-positive – soyabean production, for instance, is a leading cause of deforestation, claims Greenpeace – it uses considerably less land and water than dairy.
A litre of cows milk requires an average of 628 litres of water and 9m2 of land, according to a 2018 University of Oxford study. A litre of soy milk, on the other hand, needs just 28 litres of water, and a litre of rice milk requires 0.3m2 of land. And producing a glass of cows milk requires three times the emissions than a glass of dairy alternative.
So, the wellbeing of the planet is clearly a consideration for dairy giants expanding into dairy-free – and so is the wellbeing of consumers.
More from The Dairymen:
Because health is a key reason why Brits are ditching dairy. Around 40% of those who had given up milk and cheese told a recent Euromonitor survey that "digestive health" and "it makes me feel healthier" were why. And Covid-19 has only further heightened the focus on wellbeing, says Damian Guha, MD of Flora and Violife owner Upfield UK & Ireland.
"Driven by the pandemic, consumers worldwide have a new-found focus on improving health. This is bringing new customers into dairy alternatives and are a key reason for rising demand in plant-based."
They're also a key reason for innovation. Flora last summer launched Plant B+tter blocks, having capitalised on improvements in tech. "Advanced technologies and product development means spreads like Flora Plant B+tter can match the profile of dairy butter but without the dairy," Guha says.
With all but one UK product – Flora Buttery – being plant-based, Upfield is protected from the dilemma faced by dairy suppliers that have moved into dairy-free. That is, the risk of self-cannibalisation.
But it's a risk worth taking, suggests Biotiful's Bowes."Ultimately, there are very few strict vegans in our population but many, many more that want to reduce their dairy intake. It's logical and almost inevitable to be offering dairy and dairy alternative products side by side," she says.
Dairy-reducers
For Danone, the vision is "growth can go hand in hand" says Jiscoot. "If the consumer demands healthy products or sustainable products, there are multiple products Danone can offer."
This is backed by data. According to NielsenIQ, the majority of consumers who purchase dairy alternative products also buy standard dairy products. While around 40% of British households bought dairy alternative products last year, just 0.2% bought plant-based exclusively.
"The distinction between cutting down on dairy versus cutting out is worthy of note," says Emilie Grundy, marketing controller for butters, spreads & plant-based at Saputo Dairy UK.
"There are very few strict vegans in our population but many, many more that want to reduce their dairy intake"
Brits' love of dairy combined with a growing desire to reduce consumption is what will help drive growth in cheese alternatives, suggests Nigel White, marketing director of Bute Island's plant-based Sheese brand. "We know from research among consumers that cheese is to vegans what bacon is to vegetarians: it's the thing they miss the most," he says.
"Functionally, Sheese is an advanced product that melts and stretches just like a cheese should. This makes it a more appealing proposition to consumers who are traditional cheese lovers but who want to reduce dairy consumption."
That means there is still plenty of land to be grabbed in the dairy-free space. "There is little premium element to the UK dairy free cheese fixture, presenting a huge opportunity for retailers as well as brands," White adds.
In other words, this is only the beginning of dairy's plant-based revolution.

This article is part of The Dairymen - our annual guide to the dairy industry that's packed with insight and analysis on all the latest trends. To read the full report, subscribe here.