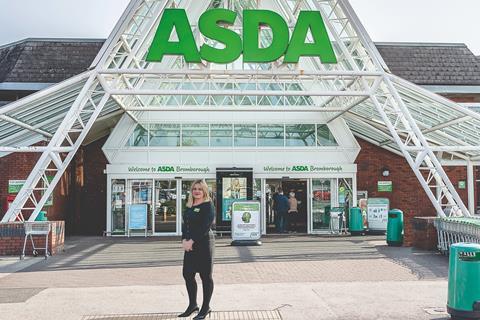 Winner: Asda Bromborough
Store manager: Katie Coburn
Opened: 1990
Size: 55,000 sq ft
Market share: 21.8%
Nearest rivals: Sainsbury's – 6.0 miles, Morrisons – 6.6 miles, Tesco – 8.8 miles
Store data source: Analysis by CACI.
Call the market planning group on 020 7602 6000
Our mystery shopper was particularly impressed with your store standards. How tough has it been maintaining them in the pandemic? I'm thrilled with that, especially because we've been focusing on our standards more than ever over the past few weeks. Someone in the leadership team walks around the store a few times a day to ensure standards are up to scratch and everyone plays their part. Our customers really count and it's so important they see a clutter-free shop floor. It was so hard to maintain standards when panic buying began in March, but hopefully we won't see that again. There's plenty to go around.
Maintaining customer service levels must also be a bigger challenge in the crisis. How have you done it? It's vital, especially right now. The team underwent new training a month ago focused on what effective customer service looks like in the current environment. I ran the video-based session called Our Customers Count, and it went down well. Staff also left the session with a leaflet outlining what they'd learned and with a £1 voucher to give to a customer of their choice. I tend to pick customers who have had to queue or are looking for an item that's out of stock. It lets customers know we care, makes their day and fosters loyalty.
Meanwhile, your online business has doubled. How have you coped with extra demand that's put on the store? We recruited 50 new colleagues, mostly for e-commerce, in March, and some have been kept on. And we're getting another delivery van in time for Christmas because it's vital we plan well in advance for potential future growth, especially with more coronavirus-related restrictions potentially being introduced.
Are customers starting to buy Christmas lines? Yes – it started with festive ambient bits getting more and more popular, such as the large chocolate tins like Nestlé Quality Street and Cadbury Heroes. I think those tins are the first sign that Christmas is coming.
What's going on with your café? The business has opted not to reopen our café, and I'm not sure what its very small space will be used for yet.
The famous 'pocket tap' ads are back on TV. Is the campaign having an impact in-store? They are one of the most iconic things about Asda, and a wonderful way to showcase the value we offer. All the Rollbacks we've introduced as part of the campaign have gone down well. We have plenty of bright and colourful point of sale signs showcasing the promotions throughout the store as well. Asda really got employees involved with the return of 'pocket tap' by encouraging us to post videos and photos of us doing the pocket tap on social media. It's been good fun and a great engagement tool.
What's the best thing about your job? I love leading the team and interacting with customers. Coronavirus has been challenging but it has made the community recognise how important retail is and made me very proud to come into work.