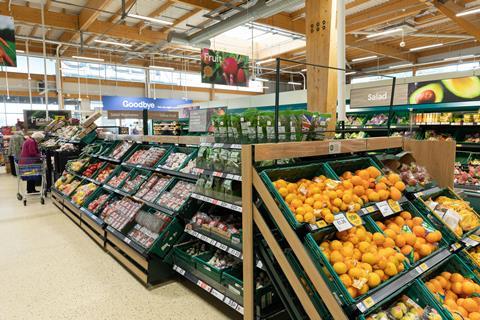 Excellent service and store standards marked out Tesco Callington, Cornwall as the winner of our mystery shop this week.
The easy to navigate store scored 68 points. It impressed from the start, with a clearly signposted car park that was free from rubbish and had neatly stored trolleys.
Service was excellent despite the store being very busy. Staff were easy to find and happy to help when asked for assistance. They checked in the warehouse for stock and apologised when items weren't available.
At the checkout, our shopper waited less than a minute to be served and the assistant was "polite and friendly".
The only downside was availability, which was patchy across the board this week. Five items were out of stock and one item was not stocked.
Morrisons and Sainsbury's came joint second this week, both with 64 points.
Morrisons Oswestry had an ample car park and excellent store standards.
Our shopper was impressed by the pumpkins and flowers on display at the entrance.
Once inside, staff were very helpful and able to answer all questions. The staff member on the till was also pleasant.
However, the food to go section was half empty on this Friday evening shop. Availability was also patchy for our list: four items were out of stock and two not stocked.
Meanwhile, Sainsbury's Throckley, Tyne & Wear, stood out for an excellent checkout experience. Although no checkouts were open – our shopper had to ask a member of staff – the wait to be served was less than a minute.
Availability at Sainsbury's was also the best in a low-scoring week: two items were out of stock and two not stocked.
The rest of the shop was more of a mixed bag. The fruit & veg section had lots of empty crates, but there was plenty of stock underneath. There were very also few staff members available on the shop floor.
Finally, the car park was small, awkwardly shaped and on a big slope, which made it difficult for our shopper to manoeuvre a full trolley.
Waitrose Nine Elms came in third place with 58 points.
The store was "very clean and bright". However, the layout was not particularly intuitive – and our shopper thought some of the products should be grouped by brand. There were also numerous items unavailable despite the store being "quite large". That was reflected in a low availability score: four items were out of stock and eight not stocked.
Finally, only one till was open but this was sufficient, meaning our shopper waited just two to three minutes to be served.
Last place went to Asda Gorseinon, Swansea, with a total of 56 points.
Our shopper found the car park was not well signposted, but it was very clean, with a happy and "extremely courteous" trolley attendant.
Things went downhill inside the store, however. One item, the tofu, was a week after the best before date. Our shopper checked the shelf and found all those items were out of date. Staff apologised and removed the items, but the experience made our shopper cautious.
Several areas of the store looked like they had taken a "hammering", including the very untidy food to go section.
At the checkout, only two tills were open, resulting in a wait of eight to nine minutes.
The only plus point was the store layout. Our shopper was pleasantly surprised by how easy it was to find the items.