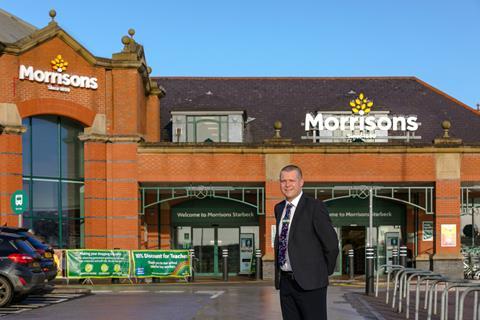 Winner: Morrisons Hookstone Chase, Harrogate
Store manager: Martin Hogg
Size: 38,000 sq ft
Opened: 1993
Market share: 12.5%
Nearest rivals: Asda – 2.5 miles, Waitrose – 2.5 miles, Lidl – 2.6 miles, Sainsbury's – 3.2 miles
Store data source: Analysis by CACI.
Call the market planning group on 020 7602 6000
Have customers been more compliant with face mask wearing since the rules became stricter? The message has landed really well. What's helped is it's been backed up with a strong PoS package, and that's the case for all Morrisons stores. I can't recall having any issues with face mask wearing before the stricter enforcement, but I wouldn't say it's been easy either. That's down to the team's hard work – they've provided great service and an inviting yet controlled atmosphere since the pandemic began. The stricter rules were something the local community wanted because it reassures customers regarding their safety. That's also why we've upskilled some of our staff to ensure shoppers are keeping their masks on throughout the store and they guide them if they need help. Covid-19 safety measures have become as important as stacking shelves or any other task.
How have you coped with increasing demand for online deliveries? We have one of the largest online operations in our region, which meant we really had to come together when we experienced massive spikes in demand. Our online deliveries and click & collect service are thriving elements of the business now as they've become a natural shopping habit for some customers. I expect they will continue performing well because they're so much a part of shoppers' routines.
How are the Morrisons free school meal boxes and doorstep deliveries going? We've had fantastic feedback on our free school meal boxes and they've been really well recognised and appreciated in the community. It's important we strive to make a difference, especially while things are so difficult. As for our doorstep deliveries for elderly and vulnerable shoppers, we have just two or three drivers focusing on those orders each week, which means they have great familiarity with those customers.
Have you experienced any post-Brexit availability issues? We've had no availability issues since the new year. My team has been heavily focused on ensuring we had good stock levels and worked really hard to achieve that. They've shown huge amounts of passion and dedication to availability by following the steps Morrisons sets out for us and challenging any shortfalls. We make a point of celebrating successes in availability or service whenever we can too. It's those two elements that are our main objectives as they keep customers coming to us over other stores.
How has the branch's recent refit landed with customers? They've really taken to it. We've made fantastic changes to our layout, fixtures and fittings over the last four or five months. The beers, wines and spirits section has been extended, we've doubled the size of our Nutmeg clothing department and added a party department, florist, and barista bar, as well as new signage for our counters. I've been with Morrisons for over 20 years and at this branch for nine months – I jumped at the chance because of the revamp in particular.