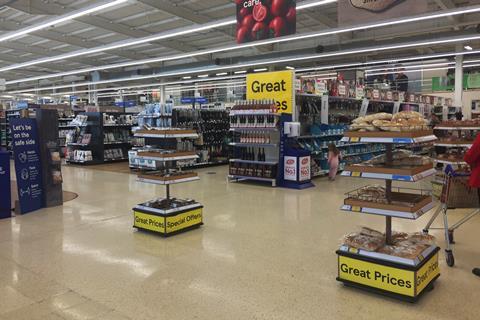 Tesco claimed a third consecutive store of the week award as its Seacroft Extra branch in Leeds soundly beat its rivals with a score of 90.
Our mystery shopper described the 83,000 sq ft store as "impressive", with a number of colleagues available on the shop floor for this Sunday morning trip. Overall, she said, it was a "slick operation".
It also did not appear to have too many availability issues. There were some gaps, but staff were working to restock the shelves. Only one item from our list was out of stock (Linda McCartney's pies), while the Kenco coffee was not stocked – though our visitor bought a similar ground coffee as replacement.
On the downside, the rotisserie counter was closed, and the fish and meat counters were "not presented in a very attractive manner".
But the layout was easy to follow and several checkout tills were open with no queues, allowing our visitor to finish her shopping quickly.
Asda in Portadown was a considerable way behind in second with 63 points. The branch was very busy and there were lots of empty shelves. Despite this, there was only one out-of-stock and two not-stocked items.
The store was easy to navigate, and promotions were well presented. However, our shopper said she had a hard time finding shop floor staff to help, and when she did, they were not particularly helpful. On the other hand, her checkout assistant was "amazing". But overall she didn't "think this was a very good experience".
There were no out of stocks at Waitrose in Faringdon, Oxfordshire, though this small store only stocked 19 of the 33 items on our list. Despite this, and the fact it scored a lowly 52 points, our shopper still felt the trip was an "overall good experience". Both the car park and shop were tidy, and the store layout was logical.
The checkouts were fully staffed, and there were also a few self-checkouts available.
Sainsbury's and Morrisons tied with 50 points. The former's Epsom branch was a "clean and pleasant store" , with "enticing" displays and offers, and an intuitive layout. And while she struggled to find a couple of items, she managed to get hold of them after asking staff for directions. However, they weren't always easy to find and were only "semi-helpful" – guiding her to the right aisles as opposed to walking with her. Of the items on our shopping list, four were out of stock.
The checkout process was easy as the queues were well managed. Overall, it was a "pleasant" shop but our visitor would like to have seen more staff on the shop floor.
Morrisons' Lincoln branch struggled with some messiness, including a couple of spillages that weren't being attended to. There were also several unmanned stacking trolleys in the store, which caused obstructions.
The fruit & veg section had a diverse set of choices available, and there were two members of staff busy re-stocking. One of this store's strengths in our visitor's eyes was the bakery, which was very well stocked. The remaining food counters also looked well stocked and attractive.
Staff were largely helpful and the majority wore face masks. The till assistant was "not terribly friendly", failing to improve a "fairly average experience" for our shopper.
Like Sainsbury's, there were four out-of-stocks, as well as one not-stocked item.