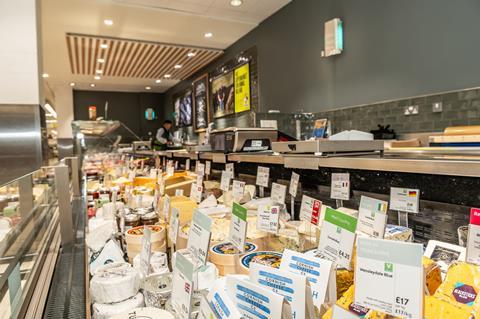 Waitrose took another win on service and availability this week. Its Salisbury store scored 73 points overall, earning full marks on shop floor service.
Our shopper found all staff members were "well presented, helpful and polite" and easy to find. One assistant was particularly praised for offering help without being asked.
Store standards were also strong. The entrance felt spacious, calm and welcoming. That sense continued throughout the store, which was tidy, clean and logically laid out, making it easy for our shopper to find what she wanted.
The only downside was the checkout process. Only a few tills were open, meaning our shopper had to queue for four to five minutes – and no extra tills were opened during this time.
The checkout assistant was excellent but there were several mistakes on the receipt, meaning our shopper didn't pay for the Jaffa Cakes and the Port Salut cheese.
Waitrose offered the best availability this week but two items were out of stock: the mint and the Pukka teabags. The mangoes were not stocked.
Tesco Leytonstone came a close second with 71 points.
The store was well managed and tidy with wide aisles. There was a spillage at the entrance, but staff were present to clear it up and divert shoppers. They were also easy to find and quick to answer questions.
Our shopper waited between two and three minutes to be served at the checkout and the assistant was described as very friendly and helpful.
Sainsbury's Stamford was next up with 66 points. Our shopper noted the stock was generally well presented. However the store, which had temporary signage, looked a bit uncared for and slapdash, with gaps in the fruit & veg and bakery sections.
Staff were a little hard to find but they had good knowledge of stock, and they were also conscious of moving restocking trolleys to avoid inconveniencing shoppers.
One item was not stocked – the chicken fillets – and five were not stocked, including the Bombay potatoes and the Rubicon fruit juice drink.
Asda Shrewsbury and Morrisons Southport came in joint last place with 40 points.
Both were let down by a score of zero on availability. Asda had seven items out of stock, including the broad beans, mint and the naan breads. The Rubicon was not stocked.
Meanwhile, Morrisons had a shocking 10 items out of stock, including the Alpro almond drink, Bombay potatoes, Elmlea and oranges – almost a third of the basket.
At Asda, the helpful shop floor staff were a plus point. Our shopper noticed many restocking shelves while management oversaw the work.
But checkouts were another tricky area. There were six checkouts but only one was open, meaning our shopper had to wait for between eight and nine minutes. The checkout assistant was very helpful and chatty but this was not helping speed things up.
There was "quite a bit of muttering" among customers about the number of checkouts open.
At Morrisons, store standards were low. The shelves were in "disarray" and most of the freezers were out of order and empty. The shop was described as "very disappointing overall".
Very few staff were on duty and the only assistant our shopper found was unable to help.
The checkout service was good, however, with very little queueing and an assistant who entered into easy conversation.