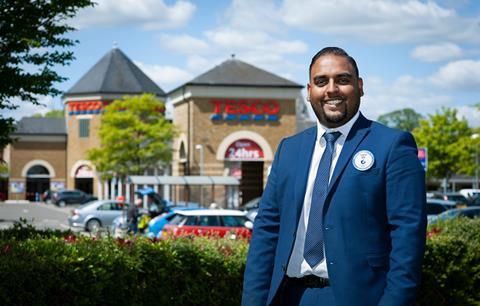 Winner: Tesco Aldershot
Store manager: Vik Sidhu
Opened: 1993
Size: 55,000 sq ft
Market share: 18.5%
Nearest rivals:
Morrisons - 0.5 miles
Lidl - 0.8 miles
Co-op - 1.8 miles
Waitrose - 2 miles
Store data source: analysis by CACI. Call the market planning group on 020 7602 6000
Availability was almost perfect this week. Are you now back to normal?
We have a great supply chain providing the stock, and distribution have done a great job. In store, we have really strong routines and processes we follow to make sure stock is accurate, so we have the right stock for the right time. We have a night team who are very good and get the product on the shelf for customers - they are the backbone of the store. We understand the need to replenish the bestselling areas throughout the day to keep the products the customers want on shelf. Availability has gotten stronger each week across the store, and we are definitely closer to being normal once again. But home baking and flour is still an issue, as well as eggs at times.

Anecdotally it seems as if social distancing may be slipping in some stores. What are you doing to keep processes strong?

We have colleagues talking to customers outside in the queue about the importance of maintaining good social distancing to keep them primed to it and get it front of mind before they have even entered the store. We have a greeter at the front of store to direct shoppers towards a hand sanitiser station and disposable plastic gloves if they want them, as well as equipment to wipe trolleys and baskets. We also explain to keep to the one-way system and follow the signage and arrows throughout the store. There are several cleaning stations throughout the store for customers, too. Shop-floor colleagues are all really behind social distancing and helping customers with it too. It is about making sure customers have checkpoints, almost throughout their shopping trip, that is helping with it all. If you set it all up and then just leave it to police itself, then it inevitably goes backwards. We refresh it all every day and talk about it every week on conference calls with HQ. It is firmly on the agenda.

After the prime minister's speech on Sunday, have you started preparations for lockdown easing?
Our leadership team do a great job of communicating any changes to us and we are following government guidance at all times. We have the robust processes in place for social distancing and we plan to hold strong with it until we feel confident the government has given us the go-ahead to make changes. In terms of preparation, we have PPE for colleagues and customers to use, including hand gel and masks, to keep everyone safe.

Are staff choosing to wear masks and face coverings?
It is up to each individual member of staff and what they are comfortable with. We have protection available if they choose it. We have some staff who do wear it, including the team doing bakery and hot chicken work. Some staff are comfortable with what we are doing in store and don't feel the need to wear a mask. We have given each member a mini bottle of hand sanitiser and staff can ask managers for any kind of PPE if they want it and we will get it for them. We have screens at every checkout. Everyone feels really safe coming to work, which is the most important thing.

Are food-to-go counters making a comeback in store?
We have a grab-and-go cabinet for hot chicken only. It has just opened back up last week providing a simple range of pre-bagged chicken and sausage lines. It is getting cooked and pre-bagged for customers to pick up from a cabinet. There is no return of over-the-counter service yet. Customers have responded well to it; we are close to two army bases and get a lot of soldiers shopping here who have been buying a lot of the hot chicken. We have had really good feedback. However, there are no plans yet to reopen deli counters or anything like that. We are just adapting to the events every week.

Have food-to-go sales been hit hard generally in store and is this new chicken cabinet the start of efforts to boost the category again?
The sales have definitely been slower on those food-to-go areas, which is understandable, but the moves on the hot chicken was a preliminary trial to see how the appetite is for more convenience and food-to-go. We have had a positive response, so we will wait and see for further guidance for where we can go next. Customers have been very happy to be able to buy hot, prepared food to take home for lunch or dinner. They do still want convenience. Shoppers are still buying sandwiches and meal deals, perhaps to eat in their car or when they get home.

Do you still have temporary staff working or is the number dropping as staff return to work?
We have some fantastic temporary colleagues who have come in and really helped us out and adapted really well. We are keeping ours for now as we are still really busy, and a lot are helping us fulfil the big demand for online and click & collect. We are getting great feedback from them, with some telling us it is the best job they have ever had. There are a variety from all kinds of sectors.

Tesco has ramped up online capacity and click & collect slots quickly to deliver to more than a million customers a week. What part has your store played?
It is the one of the best things we have done. The team in that department have done a great job to keep the train rolling, with temps and more drivers recruited to support it. We are in a place where we are looking for more vans to provide for the community and even go a bit further out of our normal area to make sure the vulnerable people out there get fed. We have had positive feedback about the service level, and I think the behaviour will stick.A lot of customers will stick with online when this is over.

General merchandise sales have suffered during lockdown as shoppers concentrate on their food shops. How has the home department been?
It was slow at the start, but it is starting to pick up again now, with more sales for items such as bedding and homeware to redecorate. The range is strong, and we are getting a lot of positives about it. We have a lot of barbecues and charcoal and compost, and they are all selling really well.

How did the team react to the staff pay bonus and how is morale?
For me it is the most important thing to keep the team motivated. The colleagues were delighted with the bonus side of it as the past six weeks have been very challenging and tough for everyone. The management team do a really good job of checking in with everyone and scheduling one-to-ones to make sure they are all doing OK. We also need to try and maintain a bit of fun at work where we can, which can be difficult, but we are all in this together. The staff are doing a great job. And we need to do our bit to make sure they feel safe at work and also feel important, because they are important, and I constantly remind them of that.