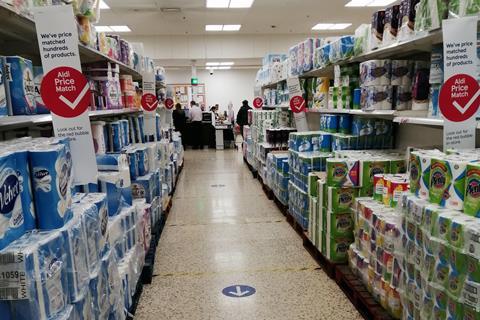 The first full basket since the onset of the coronavirus outbreak helped Tesco sail to a clear victory on Saturday afternoon.
A flawless, fast checkout experience bagged the Banbury store another perfect score of 20. It also achieved full marks for layout thanks to an easy one-way system and clear signage throughout the shop to maintain social distancing.
Our shopper was impressed with "cleverly integrated" promotional displays for Father's Day, grouping together men's clothing, toiletries and cards.
However, marks were lost for a 10-minute wait to get into the store, with a lack of two-metre guideline markers in the queue.
Despite availability being perfect, there were still gaps in store, notably for sugar, flour and herbs & spices.
Staff were also hard to find throughout the shop, but were helpful when approached. Our shopper felt it would be a good idea for them to wear masks.
Second place went to Waitrose in Exeter, which proved to be "a very easy" shop, with only a short wait outside and a calm and ordered atmosphere inside. "The layout was logical, and signage on shelves and aisles was useful," our shopper said.
However, six missing items (four out of stock and two not stocked) and gaps across the store hurt the overall score. The store was "clean, tidy and well-maintained" as "friendly and polite" staff worked hard to replenish shelves, but there were minor obstructions from restocking trolleys.
There were lots of empty spaces in the fresh produce area of Sainsbury's in the village of Winnersh, near Wokingham, with no staff replenishing. But availability was good across the rest of the store. Only three items were out of stock, including a Danish pastry and own-label bagels.
The store was easy to navigate, with no obstructions and good distancing.
However, our shopper said the checkout procedure was not well managed and there was no guidance from staff.
Availability dropped off significantly at Morrisons in Weybridge and Asda in Wolstanton. The former was missing 10 lines (six out of stock and four not stocked) and the latter had 11 out-of-stocks.
There were a number of areas in Morrisons in need of replenishment, with the chilled aisles particularly bare, as well as some of the freezer sections.
Our shopper also struggled to find staff restocking or to help locate products.
End-of-aisle displays full of clearance products were "messy and unorganised" and a number of restocking cages had been abandoned in aisles.
A milk spillage also contributed to a low score for standards. "The store felt chaotic and there was nothing to encourage a one-way system," our shopper said. "I felt very uncomfortable during my visit."
However, our shopper was impressed by the well-managed system for the checkouts, with one queue and customers directed to tills by staff.
Missing products at Asda were spread across categories – from Seabrook Crisps and Chicago Town pizza to broccoli and hot cross buns. "Smart, polite and helpful" staff were trying to restock but there were lots of gaps on shelves.
The store was very quiet with no queues, but our shopper was concerned there were no staff managing entry at the front door or ensuring social distancing inside.
A quick, efficient and safe checkout helped the store regain some points.
This week's results:
WEEK 1: Saturday 13/06/2020 (4.00pm-7.00pm)
WIINNER
Asda
Morrisons
Sainsbury's
Tesco
Waitrose
Location
Wolstanton, Stoke
Weybridge
Winnersh Wokingham
Banbury
Exeter
Date
13/06/2020
13/06/2020
13/06/2020
13/06/2020
13/06/2020
Time slot
4-7pm
4-7pm
4-7pm
4-7pm
4-7pm
Shop starts
04:16pm
04:07pm
05:51pm
04:00pm
04:03pm
Visit Duration
00:53
00:53
01:06
01:20
01:12
Shop Duration
00:44
00:46
00:57
01:10
00:56
Car Park (10)
7
10
9
8
9
Signposting (up to 1)
1
1
1
1
1
Queueing time to park (up to 2)
2
2
2
2
2
Trolleys (up to 2)
1
2
2
2
2
Queueing time from parking the car to enter the store (up to 3)
2
3
3
2
2
Feedback (up to 2)
1
2
1
1
2
Car park tidy, but I had to go and find a small trolley, the only ones stacked were the huge deep ones and (as I have a bad back) I can't use them. There were no markers or staff on duty regulating customer numbers/entry. No queue so no control.
The spacious, under cover carpark was well signposted from the main road. There were ample parking spaces for the size of the store and numerous, tidy, trolley parks. I walked straight into the store with no queuing. There were two members of staff on the door controlling numbers, and the entry/exit to the store were being managed "one-way" so there was no crossover of customers. I did not see any stickers regarding social distancing, but there was an "aisle" taped off at the entrance with two rows - one for "quick shop customers" and one for "big shop trolley customers". Presumably this is to allow more of a flow of queuing customers, however as there was no queue during my visit I am unable to comment on how effectively it was being managed.
I walked past the entrance at first as it wasn't very visible, on entry there were 2 staff, floor markings not very clear. Rows of baskets to form a barrier for entrance/exit
the bottom end of the car park ahd been terned into a queueing area - packing trolleys lying on their sides with red and white chevron tape created a snake like queuing system - however no 2 meter guidlines until the queue approached the building. staff managing access to the shop from the entrance. was suprised that families are now being permitted to shop together - several parents with children all entering the store – ( some supermarkets still have a one person per trolley system which make social distancing mush easier and shopping safer)
It was very easy to enter the car park and find a parking space. As I entered, there were three parking spaces available in the first row of the car park just opposite the main entrance. I didn't need to wait. I then had to join the queue at the main entrance. The queue was orderly and fast flowing; I entered the shop after just 5 minutes. There were markers on the floor and a security man was managing the queue. I would give a mark of 2.
Store standards (20)
11
8
14
16
14
First impression (up to 5)
2
2
3
3
2
Feedback
Staff were just doing their normal jobs of stocking shelves. It was reasonably quiet (late in the day, I suppose). No one was regulating the flow of customers. There was a hand sanitiser station/unit on entry. There was no pile of special offer items, so it made the hand sanitiser station very obvious , encouraging customers to use it.
The store looks relatively new, or at least newly refurbished. It had a large warehouse type feel. I was particularly impressed with the large, modern looking chiller cabinets throughout the store. There were antibac sprays and hand sanitisers at the entrance once I had collected my trolley. This seemed well stocked and there was also a bin for the used paper towels. Once inside the store there were a number of signs informing customers that only half the checkouts were open to encourage social distancing. Customers were also herded to form just ONE queue for the checkouts, where there was a member of staff directing customers to the next available checkout. This seemed to be working well. Unfortunately the rest of the store felt chaotic. There was nothing to encourage a one way system and I felt very uncomfortable during my visit.
N/A
good signage about social distancing arrows on the store floor to keep a one way system and circular disks showing a 2m distance all over the store floor
The store had a calm and ordered atmosphere, on the floor there were markers to provide guidance on social distancing. Everything seemed to be in order however there was no hand sanitiser available or any advisory notices.
Displays (up to 3)
0
1
0
2
1
Availability and replenishment (up to 5)
3
1
4
4
4
Feedback
Pasta sauces section was very sparse. Lots of staff restocking shelves, but several items were unavailable. Maybe the stock supply has been reduced/limited to help maintain levels of basics?
There were a number of areas in the store that were in need of replenishment. The chilled aisles seemed particularly bare, as well as some of the freezer sections. I struggled to find any members of staff replenishing whilst I was in store - in fact I think I only saw two on the shop floor! The end of aisle displays seemed to all be of "Clearance" products. These displays were messy and unorganised, and generally cheapened the feel of an otherwise very smart looking store. There were a number of cages/trolleys seemingly abandoned in the middle of aisles with no member of staff to be seen nearby.
Fruit & veg had lots of empty spaces, no staff replenishing. The rest of the shelves all had plenty stock and there were staff replenishing throughout the store
the store was very well stocked with the exception of sugar / regular sized bags of flour and herbs and spices. not many staff filling shelves and those that were - social distanced themselves where possible moving out of the way to allow customers to access products leaving a good sepration distance.
The shelves had some gaps but there were lots of staff members on the shop floor replenishing stock, about 2 staff members for each aisle.
Obstructions (up to 3)
3
0
3
3
3
Spillages (up to 2)
2
2
2
2
2
Condition of the store in terms of cleanliness (up to 2)
1
2
2
2
2
Feedback
The store seemed dark, don't know why. It was clean and tidy as per usual, but it was being left to customers to maintain distance. Several product ranges seemed limited, so quite a few of my items were unavailable. There were no loose potatoes at all, but that could be because it was v.late in the day.
I noted a spillage of milk/yoghurt in one of the aisles and reported it to a member of staff on the shop floor (no name badge that I could see). He seemed initially annoyed that he had to deal with it, but I later saw him return to the spillage with cleaning products.
Easy to manoeuvre through the store, no obstructions,
lots of promotional items on display when entering the store - including fathers day cards / outdoor garden and bbq products - the first aisle and all aisle ends have well signed offer and promotions. cleverly integrated mens clothing with mens toiletries to promote gifts for fathers day
The store appeared clean, tidy and well maintained. There were on average 2 stocking trolleys in the middle of each aisle, some of them managed by a staff member, some left alone but there was enough room on each side of the trolleys to walk by.
Store layout (10)
5
8
8
10
8
Did the store layout seem logical and intuitive? (up to 2)
1
2
2
2
2
Was it easy to navigate the store while also feeling safe? (up to 6)
2
4
4
6
4
Did the store offered any Click & Collect services? (up to 2)
2
2
2
2
2
Shop Floor Service (20)
14
9
12
14
16
Product location (up to 5)
3
3
0
3
3
Staff politness/responsiveness (up to 5)
3
1
3
3
4
Feedback
I asked 4 members of staff re finding items, they were all smart, polite and helpful. They were all stacking shelves (inc one lad up a ladder !) and all pointed me in the right direction, or explained where the product was. For obvious reasons I didn't get close enough to note name badges. On 2 occasions the items I needed were not available, that part of the shelf was empty, but the staff were obviously unaware when I spoke to them.
There were barely any staff on the shop floor to ask for assistance. When I did track someone down it was an online-shopper and I asked her if they stocked frozen fruit. She assured me they did and pointed me to the next aisle.
On the 3 products I couldn't obtain I was told if it wasn't there they didn't have any.
very few staff to be able to approach on the shop floor but the ones i did were helpful and pointed me in the right direction
Staff appeared friendly and happy to work. I engaged with two staff members asking where I could find some products and they were all very friendly and polite. They showed me where to find the products and apologised for another that was out of stock.
Was it easy to find a member of staff (up to 3)
3
1
3
2
3
Were staff easy to identify through their uniform or name badges (up to 2)
2
0
2
2
2
Staff presentation (up to 5)
3
4
4
4
4
Feedback
None of staff members had gloves or masks
The combination of wide, spacious aisles and minimal staff on the shop floor made it easy to maintain social distance!
N/A
staff were all very pleasant - lady on check out was wearing gloves she used sanitiser before handling my food and again for the next customer - did not see any staff weraing masks - i think it would be agood idea if they did.
Apart from one wearing a face mask and 2 wearing gloves the majority of the staff didn't wear protective equipment. They seemed to maintain social distance whilst helping me though.
Tills and checkouts (20)
15
16
13
20
16
How well managed were the queues leading up to the till-operated checkouts in terms of maintaining order and social distancing? (up to 2)
0
2
0
2
2
How well managed were the queues leading up to the self-service checkouts in terms of maintaining order and social distancing? (Please observe after you've completed your shop, and include observations around attentiveness to customers requiring help due to flashing lights/unattended items in bagging area) (up to 2)
1
2
0
2
2
How long did it take to queue (prior to scanning) (up to 4)
4
2
4
4
4
Please rate checkout staff on their customer service and safety (up to 7)
5
5
4
7
4
Time for G33 items to be scanned (including payment) (up to 3)
3
3
3
3
2
Was the till receipt free of mistakes? (up to 2)
2
2
2
2
2
Feedback - please provide any further details/feedback on the tills and checkout:
At that time there were hardly any queues so not a problem. But no staff on duty to help/control should a queue have formed. There was one person on the self serve area helping and maintaining order
There was next to no queue for the checkout when I finished shopping. I joined the queue and was quickly directed to the next available checkout by a staff member. This, coupled with the fact only alternate checkouts were open, aided social distancing. I was served by Gordon. Unfortunately whilst I was loading my shopping onto the conveyor belt, Gordon was engaged in conversation with another shopper leaving the store. I was then left standing, waiting for him to end this conversation before he served me. I didn't feel this was great customer service. Other than that, Gordon was polite, if not very conversational.
2 young lads on self scan only one customer using so hard to tell if they were managing it well. No staff directing to main till, customers working it out for themselves.
the screen at the till was a bit shabby and was in need of being resecured to the conveyor. the store was quite quiet so i was directed to a checkout almost immediately
As I walked on the marker indicating 2 metres distance from the check out I was told by a supervisor that I could start putting my shopping on the belt. By the time I did that it was my turn (less than 2 minutes)to pay. The staff member greeted me and asked if I needed more bags. She smiled and processed the transaction in an efficient manner. She also bid a friendly farewell.
Availability score (20)
0
4
14
20
10
Of the 33 items on your shopping list how many were:
Available (up to 20)
22
23
30
33
27
Out of stock (-2 per item)
11
6
3
0
4
Not stocked (-1 per item)
0
4
0
0
2
Availability %
66.7
79.3
90.9
100.0
87.1
Please note down the items on your shopping list that were out of stock (please highlight the products that have managed to get a satisfactory substitutions)

1. Loose potatoes;
2. Tenderstem broccoli;
3. 3Dolmio Bolognese pouches (jars are too big for one person);
4. Seabrooks crisps;
5. Hot cross buns;
6. 6Egg custards;
7. Bols grenadine syrup (only had sugar free, which is horrible);
8. Canti prosecco;
9. Chicago Town pizza (there were no veggie pizza's in frozen).
10. There wasn't any special coleslaw, so I got ordinary instead - subs
11. There wasn't any Birds Eye peas & sweetcorn, so I got just peas instead. subs
1. Paxo White Breadcrumbs - substituted with own brand breadcrumbs 2. Frozen mango - not substituted 3. Frozen pineapple - not substituted 4. Unsalted butter - not substituted 5. Frazzles - substituted with own brand 6. Own brand frozen cheese & tomato pizza - substituted with own brand hot dog pizza
Sainsbury's danish maple & pecan plait, none left. Sainsbury's plain white bagels, there were branded alternatives available but I chose not to purchase. Gordons premium pink distilled gin, there were other brands available but I chose not to purchase.
N/A
Nescafe'Gold decaff refill 150g , Essential Waitrose French Fries substituted with McCain French Fries, Man Cave lemon and oak shower gel substituted with Nivea Energy shower gel , Waitrose asparagus and mixed veg steamer substituted with Waitrose fine asparagus
Please note down the items on your shopping list that were not stocked (please highlight the products that have managed to get a satisfactory substitutions)
N/A
1. Meridian Cashew Butter - substituted with peanut butter 2. The Pink Stuff Spray - not substituted 3. Falafel - not substituted 4. Colgate childrens toothpaste - substituted with own brand
N/A
N/A
Waitrose sable grapes 400g substituted with Waitrose Victoria Grapes , Tilda pure basmati rice 500g substituted with Waitrose basmati rice 500g
Please give any other details or info about your shopping trip, good or bad
The aisles aren't that wide, but without a complete store rebuild it would be impossible to change that for the current situation. There was one aisle with a "no entry" sign, but I couldn't work out why that one had been chosen; One item seemed really out of place and took some finding, and that was the chocolate
I thought it was a lovely, modern, clean and tidy store, but I did not enjoy the shopping experience as I didn't feel particularly safe within the store. It is clear that Morrison's have tried to implement some safety procedures, some of which (like the one checkout queue) are very effective, but I feel they could do more to encourage one-way/2m distance stickers inside.
Click&Collect available but its station is located at the far side of the car park and was completely empty. All deli counters (deli pizza butcher cheese & fish) were completely empty could have been due to time. In store bakery shelves pretty empty too. Nice store overall.
whilst there was the social distancing highlighted throughout the store arrows directing up and down aisle - some thought needs to be given to the traffic in the central aisle that intersects all of the aisles as customers travelling in both directions and dodging between each other - some services not open - deli/ hot food counter / fish counter —- however bakery open a were kiosk services and dry cleaners and timpsons
Even though it was a Saturday afternoon the shop wasn't too busy or perhaps the queues were managed particularly well. I found most of the products I wanted and shopping was very easy.
TOTAL SCORE (100)
52
55
70
88
73