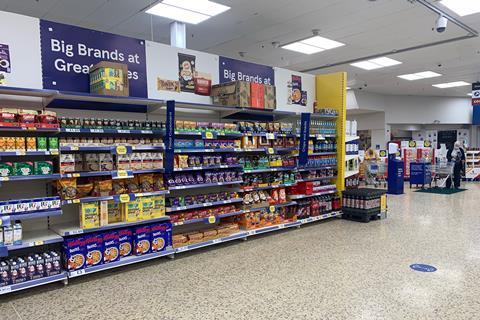 Tesco overcame the challenges of the driver shortage and 'pingdemic' to land the first full basket of the current Grocer 33 year, winning our store of the week award in the process.
The large, spacious Tesco Extra in Northampton was well-stocked, "really well laid out" and "not too busy" during our shopper's Saturday morning visit. The "attractive" food counters also helped it notch up a total of 79 points.
However, our visitor spotted several Tesco workers picking online grocery orders, which resulted in many trolleys being left unmanned on the shop floor. She said the store felt "as busy with these pickers as it did with actual shoppers". In addition, one of the staff members was "rude". Still, the range of products available would persuade her to return.
Runner-up Morrisons in Chalk Farm scored 67 points. While the store was clean and customer service was generally good, our shopper found it hard to fill her basket with all the required items as two of them were out of stock and 10 were not stocked.
Staff were busy stacking shelves but were helpful in checking for items our shopper could not find at first. The shop was not too busy, which also meant "better customer service" at the checkout.
Our shopper particularly praised the variety of fresh food takeaway meals available at the store's new Market Kitchen concept, which opened earlier this year. She said they all looked "appetising".
Sainsbury's in Bournemouth trailed by a further two points, in part due to its location inside the Castlepoint Shopping Centre – which our shopper said was not "a pleasant experience" as maintenance work has been going on at the centre "for years". This was particularly evident in the car park.
The Sainsbury's shop itself was "generally very good", clean, and easy to navigate. Staff were helpful and apologised when they didn't have the products our shopper needed.
However, she was disappointed when she was wrongly told that there was no food bank deposit point. Our shopper felt staff should "be trained to know what there is in the store other than products on shelves".
Both Asda and Waitrose tied in last place with only 53 points each. Asda in Crawley was described as a "bit of a messy store" by our shopper, who mentioned that the car park trolleys were left scattered around outside.
The branch struggled with availability, as seven of the items on our list were out of stock. In addition, the shop floor staff did not walk our shopper to the items he was looking for.
On the plus side, the store was relatively calm and there were no queues.
Meanwhile, Waitrose Wokingham did seem to have been hit by the nationwide stock availability issue – our shopper only got hold of 27 items. The bottled water section was "completely bare".
Our shopper noted the freezers and fridges in particular were poorly stocked. Plus, one of the freezers appeared to be leaking as there were wet floor signs placed in front of it.
Staff around the shop were busy restocking shelves, resulting in trolleys being strewn in the middle of the aisles. This was made worse by the store being very busy with shoppers on Saturday morning.
More positively, the store was nicely laid out and featured some "delicious"-looking food counters, with "excellent promotions" at the deli. The checkout operator was polite, too.