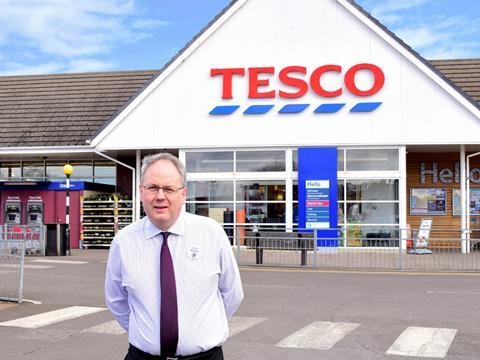 This is the second time you've won our store manager award. I won it in 2011 when I was manager of our Banchory store. My daughter still has the clip from The Grocer on her phone.

The Montrose store is getting on a bit. Does that pose challenges? The store used to be a Wm Low supermarket, part of a chain that was taken over by Tesco and the company I used to work for. It's 24 years old and is quite outdated. Perhaps the main thing is the décor and the maintenance but I'm fortunate I have a great camaraderie with our maintenance manager.

Are there any other challenges with your location on the Scottish east coast? We're set next to the Montrose basin, which means we have an almighty wind blowing almost constantly. I'm growing tired of watching our advertising posters flying across the car park. We have a plan in place to reinforce them using special mesh.

Why do you think you won our award? I'm really pleased with our performance on availability. We have recorded the best availability for our whole group, which is about 20 stores, and it's something I'm really proud of.

How have you helped ensure availability stays high? One of the things we've encouraged is for staff to use the Inform app on their mobile phones, which was brought in about a year ago.

How have the discounters affected your store? We have a Lidl close by and a new Aldi is opening in July, which will be about 200 yards from the perimeter. It's going to be a new challenge. I'm confident we can beat them with our service, our availability and our quality.

How is the BWS revamp going? We're getting more craft beer and there has been massive growth in that, with Scotland in particular being home to some good craft breweries. I'm also impressed with the new non-alcohol section, which has brought all the non-alcoholic wines and beers all together in one place for the first time.
Winner: Tesco, Western Road, Montrose
Store manager: Graeme Tough
Size: 30,000 sq ft
Opened: 1993
Market share: 28.1%
Nearest rivals: Co-op - 0.2 miles, Lidl - 0.9 miles, Morrisons - 11.2 miles, Asda - 13.7 miles
Store data source: Analysis by CACI. Call the market planning group on 020 7602 6000