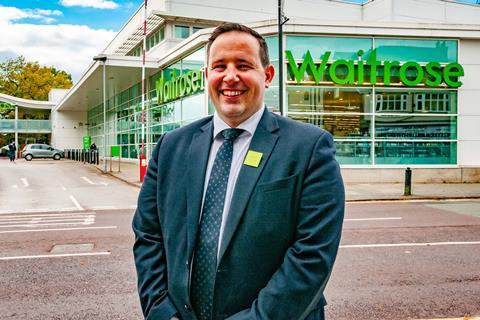 Winner: Waitrose Cheadle Hulme, Greater Manchester
Store manager: James Dudgeon
Opened: 2007
Size: 23,000 sq ft
Market share: 9.4%
Nearest rivals: Asda – 0.1 miles, Morrisons – 2.1 miles, Sainsbury's – 2.3 miles, Tesco – 3.4 miles
Store data source: Analysis by CACI.
Call the market planning group on 020 7602 6000
The store's coronavirus measures impressed our mystery shopper. Have staff and customers taken well to them? Customers have been very receptive to the protocols and often tell us they feel safe in the branch, while the team knows everyone has a part to play. All partners wear masks, including those back of house, and everyone has been very proactive when it comes to upping cleaning standards. When customers see that, it fosters their loyalty. There's nothing partners wouldn't do to help because they know it benefits everyone – they've been fantastic and winning the Grocer 33 is a real testament to that. Cheshire is also now adhering to tier two Covid-19 restrictions, so although we're already doing all we can, we constantly review the measures.
How do you keep staff morale up? It's about letting the team know we're all in this together, even if we have to socially distance from each other. We've also had John Lewis partners from the Cheadle and Trafford shops transfer to the supermarket, and they have been a great support and adapted very quickly. We're focusing on celebrating the team's different backgrounds and cultures this month, which has been so engaging. Some of the team have cooked meals inspired by where they're from, such as Caribbean and Sri Lankan dishes, and we've all enjoyed the food for free in the canteen.
Have your café and counters reopened? Our café isn't due to reopen until after Christmas, and we're still unable to offer the free hot drinks for MyWaitrose loyalty cardholders because of Covid-19. Customers have been very understanding of that. The space is being used to promote key John Lewis lines through a collaboration with its Cheadle store for now, so we've got dining and living rooms set up to showcase some of what's on offer at John Lewis. We still have our full meat and fish counters available, but we've streamlined our deli products. The counters remain a point of difference.
How has the branch's online business grown through the pandemic? Our capacity for deliveries has grown exponentially, in line with the massive growth across the company. It's also one avenue that keeps in-store customer numbers down but still allows us to serve them. The click & collect service has done well too, helped by the fact we're in the catchment area for Cheadle's John Lewis deliveries for customers. It mitigates the coronavirus risk, minimises contact and brings John Lewis and Waitrose together, which really appeals to our customers.
Our shopper enjoyed the Halloween display. What's selling well? It's such an eye-catching promotion. Sweets and chocolates always do very well, as have the pumpkins that came in this week. It's a great way to get back to some sort of normality; people are looking to do everything they can to mark the occasion at home. Cleaning items are also selling well through our Priced to the Pound scheme, which has been very successful.