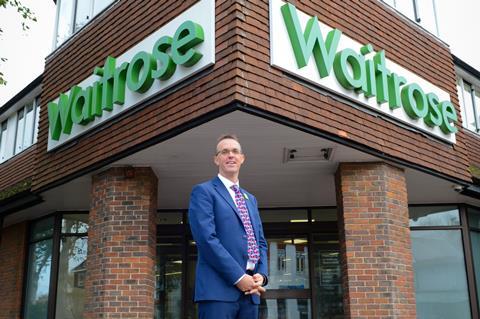 Winner: Waitrose Penn Road, Beaconsfield
Store manager: Stephen Peppiatt
Opened: 1982
Size: 26,000 sq ft
Market share: 14.6%
Nearest rivals: Sainsbury's – 0.4 miles, Tesco – 3 miles, Morrisons – 7.4 miles, Asda – 9.2 miles
Store data source: Analysis by CACI.
Call the market planning group on 020 7602 6000
Our shopper found the store 'clean and safe'. How do you ensure all customers experience that? Cleanliness and safety are our number one priorities right now. For starters, we have marshals at the front door to monitor customer numbers and answer questions they may have, we prompt shoppers to use the hand sanitiser we offer and we clean every trolley and basket after use. Customers continually tell us they feel safe and are reassured by the measures we have.
Customer service was also strong. How are you keeping staff motivated? Since the pandemic began it's been really important to reassure the team we have their best interests in mind. That's been done by ensuring we have the appropriate PPE for shop floor and back-of-house staff, and that they adhere to social distancing consistently. Staff have even taken their own steps to boost morale and help the community. One of our delivery drivers, Alex Osei-Bonsu, volunteered to pick, pack and deliver groceries to 75 households every week over lockdown in his own time, and got 20 other partners involved. He ended up receiving a British Empire Medal for his efforts.
How does the team go the extra mile for elderly and vulnerable shoppers? We have a lot of customers in that category and with that comes a responsibility to support them. Many have made good use of our online deliveries and click & collect service since the outbreak, so sales have done very well for those. But for shoppers still coming into store, partners have really made the effort to help them find products. There's been a lot of elderly customers shopping alone for the first time, perhaps if their husband or wife is sheltering, so that's meant they need more help navigating the store than a regular shopper.
How has Covid-19 impacted in-store purchases? I've noticed customers shopping less frequently but having bigger baskets when they do visit, and they are buying items such as cleaning products and hand sanitiser more than ever before. Because our supply chain has been fantastic throughout the pandemic, we've been able to replenish shelves quickly. Shoppers are really enjoying Essential Waitrose at the moment as well, which is great because we've just lowered the price on around 200 of the range's lines. The same goes for our Halloween and Christmas products: both have had very strong sales. I'm seeing customers pick up a lot of festive ambient and gifting boxes early and I think we'll sell more of that sort of product this year.
You've worked for Waitrose for 24 years. What's the best thing about working for the company? I've got a fantastic team here. It makes my job a lot easier when everyone involved has a common goal and aims for it together, which is especially true right now. I also like working for the Partnership because of its unique ownership model. I joined the business straight out of school and have worked all around the country with Waitrose.