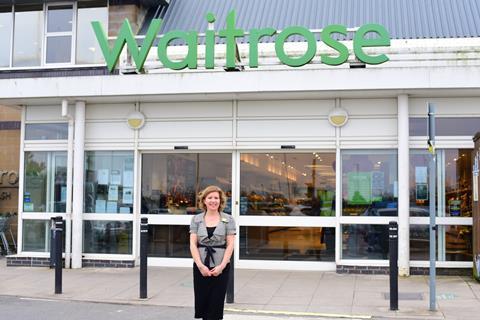 Winner: Waitrose Saltash, Cornwall
Store manager: Laura Grant
Size: 30,000 sq ft
Opened: 2000
Market share: 24%
Nearest rivals: Tesco – 4.5 miles, Morrisons – 5.8 miles, Sainsbury's – 7.4 miles, Asda – 8.5 miles
Store data source: Analysis by CACI.
Call the market planning group on 020 7602 6000
How have you managed the more stringent Covid-19 regulations? Our measures are as strict as they have ever been because safety is paramount to us. We've had really positive comments from customers about our enforcement of the rules over the past year. Shopping patterns have undergone a clear shift – shoppers are continuing to visit less but spending more each time they do. But there hasn't been a noticeable difference in what they are purchasing, aside from a boost in sales of our wine and chocolates ranges due to all the extra time we're spending at home.
Are you using rapid Covid-19 testing for staff? Yes, the team has made great use of it. It has really helped maintain our operations in these difficult times. It is so straightforward and takes place in the branch in a controlled area away from customers. We've been offering it to all partners not showing symptoms of the virus since Christmas. Anyone who is showing symptoms isn't able to make use of the option because they need to self-isolate as soon as possible. As for vaccines, I think the quicker we can get everyone working in retail vaccinated, the better.
How have you kept partners' spirits up through the pandemic? Coronavirus has been hugely challenging for the team so they need to feel supported. I've had so much feedback from colleagues saying that they feel like Waitrose is a family. Some partners only really interact with their co-workers throughout the week now, so we've become a lot closer. I'm so proud of how we've all pulled together and supported each other throughout this. We're a team that really understand each other and that truly makes a difference to how employees feel and the effort they put into what they do.
Has the snow impacted your availability? No, it hasn't. The snow is just another challenge to overcome should we encounter any issues, though. The team has worked really hard to maintain good availability throughout the pandemic. We've got good levels at the moment and haven't seen any panic buying from customers, which has helped keep it that way.
What is the best thing about your job? The flexibility Waitrose offers me is fantastic. I work part-time and flexibly, which means I'm able to balance my workplace duties with looking after my young daughter. Running a store is a 24-hour operation but it's great to know I can focus on my home life too. That's very important to me.
What makes great customer service? It's about going the extra mile for shoppers and engaging with them to make sure they feel welcome and valued. Strong service will also help customers feel special, which is especially important right now because for some customers, our partners may be the only people they speak to outside their household. The key way to ensure you're fostering their loyalty is creating a safe and smooth shopping experience for everyone who comes through the door.