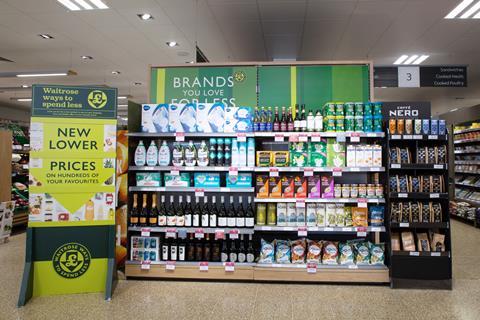 It was Waitrose Thatcham's store standards this week that made it stand out from the pack. In a relatively low-scoring week for the category, Waitrose's standards were excellent, with no obstructions in the aisles and a well-stocked store.
This was despite a leaking fridge, which had been dealt with effectively in a "safe and unobtrusive" way. The shelves were full and plentifully stocked, with no gaps at all.
Our shopper's first impression was of a "lovely" Valentine's display, contrasting with second-placed Morrisons in Totton, which had a random selection of products on offer arranged at the front of the store. Our Morrisons shopper felt the products didn't follow any theme, but they were at least well-stocked and tidy. The flowers and plants section was particularly impressive.
At Asda Tilehurst, which came third, our shopper's first impressions were of a "very cold" store.
The Asda store was also poorly stocked: "there was no sense of abundance," said our shopper. Many areas were empty and stock levels seemed generally low. The stock was tidy and attractive, however.
Waitrose and Morrisons led the pack on store layout. Waitrose had an "excellent layout" which made sense and was quick to navigate. The counters all looked clean, tidy and appealing.
At Morrisons the layout was "logical". The counters all looked appealing and well stocked except the pizza fridge. The butcher counter in particular stood out.
At the Asda store, the layout was "not particularly intuitive". The bakery was also not well stocked, with gaps on the shelves.
Waitrose and Morrisons also offered the best car park experience this week. At Morrisons there were plenty of spaces and the route was clear and well signposted. There were plenty of trolleys available, and the area was clean and tidy.
At Waitrose the car park was "well signed, easy to navigate", with easily accessible trolleys.
At the other end was Sainsbury's, with an averagely managed car park.
Sainsbury's Camberley and Tesco Swindon were joint last this week, with 58 points.
Sainsbury's was easy to navigate but offered no fresh counters, and Tesco only had a small deli fridge and bakery in its counter offering.
It was a very high-scoring week for shop floor service, with four of the five stores scoring full marks in the category. Only Sainsbury's fell behind.
Our shopper was "hugely impressed" with the staff at Asda, with staff in almost every aisle. At Morrisons staff were "helpful and polite" and checked the backroom for missing stock.
In Tesco, there were plenty of staff on the shop floor and they were considerate of shoppers while restocking.
At Waitrose, every member of staff was "impeccably dressed" and professional. They offered "service with a smile".
When it came to checkout service, it was Tesco that came out on top. There was no queue and the checkout assistant was "great". Checkout service was good across all retailers, with no shopper having to wait more than three minutes.
Availability was a challenge for every store, but Asda and Morrisons did best, with just one item out of stock and one not stocked in each store. Tesco scored zero points for availability, with one item out of stock and no less than nine not stocked in the 30,000 sq ft store.