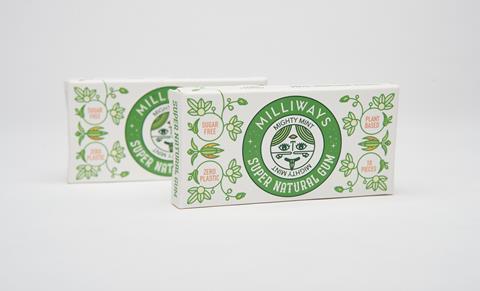 Winner: Milliways Mighty Mint Super Natural Gum
Milliways considers itself a new age confectionery business, one aiming to provide healthier alternatives to everyday snacks. And if this Super Natural Chewing Gum, its first product, is anything to go by then it's got a bright future. Showing its got its finger firmly on the consumer pulse, the product launched in December 2020 is plant-based, plastic-free and 'planet-friendly,' with biodegradable packaging. Made from naturally derived ingredients sourced from farms around the world, it even uses natural chicle sap sustainably extracted from sapodilla trees in Central America. It's a bold and ambitious product that doesn't compromise on a single element and will no doubt impress the new age of confectionery consumers with its first SKU.
Described as a "great innovation and a modern brand with a mission" by our judges, this product captured attention for its attractive packaging and its environmental benefits, as well as also delivering on flavour.
Highly commended: HARIBO Jelly Babies
Finalists:
Bebeto Pick & Mix Party Pack
HARIBO Fruitifest
HARIBO Sour Sparks
HARIBO Starmix
With thanks to our sponsors