Consumer expectations of grocery have radically shifted during the pandemic, with omnichannel moving to the fore while delivery and click and collect services experienced a resurgence. As we ease out of lockdown digital ID systems will be key to further innovation, as Avery Dennison argues.
The current pillar of digital ID in grocery is the humble barcode. The technology is so embedded that stock-keeping units (SKUs) have become a synonym for any brand's product range.
While ubiquitous, the barcode has limitations. "What all barcodes do is detect the SKU," says Peter Jackson, global market development manager for RFID food at Avery Dennison Smartrac. "They can only provide limited information, even though retailers are increasingly required to track a broad range of data, including expiry dates, origins, and product journeys."
For the grocery sector, one emerging technology that could supplant the barcode is radio-frequency identification (RFID). This has been used in clothing for over a decade, with 92% adoption in North America1. Some technologists are convinced that it can establish itself in grocery stores.
RFID tags look like regular labels and barcodes are often printed on an RFID label to help combine the benefits. However, the technology carries much more extensive information, making it suitable for a broader set of applications.
The time is right
The grocery industry has trialled proof-of-concepts with RFID for some years. Tesco experimented with the technology in the noughties, using it in a non-food distribution centre in 2003. Asda underwent similar trials in-store in 2006.
Tag performance emerged as one of the barriers to implementation, with radio-frequency interference another source of trouble. As Jackson puts it, "10 to 15 years ago when a couple of supermarkets tried to implement it, the technology wasn't ready."
Since then smartphones have revolutionised shopping, and Jackson noted the shift to cloud computing as an important step for successful RFID implementation. Both consumers and grocery staff are a lot more tech-savvy than they used to be, while the Covid-19 pandemic has accelerated technological upgrades because of the need for distanced shopping and home delivery services.
Among the evidence for this is Amazon's foray into the grocery market, providing online deliveries and opening three checkout-free stores in London. The latter allows shoppers to scan an app, fill their baskets and leave without interacting with staff or a checkout machine.
To make these stores work, grocery retailers are looking to different Internet of Things (IoT) technologies to track shoppers' baskets, including vision systems. "RFID is complementary to these systems, working in tandem with other technologies," Jackson says. "It can bring a wide variety of additional benefits compared to vision technology, including complete end-to-end supply chain visibility and variable weight information on individual products."
The move to trial such stores in the UK supports Jackson's assertion that the country compares well to international peers for potential adoption of RFID. "It's widely recognised that we're very good at technology," he says. "Both industry and consumers are well educated in understanding technology."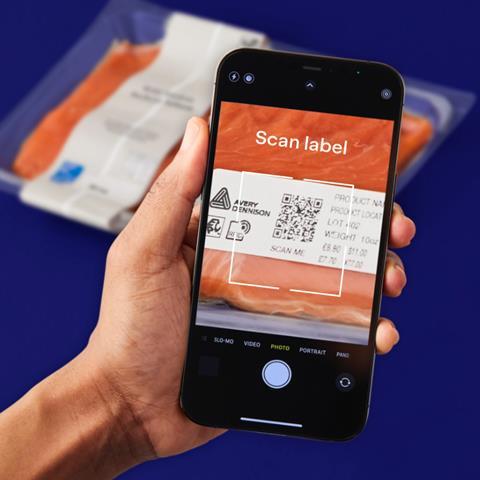 Incremental gains
This is not to say that there aren't some challenges to be addressed. Although the technology is viable, its novelty must be overcome. Many companies will also have to upgrade their infrastructure, and the global nature of food supply chains could pose other difficulties.
So, can grocery companies experience incremental benefits while other parts of the industry catch up? "There's two main areas that make it worthwhile in the food sector: the ability to provide information at individual item level and the labour savings," Jackson says. "These sit alongside other benefits."
Many of the benefits of RFID derive from its ability to scan many items at once. A box of individually tagged items can be scanned in a single movement, even if they are assorted. For a consumer this may mean that a basket of goods can be quickly identified without individually scanning items, while stock rooms can be checked more easily.
"If that stock is in a freezer would you want to spend 15 minutes scanning items, or would you want to spend one minute?" Jackson asks. This means that staff can spend up to 50% less time in labour costs maintaining inventory and more time helping consumers, according to the experience of customer pilots.
Also helping customers is digital ID's ability to classify different food types based on allergens or dietary requirements. For example, vegan products can be more easily separated from those that contain animal products.
"If there's any concerns with the product you can identify where it came from," Jackson adds. "So for example, if the wrong type of lettuce is being used in a salad, you can check that."
Sustainability driver
Much of the inventory applications feed into an area of increasing concern for consumers and the grocery industry: sustainability.
One of the advantages of RFID is that it can link expiry dates to individual products, helping retailers manage food waste by adjusting prices as products approach the expiry date. In the case of a recall, the specific affected lot of food can be accurately identified, so no more food than necessary is discarded.
"I think the reduction in food waste is a big benefit," Jackson says. "By offering much greater visibility into inventories, RFID enables retailers to avoid overproduction and reduce waste while the items going into landfill are still contributing to greenhouse gases."
He also highlights that the UK as a jurisdiction is especially concerned with food safety, adding that this attitude would help spur adoption of RFID. "How often do we hear a national food recall in the UK? Not very often," he says.
The technology can also help reduce plastic consumption by tracking reusable containers. "Plastic is an effective material but must be reusable in the right way," Jackson explains. With wider adoption, RFID could lead to a better future the environment, as well as offering grocery retailers extensive capabilities to upgrade their offering to consumers and drive supply chain efficiencies.
Sources:
1 Accenture: Transforming Modern Retail