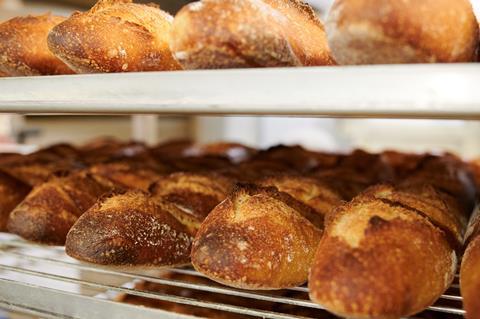 Ouch! Bread brands have taken a £60.4m sales hit, having shifted 82.8 million fewer loaves. But that doesn't mean they're toast just yet. There are still ways for bakery's big names to raise their profile with shoppers.
"Consumer tastes and behaviours are changing," says Warburtons product strategy controller Duncan Tyrrell, pointing to the brand's growth in lines such as crumpets, while its loaves have lost £12.8m on volumes down 4.5%. "Consumers are looking for new and different products from bakery, and that is reflected in growth in other wrapped bakery."
He adds that, for the category as a whole, "2019 was a key year with sales of other wrapped bakery products greater than wrapped bread – a key sign the trend has become the norm and is set to continue".
It's worth noting that 97% of households still buy bread, although a growing slice of that is own-label, up 8.9% on units up 7.9%.
Own-label's growth is a major reason for the decline of the top six brands, says Nielsen senior analytics consultant Carol Ratcliffe. "Brands face a double whammy from losses in distribution and a widening price gap with own-label."
Number two brand Hovis and number three Kingsmill have been the biggest casualties – down £19.1m and £22.1m respectively. A spokeswoman for Hovis says 41% of Brits are now eating less bread than they used to. "The good news is that 48% of people report to be eating better quality bread than before," she adds. "So, the mantra 'quality over quantity' is key for this category."
This view is supported by Roberts marketing director Megan Harrison. "The only sector in volume growth is bread with bits, which is perceived to be more healthy and carries a higher price point," she says. "This is also driving growth of premium breads in general, while standard lines continue to decline."
No wonder, then, that Roberts and others are investing in posher loaves. Roberts, for example, launched a trio of Digestion Boost Bloomers in May to cash in on growing awareness of the importance of good gut health.
Allied Bakeries marketing director Matthew Cullum points to a 73% gain for Kingsmill Super Seeds, as well as Allinson's 18.1% surge on volumes up 11.5% (making it the only top 10 brand to see growth) as further proof of consumers' willingness to spend more on loaves with added health and quality credentials.
"It's a tough environment for brands in bakery," he says. "However, we believe own-label and brands can play complementary roles in the market, driving volume and value."
The question is how long will it be before supermarkets step up their premium own-label bread offers?
The Top Products
In association with nielsen
Top 20 bread loaves
£m
change (£m)
change (%)
Total Category:
1324.9
-37.5
-2.8
Total volume change:
-4.1%
Total Own Label:
279.9
23.0
8.9
This year's rank
Last year's rank
Brand
Manufacturer
£m
change (£m)
change (%)
1
1
Warburtons
Warburtons
422.6
-12.8
-2.9
2
2
Hovis
Hovis
293.2
-19.1
-6.1
3
3
Kingsmill
Allied Bakeries
185.1
-22.1
-10.7
4
4
Roberts
Roberts Bakeries
41.6
-2.0
-4.6
5
5
Braces
Braces
18.9
-0.1
-0.7
6
6
Jackson's
William Jackson
16.2
-2.1
-11.3
7
8
Allinson's
Allied Bakeries
8.8
1.3
18.1
8
7
Weight Watchers
Warburtons
7.2
-1.4
-16.2
9
10
Village Bakery
Village Bakeries
6.0
-0.5
-7.2
10
11
Mothers Pride
Hovis
5.5
0.1
1.1
11
9
Burgen
Allied Bakeries
5.1
-2.1
-29.4
12
15
Baker Street
Carrs Foods
3.6
1.2
50.3
13
12
The Polish Bakery
The Polish Bakery
3.5
-0.3
-8.4
14
13
Vogels
Nicholas & Harris
3.4
-0.1
-2.7
15
14
Henllan
Henllan Bread
3.2
-0.3
-7.4
16
22
Sunblest
Allied Bakeries
1.5
0.8
127.2
17
16
Crosta & Mollica
Crosta & Mollica
1.4
0.0
2.1
18
26
Black Sheep
David Wood Baking
1.4
0.9
198.0
19
18
Garth
Garth Bakery
1.3
0.2
19.3
20
17
Country Choice
Country Choice
1.1
-0.1
-8.9
The Grocer's Top Launch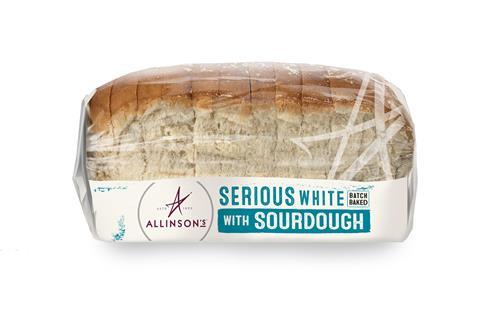 Serious White with Sourdough by Allied
The April launch of Allinson's Serious White with Sourdough is a winner for a number of reasons. First, it has helped make Allinson's the only top 10 bread brand in this report to achieve growth. What's more, it contains 12% rye and wheat sourdough, a far higher portion than similar products by rivals (Warburtons Sourdough Toastie contains 3% dried sourdough, for example). Finally, Serious White comes in paper packaging that makes it look like a freshly baked in-store loaf.