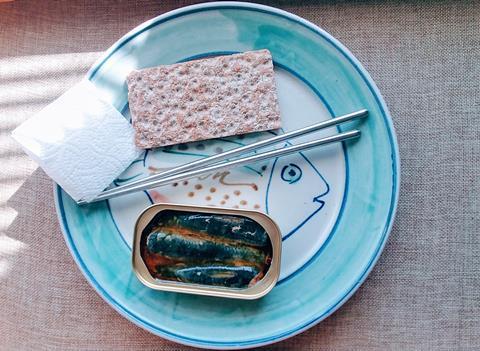 Can it be true? Are tinned goods really trendy again? It would seem so. After, all every sub-sector is in serious growth – marking a major turnaround for a category that was last fashionable in the Second World War.
A mostly stagnant 2019 has been followed by a year in which the category shifted an extra 62.2 million kg, pushing up value by £205.2m.
Naturally, pandemic-fuelled stockpiling played a large part. In fact, panicked shoppers swept up so much canned food pre-lockdown that availability stood at just 19% by 15 March, according to data provider Shepper.
Brits' appetite for baked beans, for instance, was so intense that Heinz and Princes felt obliged to reassure shoppers that supermarkets were unlikely to run out. Backing up those promises meant extra work.
"Mindful of supply chain challenges across the market, Kraft Heinz has dedicated time to boosting the production of its core canned SKUs throughout the year to meet this increased consumer demand," says Lucy Cooke, brand manager for Heinz Beanz.
Not everyone was able to keep up with this spike in demand. In April, tinned tomato suppliers began rationing retailer allocations as stocks ran low. Supermarkets were forced to enforce customer limits.
Thankfully, those are no longer in force, and tinned goods are filling the shelves once again. But demand still remains high – so much so that suppliers believe the resurgence will last beyond Covid.
"Once things settled down in the summer and September, sales were still around 20% more than they would have been before coronavirus," says Del Monte senior commercial director Martin Tilney. "It has driven a reappraisal of canned as a format. There are a lot of lapsed users who are trying canned again and realising it's really nice. The reality is that a can is a fantastic vehicle to put fruit or tomatoes in. No one has come up with a better way of preserving a product and keeping it fresh."
Plus, shoppers are realising tins can reduce food waste, he adds. As campaign groups Wrap and Feedback this autumn called for tough action against waste, that puts canned products in a healthy position.
So do many of the category's other characteristics, says Princes marketing director Alan Eriksen. They are "aligned with key consumer trends in the market such as recyclability, quality, convenience, reducing waste and value for money – indicating a bright outlook for the category."
There are still a few weak spots to address, though. Take tuna. Princes' volume sales are down by 7.3%, while leading tuna brand John West has suffered a 5.9% decline in units.
Part of the problem was disruption in the global supply chain, says a John West spokeswoman, while "at the same time, we had to modify our working practices to ensure that our workers were protected – our highest priority – which also had an effect on sales".
Price rises
Average price of tinned tuna has been a further sticking point for John West and Princes. They're up 2.4% and 4.6% respectively.
"As a result of panic buying during the first wave of the pandemic, reduced branded promotional activity led to increased average prices year on year," says Princes commercial director Mat Lowery. Tesco's axing of tuna multipacks to crack down on packaging also had "a disproportionate impact on branded sales in Tesco", he adds.
Conversely, a 13.9% rise in average price for Princes tinned meat didn't stop it from growing volumes by 4.4%. Its food manufacturing marketing director Dean Towey says this popularity was down to "more family meal times at home and more frugal shoppers".
According to him, the price increases were down not only to fewer in-store offers but also "price inflation on raw materials in some meat categories". That could go some way to explaining why Spam and Pek are also up in price – by 25.9% and 19.8% respectively.
In canned fruit, however, the reason for average price rises is somewhat different –for Del Monte, at least. The brand is 8.2% pricier because "most products were on multibuys, but we got into a position whereby we couldn't supply the stock," Tilney says. "There was no point promoting products because we just couldn't do it." But he stresses that canned fruit remains good value. "It's still pretty cheap when you think it comes from the other side of the world. It's grown, nurtured, canned, and shipped to the UK."
As the UK enters a deep recession, can that be the key to further growth?
Top Products 2020
Top 5 Canned Beans
£m
£ change
%
Total volume change:
6.0%
Total Category:
338.1
41.1
13.8
Total Own Label:
59.7
6.3
11.8
This year's rank
Last year's rank
Brand
Manufacturer
£m
change (£m)
change (%)
1
1
Heinz
Kraft Heinz Co
229.2
25.9
12.8
2
2
Branston
Princes
41.5
8.4
25.2
3
3
Hunger Breaks
Princes
3.4
–0.1
–3.4
4
4
WW
Kraft Heinz Co
1.4
–0.2
–14.6
5
NEW
Gran Luchito
Heirloom Sauce Co
0.4
0.3
–
Top 5 Canned Fish
£m
£ change
%
Total volume change:
7.7%
Total Category:
477.3
39.4
9.0
Total Own Label:
211.5
31.6
17.6
This year's rank
Last year's rank
Brand
Manufacturer
£m
change (£m)
change (%)
1
1
John West
John West Foods
140.3
–5.3
–3.6
2
2
Princes
Princes
58.3
–1.9
–3.1
3
3
Glenryck
Glenryck
5.6
0.3
4.7
4
4
Parsons
Parsons FJ
3.4
0.0
2.7
5
6
Kingfisher
Lovering Foods
1.5
0.4
38.8
Top 5 Canned Fruits
£m
£ change
%
Total volume change:
11.4%
Total Category:
124.9
18.8
17.8
Total Own Label:
54.7
6.5
13.6
This year's rank
Last year's rank
Brand
Manufacturer
£m
change (£m)
change (%)
1
1
Del Monte
Del Monte
28.0
5.6
25.0
2
2
Princes
Princes
7.9
0.5
6.3
3
3
Nature's Finest
Nature's Finest Food
6.5
0.8
14.7
4
4
Opies
Bennett Opie
2.0
0.2
10.2
5
5
KTC
KTC Edibles
0.8
0.2
23.3
Top 5 Canned Veg
£m
£ change
%
Total volume change:
10.4%
Total Category:
494.5
59.6
13.7
Total Own Label:
263.0
31.2
13.4
This year's rank
Last year's rank
Brand
Manufacturer
£m
change (£m)
change (%)
1
1
Napolina
Princes
78.3
10.7
15.9
2
2
Green Giant
General Mills
42.3
–1.3
–3.0
3
3
Batchelors
Princes
15.5
3.1
24.8
4
4
Cirio
Conserve Italia
14.1
3.8
37.5
5
5
KTC
KTC Edibles
11.2
1.7
17.4
Top 10 Canned Meat
£m
£ change
%
Total volume change:
9.1%
Total Category:
231.1
37.7
19.5
Total Own Label:
66.5
9.3
16.3
This year's rank
Last year's rank
Brand
Manufacturer
£m
change (£m)
change (%)
1
1
Princes
Princes Foods
53.6
8.5
18.9
2
2
Spam
Hormel
19.1
6.2
48.5
3
3
Fray Bentos
Baxters
16.4
3.8
29.6
4
4
Ye Olde Oak
Ye Olde Oak Foods
13.0
1.7
15.5
5
5
Wikinger
Wikinger
10.2
2.4
31.0
6
6
Pek
Smithfield
9.3
1.9
26.1
7
7
Kingsfood
Ye Olde Oak Foods
6.0
0.7
13.6
8
8
Stagg
Tulip
3.8
1.1
42.5
9
9
Grants
Grants
2.1
0.7
56.1
10
10
Best One
Bestway
0.7
0.2
29.6
Top 5 Canned Pasta
£m
£m
£ change
%
Total volume change:
6.0%
Total Category:
82.5
8.5
11.5
Total Own Label:
12.7
0.7
6.0
This year's rank
Last year's rank
Brand
Manufacturer
£m
change (£m)
change (%)
1
1
Heinz
Kraft Heinz Co
68.3
7.9
13.0
2
2
Branston
Princes
0.6
0.0
3.0
3
3
Crosse & Blackwell
Princes
0.5
0.0
–13.1
4
5
Happy Shopper
Booker
0.2
0.0
15.5
5
4
WW
Kraft Heinz Co
0.1
0.0
–30.4
The Grocer's Top Launch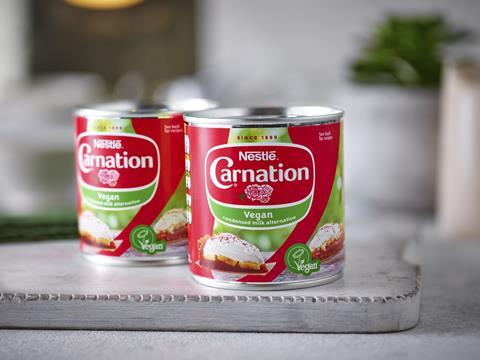 Carnation Vegan Nestlé
Carnation has been given a new lease of life. The 121-year-old canned milk brand added a condensed milk alternative option in July, in a bid to tap the trends for plant-based diets and home-baking. Made with a blend of oat and rice flours, it's the result of 18 months' development by Nestlé. And it's helped to premiumise the brand: with an rsp of £2.19 for a 370g can, Carnation Vegan Condensed Milk Alternative is roughly 30% pricier than its original variant across the mults.