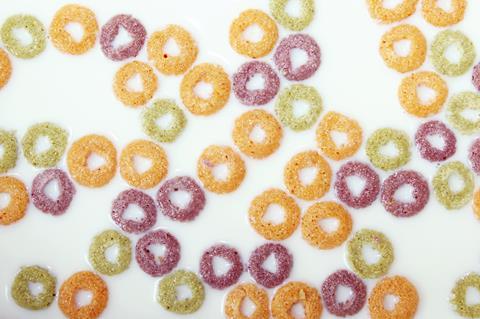 It's a tale of two halves for cereals. On the positive side, it has delivered the first value growth since 2013 with a £12.4m gain. On the less positive side, volumes are still in decline as sugar concerns hit home and consumers diversify their breakfast choices. A whopping 5.3 million fewer kilos went through the tills, driven by brands. Indeed, the top six have all shed volumes.
Meanwhile, own label continues to reel in shoppers. Retailer lines have gained £9.2m – equating an extra 1.6 million kilos – with lower average prices than the big names.
Still, there are glimmers of genuine growth for brands. Among the smaller players, especially, there are some impressive performances. Deliciously Ella has shot up £1.1m or 63%, while WK Kellogg's plant-based granolas are up £2.7m or 73.8%.
It's no coincidence these examples veer towards the healthy end of the market. Health now motivates 44% of all breakfast choices, according to research by Nestlé.
Indeed, Weetabix attributes much of the £4.1m (2.9%) value growth for its Original variant to health credentials. "Weetabix is low in sugar, salt and fat, as well as being high in fibre," says marketing director Francesca Theokli.
However, health is an increasingly complex concept, notes Nestlé marketing director Toby Baker. "Health means different things to different people these days," he says. "For some it's digestive wellness, for others it's reduced sugar in their diet, natural ingredients or protein content."
In response, cereal brands are adding NPD with more than just 'low sugar' claims. Many are going down the gut health route – Nestlé rolled out gut-friendly range Goodbelly in October and Lizi's unveiled Digestive Health Granola in August.
Amid all this healthy fare, there remains a place for indulgent options, insists Aimee Cowan, Kellogg's marketing lead for cereal. "Taste is still the number one driving factor behind shopper's purchases." Which is likely to account for the impressive value growth of sugary brands like Cookie Crisp (20.4%), Frosties (10.6%) and Cheerios (4.1%).
On-the-go options are another area of growth. "Carried-out is the fastest growing breakfast occasion in the UK," says Nestlé's Baker. Indeed, Moma says its porridge sachets contributed the majority of its 17.6% value growth. That's inspiring NPD. Quaker grew its Porridge to Go snack bar range in July with a Blueberry & Apple variant, and Nestlé launched BoxBowls earlier this year. With cereal accounting for just half of out-of-home breakfast occasions, there is "plenty more room for growth" Baker adds.
S0, there is plenty for cereal brands to be positive about for 2020.
The Top Products
In association with nielsen
Top 20 Cereals
£m
change (£m)
change (%)
Total Category:
1335.0
12.4
0.9
Total volume change:
-1.4%
Total Own Label:
318.6
9.2
3.0
This year's rank
Last year's rank
Brand
Manufacturer
£m
change (£m)
change (%)
1
1
Weetabix
Weetabix
144.5
4.1
2.9
2
2
Quaker
Quaker Oats
114.6
-2.7
-2.3
3
3
Crunchy Nut
Kellogg's
88.3
6.6
8.1
4
4
Cornflakes
Kellogg's
49.2
-3.2
-6.0
5
5
Coco Pops
Kellogg's
47.6
-2.7
-5.4
6
6
Special K
Kellogg's
47.0
-1.0
-2.1
7
7
Shreddies
Cereal Partners
44.3
0.9
2.1
8
8
Cheerios
Cereal Partners
42.7
1.7
4.1
9
9
Rice Krispies
Kellogg's
35.9
-1.9
-5.1
10
10
Shredded Wheat
Cereal Partners
30.0
0.2
0.7
11
12
Krave
Kellogg's
28.0
1.1
4.2
12
11
Alpen
Weetabix
25.6
-1.4
-5.3
13
14
Frosties
Kellogg's
23.0
2.2
10.6
14
13
Jordans Country Crisp
Jordans & Ryvita Co
21.3
-0.2
-1.0
15
16
Jordans Crunchy Cereal
Jordans & Ryvita Co
19.8
2.3
13.3
16
15
Dorset Cereals Muesli
Jordans & Ryvita Co
18.5
-1.5
-7.3
17
18
Kelloggs Variety
Kellogg's
15.0
-0.4
-2.6
18
19
Fruit & Fibre
Kellogg's
14.4
-0.4
-2.5
19
20
Scotts
Quaker Oats
13.2
0.4
2.8
20
17
Weetos
Weetabix
12.8
-2.6
-17.0
The Grocer's Top Launch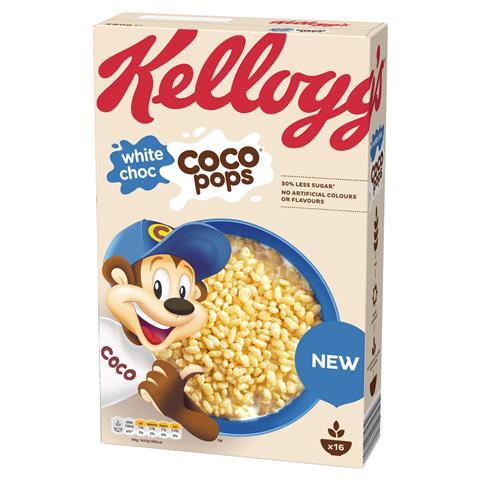 White Chocolate Coco Pops by Kellogg's
Following a barrage of pleas over social media and phone, Kellogg's unveiled the first White Chocolate Coco Pops in the brand's 59-year history. As well as helping to satiate Brits' increasingly varied chocolate cravings, the launch of the new variant in June also boasts 30% less sugar than "standard chocolate rice cereals" – and new mascot Nula the Narwhal to boot. Plus, initial consumer reaction was more positive than for 2018's reformulated standard Coco Pops.