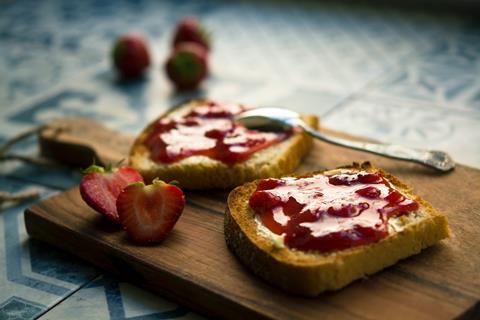 Lockdown made homemade sandwiches wildly popular. Turns out, the same went for toast. That's been great news for spreads. Unit sales have grown 16.2% – an extra 8.8 million kilos. Only five brands out of the top 50 are in volume decline.
Leading spreads brand Rowse Honey has been the biggest winner. It cemented its long-standing position at the top with a £12.6m rise in sales, making it the fastest grower in absolute terms once again. That's down to more than just the rise in sarnie-based occasions.
The brand's versatility has also paid dividends, claims Kirstie Jamieson, marketing director at owner Valeo Foods. "During the past six months, the consumption of honey has not only increased at the core in-home breakfast occasion but in cooking and baking too," she says.
"In addition, our manuka range has experienced strong year-on-year growth as consumers look to use natural food products in their daily routines for health reasons."
With 10.6g of satfat per 100g, Ferrero's Nutella probably hasn't cashed in on health trends. But , like Rowse, it's capitalised on its many uses, matching the honey's 23% hike in value.
"There has been a significant increase in people using Nutella in creative ways to produce delicious desserts and baked goods, all of which has led to value sales gain of 34.3% over the initial lockdown period," says Ferrero customer development director Levi Boorer. "We've been continuing to update our Nutella recipe hub to offer inspiration."
Peanut butter has also proven a winner this year, overtaking jam sales for the first time. Brands believe this is largely down to its healthier image. Wessanen peanut butter brand Whole Earth is a case in point. It has shifted an extra 31% in units, which it believes was driven by Brits' heightened health concerns during Covid-19.
"There's no doubt the pandemic has placed greater emphasis on health and nutrition," says Wessanen UK marketing & category director Bryan Martins. "The number of in-home and snacking occasions has proliferated quickly and consumers have looked for protein-packed healthy spreads."
Whole Earth's not the only nut butter making hay. Take startup ManiLife. It's worth £1.2m in grocery, having begun in 2017. This year "we witnessed growth like never before", says founder Stu Macdonald.
"As well as selling more jars in the first four days of lockdown than the whole of 2017, our expansion into Sainsbury's stepped up our distribution and allowed a wider net of consumers to discover us."
Seems word can spread fast.
Top Products 2020
In association with Nielsen
Top 10 Spreads
£m
£ change
%
Total volume change:
16.2%
Total Category:
390.1
62.1
18.9
Total Own Label:
106.0
8.5
8.8
This year's rank
Last year's rank
Brand
Manufacturer
£m
change (£m)
change (%)
1
1
Rowse
Rowse Honey
67.1
12.5
23.0
2
2
Nutella
Ferrero
59.9
11.2
23.0
3
3
Marmite
Unilever
39.3
7.6
23.9
4
4
Whole Earth
Wessanen
30.1
6.5
27.8
5
5
Sun-Pat
Hain Daniels Group
21.0
1.5
7.7
6
6
Meridian
Meridian Foods
16.2
1.4
26.5
7
8
Hilltop Honey
Hilltop Honey
4.8
1.8
59.3
8
11
Pip & Nut
Pip & Nut
4.3
1.6
57.4
9
7
Heinz Sandwich Spread
Kraft Heinz Co
4.1
0.4
12.8
10
12
Cadbury
Mondelez
3.5
0.7
27.8
Top 5 Jams & Marmalades
£m
£ change
%
Total volume change:
-0.6%
Total Category:
155.2
11.2
7.8
Total Own Label:
39.3
3.0
8.3
This year's rank
Last year's rank
Brand
Manufacturer
£m
change (£m)
change (%)
1
1
Bonne Maman
Andros
33.8
5.8
20.5
2
2
Hartley's
Hain Celestial
18.1
1.6
9.8
3
4
Robertson's
Hain Celestial
8.2
0.5
6.8
4
3
Tiptree
Wilkin & Sons
7.4
–0.3
–3.4
5
5
Mackays
Mackays
7.4
–0.2
–2.1
The Grocer's Top Launch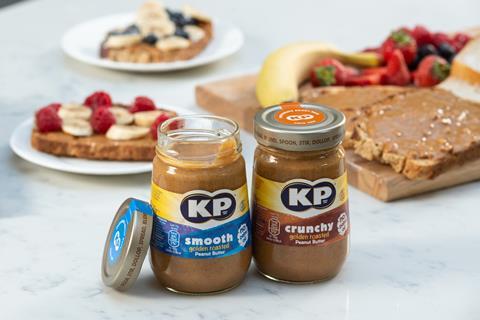 KP Peanut Butter, KP Snacks
After 72 years supplying bagged peanuts, KP chose this July to make its debut in peanut butter. Both Smooth and Crunchy are free from palm oil and added sugar. They also promise 35% less salt compared with similar products. And they're stabilised. That means no stirring is required before serving – which is not the case with most other palm oil-free nut butters. "Now is the perfect time for KP to make its mark and help the category thrive and prosper," says its marketing director Kevin McNair.