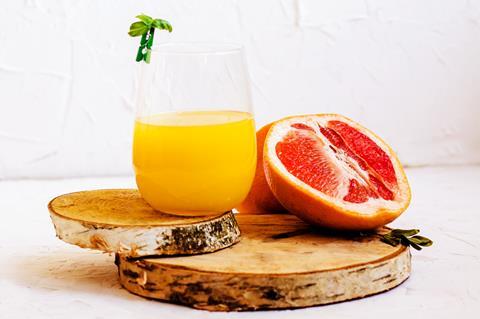 Talk about a fruitless year. Sales of juices and smoothies plunged £90m in 2019, making it the third fastest-falling market in this year's Top Products survey (after fresh meat and cigarettes).
Both branded and retailer lines felt the pinch. Own label shed £27.5m, while just 12 of the top 50 brands managed to add value.
It's been "a tricky year" for juice, concedes Ben Parker, Britvic at home commercial director. "Juice drinks have been in a state of flux, suffering from reduced relevance and a perceived lack of value for money," he says. That has been compounded by "health and wellbeing misconceptions, with concerns over artificial ingredients and sugar content".
Of Britvic's biggest brands, Drench and J20 were hardest hit – shedding a combined £6.2m. Drench lost a third of its value, which Parker puts down to lost distribution in the mults. J20 lost a more modest 7.4%. According to Parker, that decline was down to tough comparables with 2018, when sales were buoyed by the heatwave and the CO2 shortage that led to shortfalls of fizzy pop. He says J20 sales are back on the up after the brand recently mounted its 'Find Your Mojo' push.
Britvic certainly isn't in the worst position. The fastest-falling brand in this list is Ribena, which has haemorrhaged £18.1m.
That's despite owner LRS ploughing £10m into its tongue-in-cheek 'Blackcurrant Artistry' campaign for Ribena in spring. Scott Meredith, sales director at LRS, says the ad "has had a strong reception with Ribena's intended audience" and insists Ribena is gaining share and "over-indexing when compared with the juice drink category as a whole". At the same time, the supplier is innovating to "futureproof our brands", Meredith adds.
Moving out of the child-focused juice drink market could prove a savvy move. For rival Capri-Sun has suffered a similarly gruelling £10.8m decline. Owner CCEP says that was due in part to parents being "concerned about the sugar content and artificial ingredients in kids' drinks". With that in mind, the Capri-Sun portfolio will next year "contain nothing artificial, as well as offering consumers a choice of low and no added sugar products".
This health message certainly seems to be hot property. In the category's troubled top 10, Innocent was the only brand to grow with a sizeable £14.3m gain. That came after the launch of its vitamin-enriched Innocent Plus smoothies in March.
Tropicana had the same idea. As well as Whole Fruit, it added to its functional Essentials range with an Orange, Pineapple, Carrot & Ginger variant that claims to support the immune system. However, that didn't stop sales falling £7.3m.
The Top Products
In association with nielsen
Top 20 Juice drinks & smoothies
£m
change (£m)
change (%)
Total Category:
1700.9
-90.0
-5.0
Total volume change:
-6.50%
Total Own Label:
578.7
-27.5
-4.5
This year's rank
Last year's rank
Brand
Manufacturer
£m
change (£m)
change (%)
1
1
Innocent
Coca-Cola Company
265.7
14.3
5.7
2
2
Tropicana
PepsiCo
207.3
-7.3
-3.4
3
3
Ribena
Suntory
86.2
-18.1
-17.4
4
4
Naked
PepsiCo
71.4
-4.0
-5.3
5
6
Oasis
CCEP
69.0
-0.5
-0.7
6
5
Capri Sun
CCEP
63.9
-10.8
-14.5
7
7
Robinsons
Britvic
49.7
-2.8
-5.4
8
9
J20
Britvic
35.3
-2.8
-7.4
9
8
Copella
PepsiCo
31.7
-6.7
-17.6
10
10
Ocean Spray
Ocean Spray
21.1
-3.4
-13.9
11
11
Vita Coco
All Market Inc
20.6
-1.8
-8.2
12
13
Vimto
JN Nichols
18.6
0.8
4.2
13
12
Rubicon
AG Barr
13.7
-4.3
-23.8
14
15
Euro Shopper
Booker
11.4
0.9
9.0
15
14
This Juicy Water
Coca-Cola Company
9.8
-2.1
-17.7
16
17
Juice Burst
Purity Soft Drinks
9.2
0.6
6.9
17
18
Don Simon
J. Garcia Carrion
8.1
-0.4
-4.4
18
16
Drench
Britvic
6.8
-3.4
-33.5
19
19
Cawston Press
Cawston Press
5.8
-0.9
-13.5
20
20
Savse
Life Health Drinks
5.7
-0.9
-13.7
The Grocer's Top Launch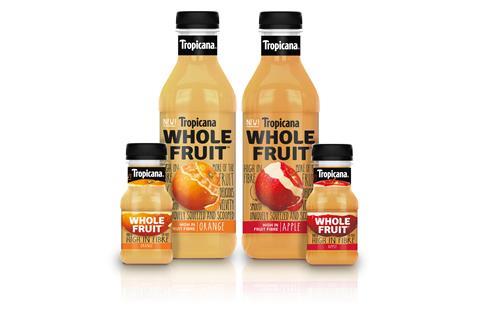 Tropicana Whole Fruit by PepsiCo
Tropicana's latest foray into functional drinks with the high-fibre Whole Fruit is a bold attempt at persuading sugar-averse shoppers to drink more juice. The two variants, Orange and Apple, are made from "everything but the pips and peel", and are billed as containing over 50% more fibre than a typical juice or smoothie. Tropicana may be down in value this year, but it's this kind of healthy thinking – and premium price point – that could turn its fortunes around.