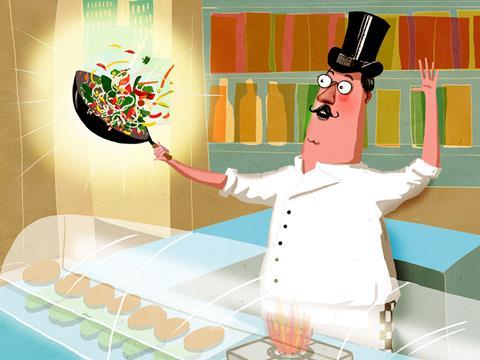 A seal of approval from a culinary master isn't necessarily what you would expect from a pack of supermarket sushi. Yet at Sushi Daily, this was a founding requirement. Before starting the business in 2010, founder Kelly Choi made a pact with Master of Sushi Yamamoto-San to ensure her food did the cuisine justice. The "sushi artisans" that you find at counters in Waitrose – and most recently, Asda – learn techniques from Yamamoto-San, who teaches them that every piece of sushi is a "work of art".
A cheese and pickle sandwich this certainly isn't. These counters take food seriously – and they're becoming hot property in the supermarkets. Waitrose has Sushi Daily counters in over 85 of its stores, while Asda launched its first last month. Sainsbury's has rapidly rolled out its sushi offering, M&S has a partnership with Wasabi and Tesco is piloting Yo Sushi counters.
The rise of these counters shows just how rapidly the supermarket food-to-go proposition is developing. What started out with a few standard sandwiches has become a hub of innovation. It's a market worth investing in. The food-to-go market as a whole has risen to be worth £25bn over the past year, according to Kantar Worldpanel data [52 w/e 9 September 2018], and the multiples make up 20% of lunch-to-go trips.
Yet despite all this innovation, the supermarkets are in danger of losing share. The past year has seen a significant shift in shopping behaviour, says Tolga Necar, consumer insight director at Kantar Worldpanel. "There's clear evidence of shoppers switching their lunchtime spend out of the multiples and into quick service restaurants. Those out-of-home food services have grown to encompass 15% of lunchtime trips this year, up from 13% last year."
This is partly because consumers are actually buying lunch out of home less often. "So when they do purchase a lunch to go, they want to treat themselves," explains Necar. "Because of this, shoppers are finding it more permissible to swap from an inexpensive, standard local supermarket lunch to a pricier, more indulgent quick service restaurant."
These growing rivals have fresh, new ideas – and supermarkets may need more than a high-end sushi counter to fight back.
The sarnie endures
Of course, it's not all about exotic cuisine. Sandwiches remain the most popular lunch to go option, preferred by 55% of respondents to a Harris Interactive survey of more than 2,000 consumers, conducted exclusively for The Grocer.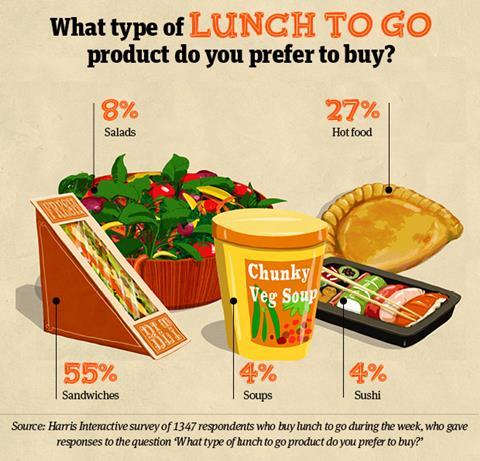 In the sandwich arena, supermarkets are pretty innovative. M&S jumped on the protein trend with the launch of its High Protein sandwiches in August, which contain half the bread but all the filling of a standard pack.
Veganism has also inspired its fair share of innovation. This year has seen Asda launch options including an Onion Bhaji Wrap with mango and apricot chutney and a Falafel & Spiced Houmous sandwich, while the Co-op unveiled delicacies such as a Coronation Chickpea sandwich and Irresistible Smoked Almond Super Green salad. Tesco also broke boundaries with its Wicked Kitchen range, set to be further extended later this year to include new food-to-go options such as a Hipster Salad and a Smoked Carrot Celebration Sandwich.
Of course, the most bonkers options are usually reserved for the festive season. We've already seen Sainsbury's beat the novelty factor of last year's Snow Globe sandwich with its latest Big Beef offering, which includes gravy mayonnaise and a Yorkshire pudding in the middle.
But as the Harris Interactive data shows, you need more than a mean sandwich to win over today's shopper. Over a quarter of respondents said they preferred to purchase hot food – far higher than the 4% who wanted sushi – and this seems to be where the supermarkets are falling down. Research from lunch to go brand Urban Eats found 45% of food to go shoppers would like a larger selection of hot products. And when asked about lunch options at their local supermarket, 70% of Harris Interactive respondents said they didn't think the range was varied enough.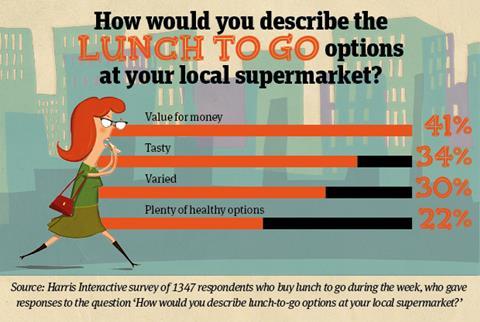 "Supermarkets have a difficult time matching up to their competitors," says Lucia Juliano, research sector head at Harris Interactive. "They face fierce competition from restaurants, high street specialists, cafés and fast food chains, all of whom are offering appetising alternatives to what is perhaps seen as a pretty standard lunch-to-go offering from supermarkets."
To be fair, the supermarkets have made a few tentative moves beyond their core sandwich and sushi offering. Last December, Sainsbury's unveiled its 1869 coffee bars, which look to replicate the likes of Costa and Starbucks with hot drinks and paninis. In the same month, it also introduced hot branded Zizzi pizza counters into selected stores. Waitrose is also offering some innovative options through its four stores that have Kitchens – counters that serve freshly prepared food for breakfast, lunch and dinner – although hot options such as its ribeye steak with vegetables are largely aimed at the dinner market. Compare these small-scale operations to the wide array of hot options in outlets such as Pret – whose hot autumn menu options range from Coconut Chicken Curry to Baked Egg White Omelette with Feta – and it's easy to see where they fall short.
Pret's autumn menu also points to another demand in the market: different cuisines. In a world where sushi is now the norm, consumers expect ever more exotic options. In fact, nearly a quarter of consumers in our Harris Interactive research would consider swapping their sandwich for a Korean bibimbap.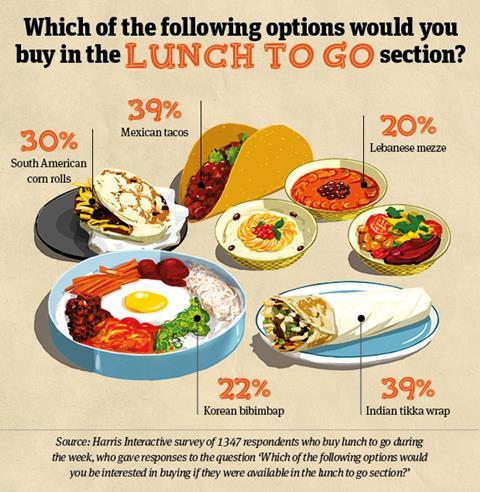 In the out-of-home arena, new ventures are constantly popping up with the promise of new flavours and formats. One such venture is Ping Pan-Asian, founded by Masterchef winner Ping Coombes. She opened two concessions in Selfridges London and Manchester stores in August, offering South East Asian delicacies like Hainanese chicken rice, Singapore noodles with prawns and chilli chicken nasi goreng, available in customisable boxes or quick lunchboxes to go.
"Asian cuisines are huge at the moment," says Coombes. "We're no longer talking about the basic sweet and sour chicken – tastes in the UK have extended to the more regional Asian flavours. Consumers are going outside of their comfort zones and introducing new, specialised Asian foods into their diet, and the lunchtime occasion is becoming a popular time to try new dishes."
More mass-market offerings are also getting a slice of the action. Greggs' current lunch to go menu features a Katsu Chicken Curry Pastry and an Oriental Chicken and Sticky Rice Salad, whilst Eat's current products of the month include a Hoisin Duck Gyoza. London-based chain Abokado is set to launch a new autumn/winter menu this month with dishes such a Vegan Katsu Curry alongside a range of 'Pacific-inspired' dishes like Red Thai Salmon curry bowls and Vegan Sweet Chilli Gyoza. "If you aren't offering something new and different, you could find your shoppers going elsewhere," says the chain's head of PR Yvonne Winborn.
A glance down Spitalfields market shows you just what supermarkets have to contend with in urban areas. The market is home to a plethora of food stalls selling their take on Asian cuisines to London's hungry lunchers, from the crispy seaweed tempura shell at Japanese-Latin fusion stall Sugoi to JiaBa's Taiwanese street food. Burmese food stall Lahpet is one such vendor, offering a range of lunch-to-go dishes based on co-owner Zaw Mahesh's South Asian national cuisine (see video, below).
Jake Karia, managing director of Indian-inspired food-to-go brand Jake and Nayns', says supermarkets need to take inspiration from these stalls. "Retailer food-to-go aisles haven't evolved enough over the past few years," he says. "If you look in central London, any food-to-go vendor has queues of customers outside the doors every lunchtime. You don't see those queues in food-to-go stores or grocers today, and that's down to a lack of variety."
So perhaps it's time for supermarkets to branch out beyond sushi and try some more adventurous counters. After all, the mults were instrumental in helping to take sushi from a niche, slightly scary proposition to a common lunch option in the UK. Could they bring bibimbap to the masses, too?
Creative Challenge: The Good Kitchen
As the vast majority of supermarket counters cater for lunch, snack and treat occasions, there's a visible gap in the market for dinner on the go. We challenged creative agency Twelve to come up with a supermarket counter for the evening meal that would resonate with modern shoppers. Here's what they came up with.
Shoppers are increasingly concerned about the environmental impact of what they eat, from plastic packaging to food waste. Yet when faced with the option of two identical food products with different best-before dates, the vast majority of shoppers will still opt for the one that has longer before it goes off, says Amy Richie, client services director at Twelve. "A lot of food is being left on shelves because it's nearing its sell-by date. We wanted to create a sustainable food-to-go counter that utilises those products, creating nutritious dishes exclusively using food that would otherwise go to waste."
The Good Kitchen transforms food that has reached its best before date in store into healthy, hot dinners for shoppers looking for a quick and easy meal solution. Menus are updated daily depending on the food reaching its sell-by date that day, and can be accessed online and via social media as well as in store. "Having a constantly changing menu adds some variety and excitement to the counter, and allows customers to experiment with dishes they haven't tried before, or may not know how to cook themselves," explains Richie.
Each hot dinner is made on site by a chef, giving shoppers the option of buying a prepackaged, ready made meal from a grab-and-go hot counter, or a freshly served dinner from the counter itself. In a further nod to its environmental credentials, each dish comes in a compostable bowl, with brown paper bags available as well as wooden cutlery on request. "The key focus of The Good Kitchen is reducing waste wherever possible," says Richie. "Everything is made on site from products in store, so there are zero air miles and zero non-recyclable packaging used. We're aiming at Britain's growing army of eco-conscious shoppers, who are looking for a guilt-free, convenient and delicious dinner."
As each dish contains only in-store ingredients, shoppers can also purchase everything they need to recreate their Good Kitchen experience at home if they wish, adds Richie. "It's a great way for a supermarket to promote the quality of its products, and to show the various ways they can be cooked and enjoyed. Customers can access any recipes from The Good Kitchen online or via social media, with links from the recipe to the retailer's online store to maximise convenience."
The food-to-go innovations offering a taste of the exotic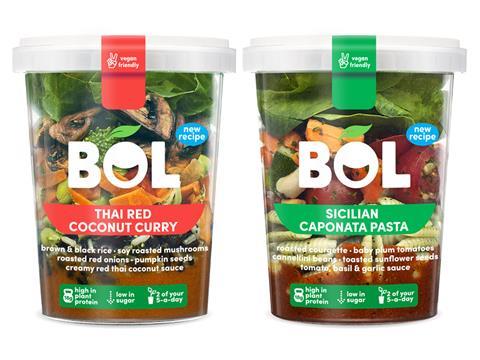 Bol Veg Pots
Launch date: November 2018
Manufacturer: Bol
Plant-based brand Bol set its product development team the task of 'every trend fathomable in one pot' by the looks of its latest lunch-to-go range. Available in Thai Red Coconut Curry and Sicilian Caponata Pasta variants, the high-protein, vegan Veg Pots feature layered ingredients for maximum Instagram impact, and include wonky veg in line with the brand's food waste reduction mission. The range (rsp: £3/345g) is set to hit Tesco shelves early next month.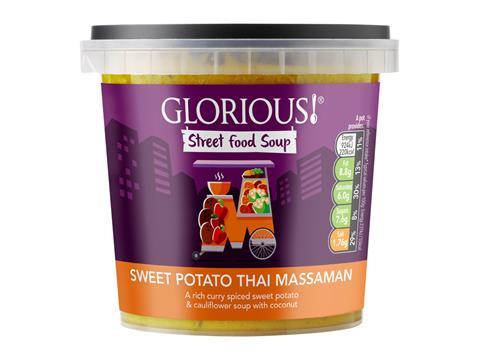 Glorious Street Food Soups
Launch date: October 2018
Manufacturer: Glorious Soups
As winter draws closer, Glorious Soups is taking aim at shoppers ditching their salads and sandwiches for something warmer and more exotic with its new Street Food range. The 400g microwavable pots (rsp: £1.50) are available exclusively at Sainsbury's, and include Middle East and South East Asia street food flavours Chicken Laksa, Sweet Potato Thai Massaman and Middle Eastern Spiced Tomato. Each soup contains less than 221 calories, and comes in a recyclable plastic pot.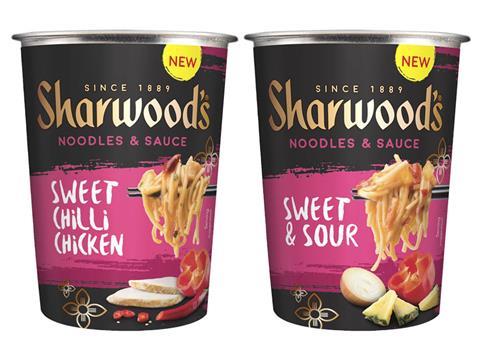 Sharwood's Noodle & Sauce Pots
Launch date: July 2018
Manufacturer: Premier Foods
Street food may be the new black in lunch to go, but according to Sharwood's, the time-honoured classics in world cuisine still hold a lot of potential. The Premier Foods-owned brand opted for Chicken Chow Mein, Sweet Chilli Chicken and Sweet & Sour flavours for its new Noodle & Sauce Pots, which aim to fill the gap in the market for premium, authentic world flavours in instant noodles.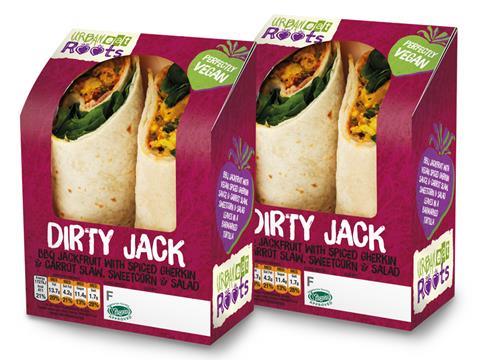 Urban Eats Roots Range
Launch date: August 2018
Manufacturer: Adelie Foods
Urban Eats is staying true to its millennial target audience with its new free-from lunch-to-go range Roots, including Avo-lafel sandwiches, Mozza Bella Paninis (containing dairy-free mozzarella, peppers and tomato ragu) and Dirty Jack wraps. Featuring barbecue jackfruit, combined with carrot slaw and salad, the brand says its Dirty Jack wrap (rsp: £2.79/220g) was inspired by South Asian street food, aiming to add excitement to the food-to-go aisle for free-from shoppers.