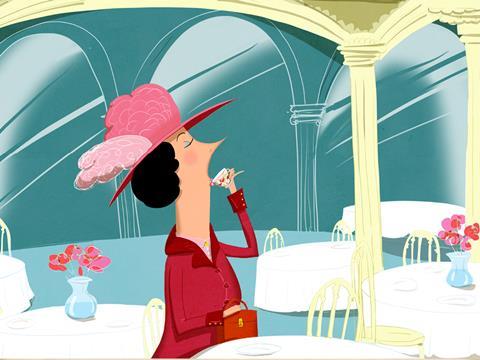 In China, a pot of tea can set you back more than £7,000. Not any old tea, mind. This is the Original Da Hong Pao blend, made from rare 'mother trees' whose leaves have been characterised by the mineral-rich, rain-heavy landscape in Wuyishan. The taste is said to be so distinctive that a tea collector paid more than £21,000 for just 20g of it in 2002. It may seem an excessive sum for a cuppa. But it's symbolic of a culture that places such a high value on tea it has its own special ceremony.
In the UK, it's a very different story. A standard bag of black tea can cost under 2p. Our idea of a tea ceremony is to leave the teabag in for a couple of minutes before dumping in the milk. Tea is seen as more of a commodity than a luxury worth a £7,000 spend.
Tea sales are suffering as a result. Brits drank nearly 870 million fewer cups of tea last year, The Grocer revealed in August, driven by a particular decline in black tea sales. The lack of excitement in the tea category shouldered most of the blame.
One thing is clear: tea needs a makeover. And if its image is to be revamped, the out-of-home arena looks like the best place to start.
Watch: Can tea be more than just a drink?
For proof, look no further than coffee shops. Before the mass arrival of Starbucks and co in the UK, a milky mug of instant was standard fare. Now consumers demand a range of different formats and beans to suit their tastes. This appetite for premium options helped push up the value of the coffee market by 10.8% last year [Kantar Worldpanel 52 w/e 20 May 2018].
On the flip side of the coin, tea is lagging behind with just a 0.7% value increase amid a steady decline in volume. The boom in café culture just hasn't translated to a boom in tea.
Part of the problem is the way tea is served in the out-of-home environment, says Typhoo category and marketing manager Simon Kershaw. "It's very much a standard teabag delivered to you in a teapot with a glass of milk on the side," he says. Compare that to all the theatre and complication that goes into a barista-made cup of coffee and it's easy to see why tea falls short.
So it's little wonder that our survey of over 2,000 consumers, conducted by Harris Interactive, showed some scepticism over buying tea in coffee shops. Just under four in 10 thought it was value for money and only a quarter thought it was made in a way they couldn't replicate at home (see below).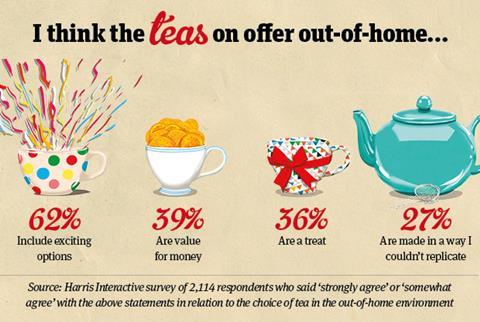 Bella Percy-Hughes, marketing manager at Tregothnan, believes tea is something of a "consolation prize" at the coffee chains. Working for a brand that trades on the quality and rich flavours of its tea, she believes this is "not at all" how it should be. "We need to give tea more of a prominence on the high street," she argues.
There are early signs of change. Starbucks launched its Teavana range in the UK in 2016 with the aim of making tea far more than a consolation prize. With flavours ranging from Mango Black Tea Lemonade to a Shaken Hibiscus infusion, it is certainly offering something different. This element of excitement is one thing out-of-home tea is performing well on. More than six in 10 consumers in our Harris Interactive survey thought there were exciting options available.
But many of the chains fall down on experience. While Costa offers a range of five teas from Earl Grey to chamomile, it is simply a case of placing a bag in hot water. It's a similar situation at Caffè Nero. The experience just isn't the same as a barista-crafted flat white with artful foam decoration on top.
Ben Newbury, senior brand manager for Yorkshire Tea, says more experiential stuff is starting to come through in the independent sector. "There are lots of small artisanal brands on the high street doing their own thing," he says. Through small touches – brewing loose leaf teas with timers or pairing them with food – they are succeeding in making tea feel like more of a luxury. Beatons Tearooms, for example, offer 25 loose leaf teas from Lapsang Souchong to Cherry Sencha in modern surroundings that aim to "bring tearooms into the 21st century". Plenty of others are also experimenting (watch our video on Opium Chinatown's tea parlour, above).
This has all been fuelled by the afternoon tea boom. "We're seeing a lot more afternoon teas happening," says Newbury. Once dismissed as old-fashioned, the tradition is rapidly gaining popularity among the younger generation. Our Harris Interactive poll found 50% of 25 to 34-year-olds had been for an afternoon tea over the past year, compared to 36% of the 55-plus age group.
The challenge is how to take the appetite for these occasional, indulgent events – where consumers certainly see tea as more than a commodity – and apply it to the everyday. After all, less than 10% of consumers will drink tea out of home on a daily basis.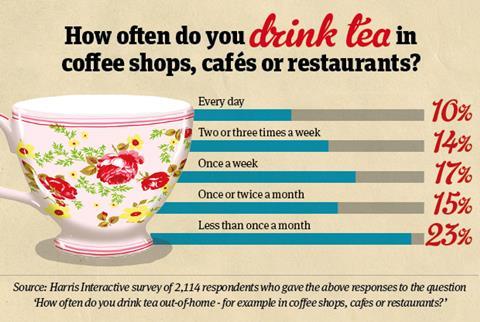 More premium options in the coffee chains would be a starting point, or the creation of a more everyday tea chain (see our Creative Challenge below). But in the absence of any major developments on the out-of-home side, brands are trying to make that link.
Twinings, for example, has marketed its premium loose leaf teas as the perfect afternoon tea option – and even has a guide to food pairing. Last year, Unilever launched its high-end Pure Leaf brand with the aim of helping consumers "recreate the experience" of an afternoon tea at home. Typhoo launched its premium herbal Heath & Heather brand, which says it is "tailored to your tastes, your moods and your needs", into supermarkets for the first time this summer.
Typhoo's Kershaw says he is "really impressed" with sales so far. He believes premium options such as Heath & Heather represent a real opportunity as consumers curb their consumption of standard black tea. There is, he believes, a change in mindset towards higher quality. "We're seeing with premium brands such as Tea 2 and Joe's, there is a growing understanding of the quality of tea and people are being introduced to new, exciting ways of drinking it," he says.
Kershaw sees the tea category as evolving, rather than dying. Sure enough, our Harris Interactive poll shows there is still plenty of love for tea. When asked whether they preferred tea or coffee, consumers were almost equally split between the two (and 8% had no preference).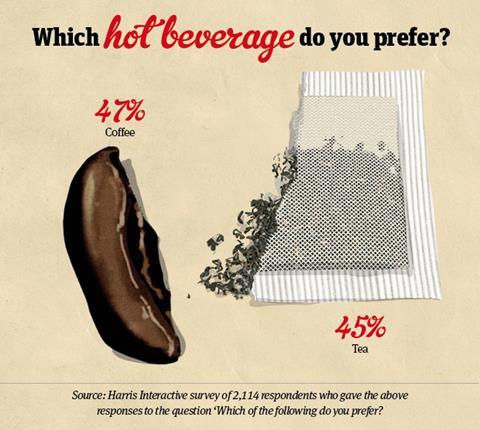 Yorkshire Tea's Newbury sums up the situation well. "We say the nation has been in a tea trance," he says. "People were drinking what their parents and grandparents drank. Then they found there were better teas."
Peter Dries, Tetley's director of customer and shopper marketing, believes there is hope for tea to follow in the footsteps of coffee. "The connoisseurship of coffee drove the premiumisation of this sector and we are seeing consumers apply the same expectations to tea as they have done to coffee in the past in terms of premium ingredients; added value; quality; sustainability and ethics," he says.
The afternoon tea has been one way of getting people to explore options beyond the standard black teabag. So if out-of-home can continue to open up consumers' eyes to new possibilities – and brands can capitalise on that – tea may be able to turn over a new (loose) leaf. Here's to snapping out of the tea trance.
Creative Challenge: Teak
We challenged strategic design agency OurCreative to come up with a new chain that could put tea firmly at the centre of Britain's high streets. Here's what they came up with.
Decked out in Scandi-style design, Teak is a world away from the traditional, old-fashioned English tea shop. This was a conscious choice by OurCreative. "We're aiming Teak at millennials and Gen-Z consumers because only 20% drink tea every day, but 37% drink five to seven different types of tea. So it shows they are open to new experiences," says senior designer Joe Wallis.
The clean design is intended to communicate that tea very much has a place in the modern world. Even the cups are a far cry from the usual china. The clear mug is an Instagram opportunity waiting to happen. This modern look and feel is backed up by an ordering app that has the ability to link to the consumer's health devices. If your Fitbit shows you are running low on sleep, for example, it can suggest a high-caffeine tea to perk you up (and place an order for you). Alternatively, you can choose from a list of emotions for a personalised tea recommendation.
This emphasis on the functionality of tea is important, says Wallis. "Young people are embracing wellness and we thought there was an opportunity to incorporate that into the blending of the teas. So it could be almost an apothecary where you choose the right tea for you," he explains.
It's not just about keeping healthy. The chain is also designed to rival Starbucks as a meeting place. "People love the coffee shops and I think a lot of it is about the experience and going somewhere with their friends and that's the lifestyle," says Wallis. If they want to take their tea out, though, there is a handy solution for that. The specially designed two-tier Teak cup will brew the tea for as long as necessary in the top chamber – there are three time settings – before decanting into the lower chamber. So there's no longer any excuse for a poorly brewed cuppa.
The innovations making tea special again
Joe's Tea Blends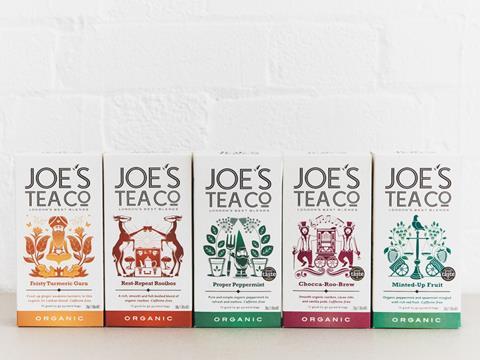 At an rsp of £4.20 per box of 15 pyramid bags, these teas are certainly premium. But Joe's is convinced its "outstanding pure and fresh flavours made from 100% organic Ceylon whole leaf tea " are worth the price. The two additions to its existing range, Feisty Turmeric Guru and Rest-Repeat Rooibos, launched this summer and have already scooped several Great Taste awards.
Tregothnan Single-serve Loose Leaf Packs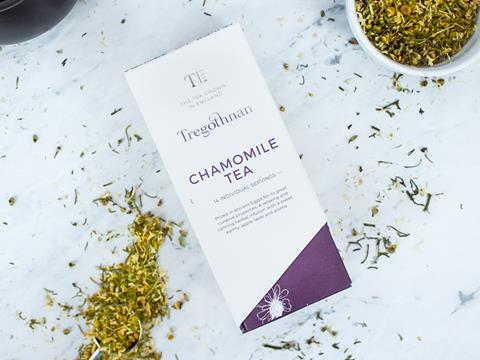 It's time to say goodbye to the fiddly business of measuring out loose leaf tea. These innovative packs from Tregothnan (£8.50) contain single-serve portions with just the right amount of leaves to make a proper brew in a teapot or cup infuser. The best bit? They can be reinfused multiple times. Although first debuted in May at the RHS Chelsea Flower Show, the format will officially launch across the entire Tregothnan range of teas in November.
Heath & Heather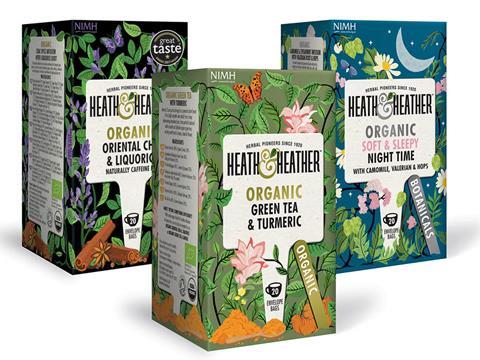 Having been in the business of making herbal teas for nearly 100 years, Heath & Heather is hardly a new brand. But it is new to the supermarkets, having launched in Tesco just this summer before its arrival in Morrisons and Ocado. The supermarket debut was backed by a Me to the Power of Tea campaign, which positioned Heath & Heather as a lifestyle brand. Flavours range from Organic Green Tea with Turmeric to an Organic Green Tea with Coconut.