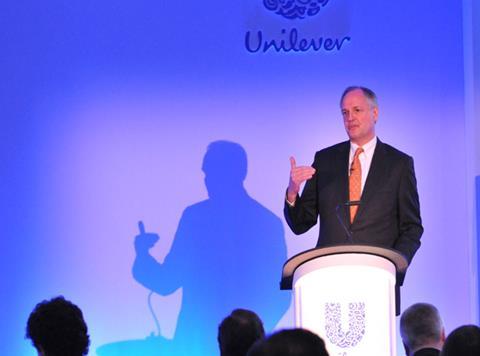 Unilever has reported third quarter underlying sales growth of 2.1%, but foods remained the group's worst performing category.
The fmcg giant's third quarter sales boost brought underlying sales growth for the first nine months to 3.2%, with emerging markets up 6.2%.
However, headline turnover declined 4.3% to €36.3bn due to a negative currency impact of 6.6%.
Third quarter turnover declined 2% to €12.2bn, while underlying volume grew by 0.3% and pricing was up 1.8%.
CEO Paul Polman commented: "Underlying sales growth of 3.2% in the first nine months is a competitive performance in markets which weakened further as macro-economic conditions continued to put pressure on consumers.
"Market growth slowed in emerging countries and particularly in China where we also experienced substantial trade de-stocking. Europe saw price deflation and poor summer weather compared with last year but conditions in North America started to improve."
The underlying third quarter sales growth was driven by a 5.7% uplift in home care, with personal care sales also rising by 3%.
Underlying sales fell by 0.5% for foods (with volume down 0.9%). Unilever saw growth in savoury and dressings but this was more than offset by the continued decline in spreads, which faced strong headwinds from the decline of the margarine market and price deflation in a weak commodity costs environment.
In refreshments, ice cream was held back by poorer European summer weather after a strong start to the year. Underlying volume fell by 1.1%, compared to a 1.8% volume rise for the first nine months of the year.
Unilever said that Europe had a "difficult quarter", due to price deflation in many markets such as France, Germany and the United Kingdom. Ice cream and spreads were the main sources of the decline across most of the region, partially offset by a good performance in home care.
In terms of outlook, Unilever said it was "that we will achieve another year of profitable volume growth ahead of our markets, steady and sustainable core operating margin improvement and strong cash flow."