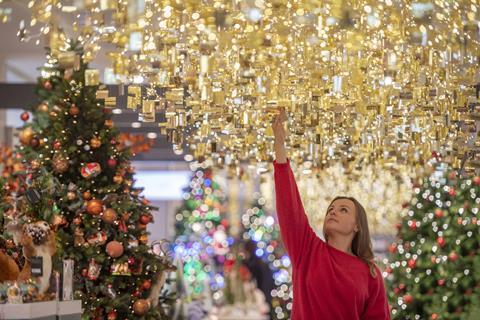 The John Lewis Partnership has kicked off its annual Christmas recruitment drive.
The retailer is recruiting for 10,000 roles across both John Lewis and Waitrose stores, and within its wider supply chain.
The largest proportion are for John Lewis, with the partnership looking to fill 2,900 seasonal roles in sales and merchandising across its 34 stores. Slightly fewer are being sought for Waitrose, with over 2,800 temporary roles available including supermarket assistant, night shift workers and delivery drivers across its 329 supermarkets.
JLP is also working with external recruitment agencies to fill a further 2,700 seasonal roles across its wider supply chain and click & collect service, including warehouse operatives and delivery drivers.
The 8,400 seasonal roles will be on short-term contracts from October to January.
Successful applicants will receive customer service training within stores, and through the partnership's in-house training school the School of Service. Head office staff will also spend some time working in stores as part of JLP's 'Helping Hands' Initiative.
The seasonal recruitment come in addition to a further 1,700 non-seasonal roles that will be made available across both Waitrose and John Lewis over the next coming months. The additional positions will be a mixture of permanent and temporary.
The overall figure of 10,000 is slightly more – by about 100 – than the company advertised in last year's recruitment drive.
"We're hugely proud of the way our two brands have become part of the excitement that surrounds Christmas and this is a great opportunity to be at the heart of that at such a special time," said John Lewis Partnership executive director for people Lisa Cherry.
"Our customers are at the forefront of everything we do; we want to deliver a great festive season for them with inspirational products and the very best customer service courtesy of our brilliant partners."
Like many retailers, both store brands are heavily reliant on the lead-up to the Christmas period for a significant proportion of JLP's revenue. The recruitment drive comes as the partnership looks to bounce back from what has been a difficult couple of years.
Sales across the group fell 2% in the year to January 2023, tipping the partnership to a £234m loss. The losses were compounded by a warehouse fire and availability issues at Waitrose, which pushed the grocer's revenues down 3.5% to £6.6bn. The supermarket has traditionally been the engine of the wider business in recent years.
The partnership is due to publish its 2023 half-year results in September.