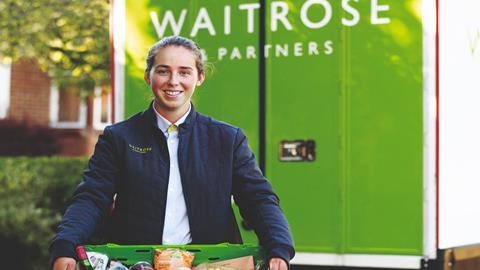 Waitrose says orders through its website are totalling close to 190,000 a week, 20% up on just before the supermarket's split with Ocado at the start of September.
One of its stores in Southend fulfilled 3,000 online orders last week, the first time any Waitrose branch has hit the milestone.
"More than 50 of our shops now deliver more than 1,000 orders each week, three deliver more than 2,000 each week, and this is the first time one of our shops has hit this milestone of 3,000 orders," a spokeswoman told The Grocer.
Through the pandemic, Waitrose has been rapidly scaling up the number of delivery slots it can offer customers, adding some 130,000 slots a week since the start of the crisis. The supermarket is aiming to offer 250,000 slots a week by 2021.
It has also made its online offering more competitive by lowering minimum spend from £60 to £40, bringing it into line with the big four.
Ocado's weekly shopper count fell in the run up to 1 September, when it ditched Waitrose as a supplier and started stocking M&S products. Data from Ocado's own systems, seen by The Grocer, shows total weekly shoppers fell from 321,000 in the week commencing 17 August, to 278,000 in the crucial week starting 31 August, a drop of 37,000 shoppers in two weeks. The figures have since recovered to 304,000 in the week commencing 7 September.
It's not clear whether Waitrose.com's new customers have come from Ocado, other supermarkets or are new to online shopping.
Last month, Ocado CFO Duncan Tatton-Brown told The Grocer any movement of shoppers from Ocado.com to rivals had been "very, very low indeed" and might be accounted for by shoppers being on holiday. The pureplay online grocer had seen "practically no sign of any loss of customers" to Waitrose or elsewhere following the switchover, he added.
Research published by Waitrose in August suggested 60% of Brits were shopping online for groceries more during the pandemic. Of those, 20% hadn't considered it before the pandemic.
"What would have previously been a gradual upward climb in demand has – with the outbreak of Covid-19 – turned into a trajectory more reminiscent of scaling Everest," James Bailey, Waitrose executive director, said at the time.
The 190,000 weekly online order milestone comes during a period of significant investment by Waitrose "with more than £100m current and planned investment across its entire online grocery offer – from digital platform and new apps, to delivery performance and doorstep service", the supermarket said.
Waitrose picks 85% of online orders in stores, while in London the service is supported by two CFCs in Coulsdon, which opened in 2015, and Enfield, which opened in May this year. A third CFC in Greenford, West London, is due to open next year in partnership with third-party logistics provider Wincanton.
The store-pick part of the model has allowed Waitrose to increase the number of delivery slots it can offer more quickly than Ocado, which relies solely on CFCs, each with a maximum capacity. Ocado is planning to add 50% more capacity across its network of CFCs and spokes over the next year.
"Building capacity in this way means we can also keep shops as physical shopping sites, and we know that many of our most loyal customers enjoy shopping both on Waitrose.com and in our shops," a Waitrose spokeswoman added.