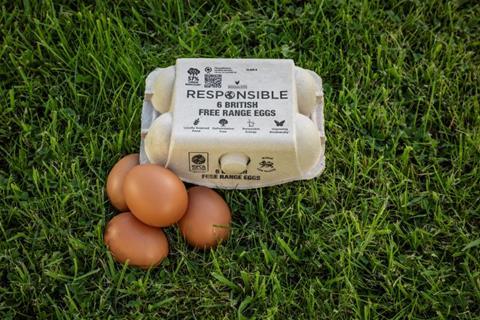 In this exclusive case study, discover how Lidl worked in collaboration with Duncan Farms, Scotland's fastest growing egg business, to develop a valuable new product – while delivering a significantly lower carbon footprint.
Scope 3 emissions need to be considered by retailers and suppliers alike to meet carbon reduction targets. Read the case study of this impactful initiative to learn how a 5-step climate action strategy was implemented to:
Calculate carbon footprints
Set reduction targets
Implement targets
Finance climate projects, and
Communicate transparency
Download the report to find out more.
The Grocer may use your contact data to keep you informed of its products and services by email. You can withdraw your marketing consent at any time by clicking the unsubscribe link in such email or by sending an email to dataprivacy@wrbm.com. More information on our processing can be found in our Privacy Notice. By submitting this form, you acknowledge that you have read and understand our Privacy Notice

Since our beginning in Munich in 2006, we have held fast to our vision of a world where climate action is embedded into corporate activity. From a small apartment in Munich, to a roster of over 5,000 clients and more than 500 employees across 13 offices in Europe and the US, we believe that the path to sustainability should be straightforward for businesses—and just as easy for consumers to navigate. We help our customers calculate and reduce carbon emissions and finance climate projects. As a leading solutions provider for climate action, we combine individual consulting with a cloud-based software that is unique to the market. Working with companies of all sizes, our holistic solution set covers carbon accounting, climate change consulting, employee education, supplier engagement, financing climate projects and transparent communication
View full Profile