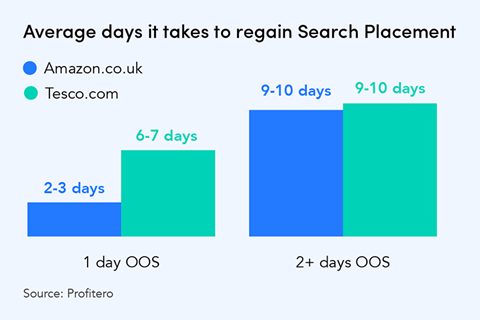 We found it takes an average of 9-10 days to recover search placement when a product is out of stock for 2+ days on both Amazon.co.uk and Tesco.com.

Profitero analysis also shows that brands lose, on average, 62% of their sales on Amazon.co.uk when stock rates drop below 30% versus sales at a 90% in-stock rate.

Whatever you do, it's clear you need to fix your OOS issues fast.


Download the report to learn more.
Company: Profitero
Format: PDF
Length: 6 pages
Type: White Paper
---
The Grocer may use your contact data to keep you informed of its products and services by email. You can withdraw your marketing consent at any time by clicking the unsubscribe link in such email or by sending an email to dataprivacy@wrbm.com. More information on our processing can be found in our Privacy Notice. By submitting this form, you acknowledge that you have read and understand our Privacy Notice