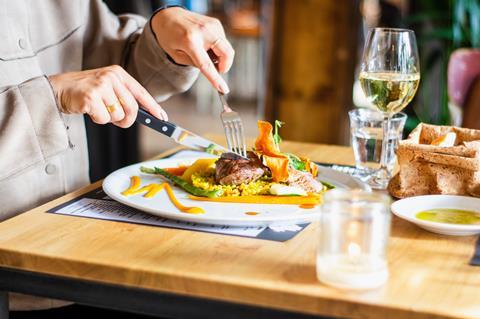 The government's new tier system has been branded the "death knell" for hospitality businesses by foodservice wholesalers that warn operating under the updated restrictions is "not sustainable".
The tougher tier system is set to come into force at 00.01 on 2 December, and will see hospitality businesses in tier three only allowed to operate as takeaways.
Restaurants, pubs and bars in tier two can open to customers dining within their support bubbles and can only serve alcohol with "substantial meals".
Tier one outlets will be able to welcome customers in groups of up to six with the curfew pushed back to 11pm.
Information on which tiers will apply to which regions will be announced on Thursday, giving foodservice wholesalers four days to restock shuttered hospitality customers ready for the reopening.
It comes as a recent survey carried out by UK Hospitality showed the restrictions that will now apply to tier two will result in 94% of hospitality businesses operating at a loss.
Read more:
"The tighter restrictions for tier two and three will be the death knell for many hospitality businesses, I don't understand why the hospitality sector is being put to sacrifice," said Country Range Group CEO and Federation of Wholesale Distributors chairman Coral Rose. "Meanwhile for foodservice wholesalers, we are expected to continue to operate at a loss in order to provide regular food supply to vulnerable people in care homes and hospices and to ensure there is food provision for children at school or through food parcels during the holiday. This cannot continue, it is simply not sustainable."
FWD CEO James Bielby added: "Once again it's hospitality bearing the heaviest burden of the tier restrictions, and food distributors are again being asked to provide the stock and support their customers need to stay afloat, despite having had none of the specific funding from government those customers received. A week's notice is barely enough to anticipate demand within the regional tiers and the sector needs clarity and consistency from government to provide the right products to the right outlets and give their catering customers the busy December they desperately need."
Foodservice buying group Caterforce MD Gary Mullineux said: "Once again, the hospitality sector is being punished by the government with no evidence to back up their actions. Hospitality has done everything required to ensure a safe environment yet more jobs will be lost, more businesses will close and there's still no sign of support for the foodservice sector who are supplying food to schools, care homes and the NHS."
Fairway Foodservice CEO Chris Binge said: "The end of lockdown on 2 December should help some members in some areas depending on which tier the area falls into. We expect December to be a poor sales month and at best forecast 60%. We will all work within the government guidelines and do the best we can."