Ronan Hegarty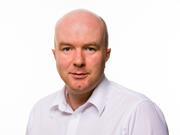 Ronan is news editor of The Grocer and also covers Morrisons and the tobacco trade.
Contact Info
Tel:

01293 610406

Email:
Recent stories
Retail management is no different from football management - after a tough time, the team wants a different personality

Morrisons will begin its rollout of sales-based ordering on a category by category basis in the next few months…

Waitrose blames below-cost booze pledges and GSCOP rules for failure to match more than a third of Tesco's new prices…

Focus on e-cigarettes

Subscription
Recent blog posts
Much has been made of incoming Tesco CEO Dave Lewis' lack of retail knowledge – but you don't spend 27 years at Unilever without picking up a thing or two about retail.

Pernod is having to change its label so that people realise it is alcoholic. 

Morrisons is not alone in making in-store redundancies - and its plans have been a long time in the making.
Ronan Hegarty contributes to: