Ronan Hegarty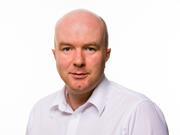 Ronan is news editor of The Grocer and also covers Morrisons and the tobacco trade.
Contact Info
Tel:

01293 610406

Email:
Recent stories
Tesco has stunned the city this morning by admitting that it may have overstated its profits for the half year by as much as £250m.

Last week Morrisons made a lot of noise about its strategy to scale back its promotional participation. But according to the latest research by Assosia, the impact of this strategy is not being seen in supermarket key feat

Shopping is cheaper but is it nullifying the discounter threat?

Morrisons sales slump hides a silver lining

Subscription

Marlboro to launch Gold in roll your own

Subscription
Recent blog posts
Much has been made of incoming Tesco CEO Dave Lewis' lack of retail knowledge – but you don't spend 27 years at Unilever without picking up a thing or two about retail.

Pernod is having to change its label so that people realise it is alcoholic. 

Morrisons is not alone in making in-store redundancies - and its plans have been a long time in the making.
Ronan Hegarty contributes to: