Ronan Hegarty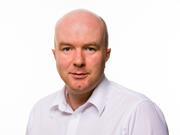 Ronan is news editor of The Grocer and also covers Morrisons and the tobacco trade.
Contact Info
Tel:

01293 610406

Email:
Recent stories
Morrisons executive chef Neil Nugent is keen to remain in the grocery industry after parting ways with the supermarket…

Morrisons is considering creating in-store availability 'champions' to ensure more well-stocked shelves…

Morrisons' interim results weren't great. So why are some industry watchers seeing a light at the end of the tunnel for the supermarket?

Marlboro to launch Gold in roll your own

Subscription
Recent blog posts
Much has been made of incoming Tesco CEO Dave Lewis' lack of retail knowledge – but you don't spend 27 years at Unilever without picking up a thing or two about retail.

Pernod is having to change its label so that people realise it is alcoholic. 

Morrisons is not alone in making in-store redundancies - and its plans have been a long time in the making.
Ronan Hegarty contributes to: