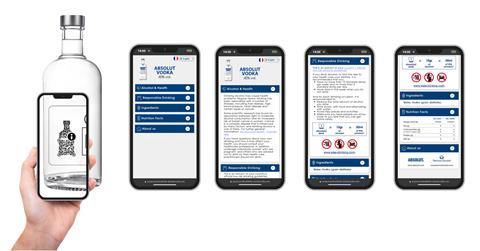 Pernod Ricard is to add a QR code to bottles of all its brands in the UK, which when scanned serve the purchaser with an ingredients list, health risk warnings and responsible drinking guidelines.
Following its launch in the UK and across Europe through July, the labelling will be rolled out globally to all Pernod Ricard brands by 2024.
Content will be adaptable to different markets, "in particular local drinking guidelines that vary from one country to another, and will be displayed in the local language" the company said.
It is the first time QR codes have been applied to Pernod Ricard products, a tool that has been adopted by other grocery brands, such as Princes' Napolina, which added the codes to tomato cans in 2020 in an effort to boost supply chain transparency, and Nestlé, which in 2019 provided confectionery buyers with family-friendly activity ideas.
"As a consumer-centric company committed to responsible drinking, this new digital label system strives to respond to our customers' evolving needs," said Alexandre Ricard, chairman and CEO of Pernod Ricard.
"Now more than ever, consumers want to know what is in their drinks," he added. "Thanks to digital technology, this information can now be accessed easily. I am proud that Pernod Ricard continues to be an industry pioneer in spearheading such a proactive initiative."
In 2021, to support the International Alliance for Responsible Drinking's recommended commitments, Pernod Ricard announced the addition of two warning pictograms on its packaging against underage drinking and drink driving, complementing its existing warning logo against drinking when pregnant.